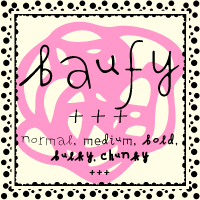 About this font family
Baufy is a baroque version of the designer's handwriting.
The product of an academic setting, it was developed during long committee meetings by obsessively drawing the same letter over and over. Unlike handwriting however, Baufy is available in weights from "normal" to "chunky". The baseline varies to help with the character fit.