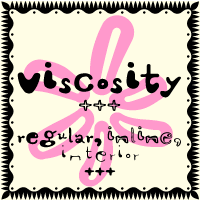 About this font family
Viscosity asks the question, "can a typeface be designed without the repetition of any individual parts and still be visually unified?" The designers, one of whom drew the upper case, and the other who drew the lower, think the answer is yes, especially when Viscosity is used as text. The baseline varies to help with the character fit.
The family consists of regular, inline and interior variations. The interior is a font made of the negative spaces in the inline, with the same spacing. If the same text is set in both versions and overlapped, the interior and inline align perfectly. This is useful for creating multicolored inline.
Kathy Warinner designed the caps by drawing them by hand; they were then digitized. Bob Aufuldish drew the lower case entirely within the computer.