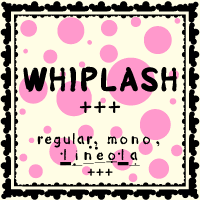 About this font family
Whiplash demonstrates the meeting of an engineer's template and a pressure-sensitive input device.
The underlying structure is rational; the form resting on that structure is processed-based. The "mono" and "lineola" variations are monospaced, further suggesting the contrast between the rational structure and process-based form (and, not incidentally, allowing them to be used interchangeably). Whiplash Lineola uses "interference" to subvert the rational grid structure formed by monospacing.