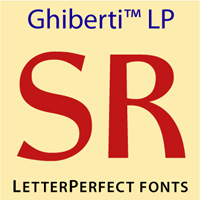 About this font family
Ghiberti is a contemporary interpretation of the bold Florentine lettering style used with marble inlaid and bronze cast inscriptions of the fourteenth and fifteenth centuries.
The font, consisting of caps and small caps, was designed by Paul Shaw and Garrett Boge in 1997.
Ghiberti is part of the LetterPerfect Florentine Set.
Available formats
available in all of the styles:



Ghiberti is a trademark of LetterPerfect Design