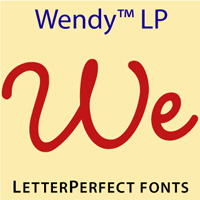 About this font family
The Wendy family is a cursive script provided in three weights -- Light, Medium and Bold.
The design is an upright, casual handwriting style, with natural joins and connecting strokes. Wendy, in her various modes, projects a friendly persona, adding an approachable quality to headlines and short runs of text.
Design date:

1998

Publisher:

LetterPerfect

MyFonts debut:

Nov 8, 2004
Available formats
available in all of the styles:



Wendy is a trademark of LetterPerfect Design