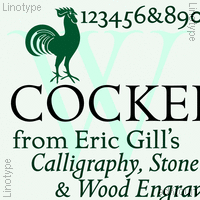 About this font family
ITC Golden Cockerel is based on designs created by Eric Gill in 1929 for the Gold Cockerel Press in England. These elegant and meticulously crafted typefaces were inspired by and modeled on Gill's skills of stone carving, calligraphy and wood engraving. The typeface family includes ITC Golden Cockerel Roman, Italic, Titling, and Initials and Ornaments.
Available formats
only available in some of the styles:


ITC Golden Cockerel is a trademark of Monotype ITC Inc. and may be registered in certain jurisdictions.