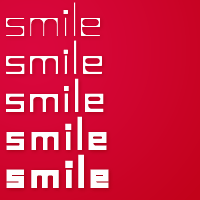 About this font family
Smile is a family of five weights, from extra light to extra bold. It is an experiment in "ugly" forms -- the face has hard, external contours and round interiors which are affected destructively as the face changes weight.
Smile was initially created in 1998 for the launch of Gilbert Paper's Voice grade, and was the last of Patric King's purely geometric faces to be released.
Designers:

Patric King

Design date:

1998

Publisher:

Pretty

MyFonts debut:

Jan 4, 2006
Available formats
available in all of the styles: