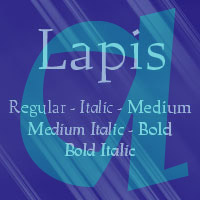 About this font family
The Lapis series of text types is a type family best suited to the handling of advertising text and display than that of bookwork. Its angular "edgy" curves give it a kind of tenseness.
The design is based on, though not strictly an Egyptian style letter. The serifs are somewhat slabbed, but are tapered just slightly in a kind of a latin-type serif.