Best New Fonts of 2021
Thank YOU for being a wonderful customer in 2021. We are excited to head into the new year but first, we want to look back at last year's Best New Fonts. In 2021, there were many incredible font families added to MyFonts. We have carefully collected, calculated, and curated all of the data to present you with the Top 25 Best-Selling NEW Fonts of 2021. This list shines a light on some incredible foundries and their work this last year.
Along with presenting the list, we also present to you… HUGE SAVINGS! Plus, we are bringing some intriguing designer interviews, so be sure to check your emails daily to learn about the designers and teams who created the best fonts of 2021.
Our BEST NEW FONTS of 2021 Sale ENDS on January 25th, 2021 at 11:59 p.m. EST. Don't miss out; add these fonts to your font library today!
#1 Helvetica Now Variable by Monotype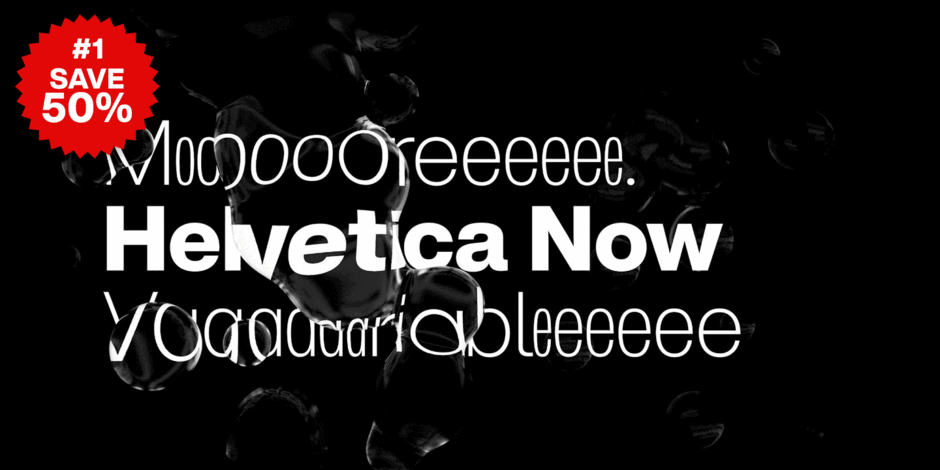 2 Variable Fonts
Helvetica Now 2.0 builds on the groundbreaking work of 2019's Helvetica Now release—all of the clarity, simplicity, and neutrality of classic Helvetica with everything 21st-century designers need. In this 2021 release, we introduce Helvetica Now Variable and add condensed weights to the Helvetica Now static fonts. <br>
Helvetica Now Variable gives you over a million new Helvetica styles in one state-of-the-art font file (over two-and-a-half million with italics!). Use it as an extension of the Helvetica Now family or make custom-blends from its weights (Hairline to ExtraBlack), optical sizes (four point to infinity), and new Compressed and Condensed widths.
$499 ↠
$249.50
Check out this year's FONT TRENDS and grab those fonts for 50% off.
SALE ENDS: January 25th, 2022 @ 11:59 p.m. EST.