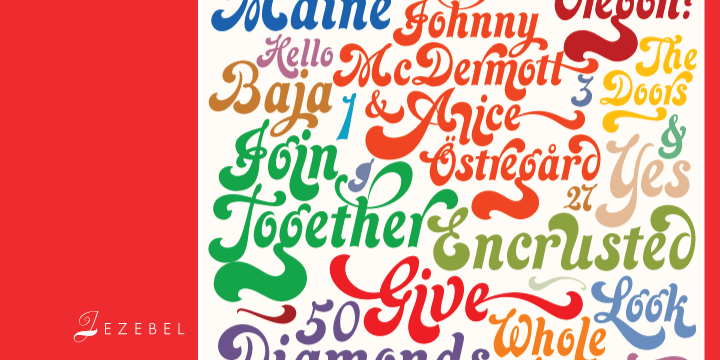 Select style to display all glyphs:
- Glyph Count:
This is a listing of all glyphs contained in the font, including OpenType variants that may only be accessible via OpenType-aware applications.
Each basic character ("A") is followed by Unicode variants of the same character (Á, Ä…), then OpenType variants (small caps, alternates, ligatures…). This way you can see all the variations on a single character in one place.
Jezebel

Jezebel Bonus

Jezebel Bonus Words

Jezebel Alt

Jezebel Pro
See more...
See less
Jezebel

Jezebel Bonus

Jezebel Bonus Words

Jezebel Alt
Per Style: $7.48
Pack of 4: $29.95
Jezebel Pro

Jezebel Bonus Words

Jezebel Bonus
Per Style: $9.98
Pack of 3: $29.95
Jezebel

Jezebel Bonus

Jezebel Bonus Words
Per Style: $8.31
Pack of 3: $24.95
Select style to display tech specs:
Licensing Options
You can use this font in any of the following places. Read the full EULA text for details about each license. If you have a usage in mind that's not covered by these licenses, contact us and we'll see what we can do.
About Jezebel Font Family
---
Jezebel is all dressed up for you. And if she can't make your mouth water and eyes light up with love, nobody else can. She's got bigger hair than Dolly and Elvira together, more tongue than a Kiss concert with Jagger opening, more leg than a Moulin Rouge premiere, more sword than a pirate ship, and more loop than a chartered accountant. She's the queen of now, the essence of cool, the twenty-first century fox. She's the ever playful and creative girl with so much talent her art just cannot be restrained. She's got popular culture on a long but strong leash. She looks gorgeous and positively glamorous no matter what color she wears. And last but not least, she's got the charisma to make people of all ages want more of whatever it is she feels like offering. The Jezebel design was extrapolated from two early 70s film ideas called Hampshire and Harper's Bazaar. Both were uncredited, somewhat badly drawn, almost impossible to typeset satisfactorily, and very limited in character set. It was necessary to go back to the drawing book to explore a better balance and easier setting potential. The subsequent character set expansion took Jezebel to a much superior level of functionality, with the addition of multiple alternates and swashes to fit a perfectionist's eye. Jezebel is available in all popular font formats for all common platforms, and supports a Western, Eastern and Central European Latin languages, as well as Baltic, Celtic/Welsh, Esperanto, Maltese and Turkish. The OpenType version, Jezebel Pro, combines the extra large character set (over 650 characters) with many handy OpenType features, including discretionary ligatures and tons of alternates and swashes distributed over the stylistic, swash, and titling features. Two bonus fonts are included with Jezebel. The first one is Canada Type's digitization of Harper's Bazaar's basic set and alternates. The second one consists of over 35 wordmarks, ranging from Hello and Cheers to multiple language representations of Yes and Thank You.
Jezebel™ is a trademark of Canada Type.
Choosing a selection results in a full page refresh.