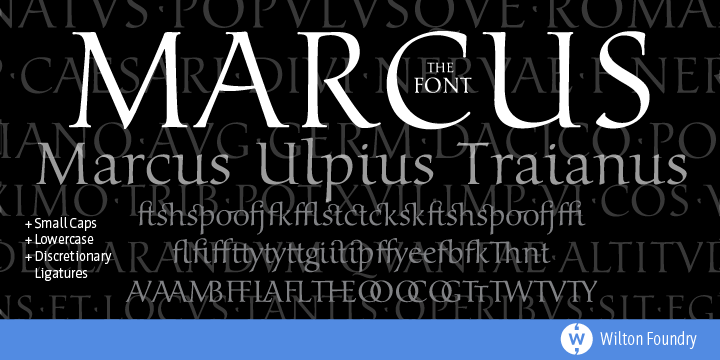 Select style to display all glyphs:
- Glyph Count:
This is a listing of all glyphs contained in the font, including OpenType variants that may only be accessible via OpenType-aware applications.
Each basic character ("A") is followed by Unicode variants of the same character (Á, Ä…), then OpenType variants (small caps, alternates, ligatures…). This way you can see all the variations on a single character in one place.
Marcus

Marcus Small Capitals
See more...
See less
Marcus Small Capitals

Marcus
Per Style: $19.50
Pack of 2: $39.00
Marcus

Marcus Small Capitals
Per Style: $19.50
Pack of 2: $39.00
Select style to display tech specs:
Licensing Options
You can use this font in any of the following places. Read the full EULA text for details about each license. If you have a usage in mind that's not covered by these licenses, contact us and we'll see what we can do.
About Marcus Font Family
---
Marcus, the font, was named after the Roman Emperor Marcus Ulpius Traianus (Trajan) born 18 September 53 in the Roman province of Hispania Baetica (in what is now Spain), a province that was thoroughly Romanized, in the city of Italica. Trajan was the son of Marcia and Marcus Ulpius Traianus, a prominent senator and general from the gens Ulpia. Trajan himself was one of many well-known Ulpii in a line that continued long after his own death. The famous Trajan column was one of Marcus' many landmark monuments he commissioned. Inscriptions at the lower part of the Trajan column display what is considered to be the golden standard of Roman letters.  Father Edward M. Catich (1906 –1979 ) was an American Roman Catholic priest, teacher, and calligrapher who developed a thesis about the origin of the inscribed Imperial Roman capitals. His thesis makes the claim that the letterforms were entirely based on the use of the flat brush, rather than to the exigencies of the chisel or other stonecutting tools. While the brushed-origin thesis had been proposed in the nineteenth century, Father Catich, having worked as a union sign painter, made a complete study and proposed a convincing ductus by which the forms were created, using a flat brush and then chisel. He promulgated his views in two works, "Letters Redrawn from the Trajan Inscription in Rome" and "The Origin of the Serif: Brush Writing and Roman Letters".  Marcus, the font, was inspired by the notion that the working drawings of the Trajan letters were created by brush. In Marcus you will see glimpses of brush and chisel, producing a refined end-result that is a timeless interpretation of the Trajan column's exquisite letterforms. Marcus has upper & lower case characters as well as small caps and many discretionary ligatures accessible via Opentype. Marcus is ideally suited for headlines or body text in advertising, packaging and collateral material. In addition, Marcus is well suited for high profile invitations and identities.
Marcus
Choosing a selection results in a full page refresh.