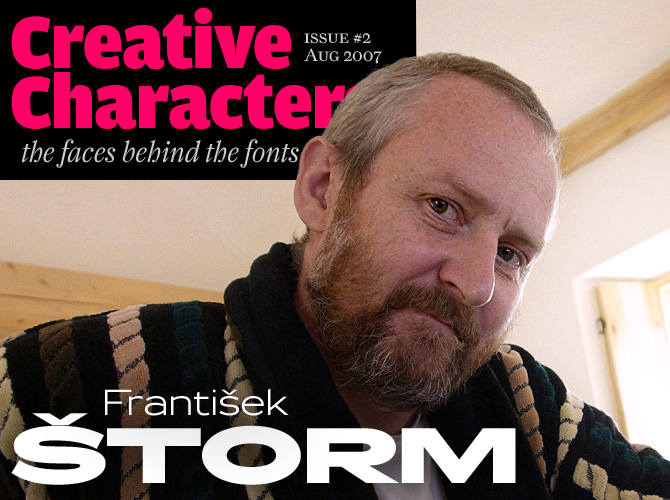 All type designers are individualists, but František Štorm from Prague is a special case. His historically inspired fonts are virtually unparallelled. He has arguably made the most interesting revivals of classic text faces by Jannon, Baskerville and Walbaum. But he also designed a large number of fonts that are less straightforward and pretty hard to pigeonhole: very personal and rather eccentric interpretations of classic and modernist traits and mannerisms. Fonts that serious typographers might think too fancy… if they weren't so well made and legible.
Meet František Štorm, artist, graphic designer, photographer, musician, teacher, and perhaps a future ex-type designer. He also makes great tea.
Thank you for your Thank-yous!
"Very impressive!" "Inspirational!" "Absolutely wonderful!" "Congratulations!" … Your reactions to last month's Creative Characters exceeded our wildest expectations. We received an avalanche of e-mails telling us how much you appreciate our idea to dedicate a monthly newsletter to designer interviews. The work of our interviewee, Swedish type designer Hans Samuelson, was very well received too: many readers told us they were adding Hans' fonts to their MyFonts albums.
We received dozens of suggestions for future interviews. Some of them were already on our list, but there were quite a lot of mails that made us mumble: "Hey... why didn't we think of them?" Here are just a few of your suggestions: Christian Schwartz ("a genius and a good guy"), Nick Curtis ("I'm a fan!"), Cyrus Highsmith ("my favorite"), Dino dos Santos ("makes beautiful fonts") David Carson ("ask him anything!!!"), Timothy Donaldson ("tell him he owes me a pint!").
Creative Characters has a future – that's for sure. We'll get to work. Meanwhile – keep those e-mails coming!
This issue's credits
featured fonts
supporting fonts
The Creative Characters newsetter is produced by Jan Middendorp (editor) and Nick Sherman (designer), with input from the MyFonts team and readers like you!
Comments?
Please send any thoughts you'd like to share with us about this newsletter to: [email protected]