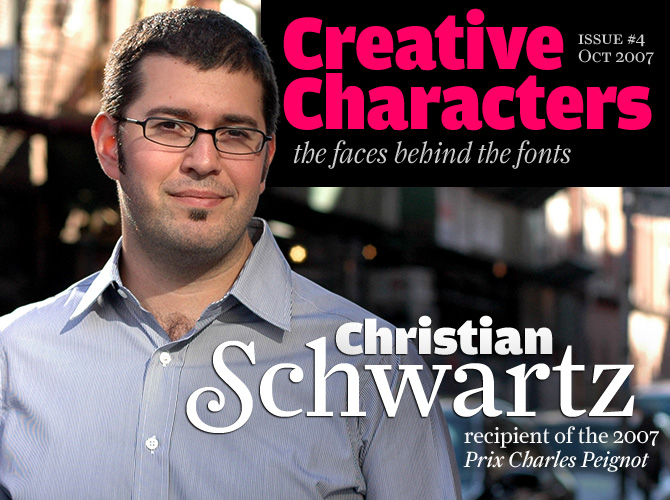 When we asked you, our readers, to tell us whom you would like us to interview for Creative Characters, one name that kept coming up was Christian Schwartz's. Although he's not even 30, Christian Schwartz is among the most prolific type designers in the USA, having published fonts with about half a dozen foundries. He has also created successful corporate type systems, such as the superfamily made for the German railways, for which he and Erik Spiekerman received the Federal German Design Prize 2007. And that's not his only award this year...
Christian, you've just received the Prix Charles Peignot of the worldwide typographers' association, ATypI. Congratulations! What did you think when they gave you the news?
I was out getting a cup of coffee when [president] Jean-François Porchez called to deliver the news. He left a very funny, very cryptic message on my voicemail, instructing me to call back "immédiatement". Since he had never called me before, wouldn't say what he was calling about in his message, and it had been 4 or 5 years since the last Prix, I had some suspicion that this was what he wanted to talk to me about, but it was still a shock when he actually said that I was going to receive the prize. Although I have some really great collaborators, they're all far away, so I spend almost all of my time working in my little office at home, by myself, which makes my job seem very anonymous. It's a real honor to be recognized by my colleagues.
Apart from these special occasions, what is it that gives you most satisfaction in your work?
I have a lot of interest in following the news – local, national, international – all of it, and by extension I love reading newspapers and magazines. Books, too, but my first love is newspapers. Being able to contribute to the experience of reading publications is what I enjoy most about my work as a type designer.
It seems your relationship with typography began at a very early age – at three or four years old. How did that happen?
My father is an animator. He works with computers now, but when I was really young he still did everything by hand, including setting type with dry-transfer lettering for the occasional map or title. When he was done with these sheets, he would let me have the leftovers, for labeling my drawings.
You were fourteen when your first typeface, Flywheel, was published at a professional foundry. Was that a major event in your young life? Were you surprised?
I was very surprised. I felt a bit like I was getting away with something – I was accepted by the first foundry I submitted anything to! The difficult thing was following it up. Real curves turned out not to be as easy to draw as rounded rectangles.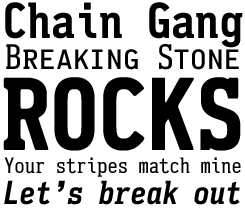 ---
While studying graphic design in Pittsburgh, Christian Schwartz got intrigued by the industrial look of the lettering on Pennsylvania license plates. When he took up the design of a monospaced typeface ("it was the late 90s and that's what was cool"), the number plates became his inspiration. He expanded the alphabet into a complete text and display family, using the unorthodox serifs of the source to even out the texture of the monospaced lowercase. As Schwartz himself has remarked, Keystone State by Anuthin Wongsunkakon is based on the same original, but "leaves more of the quirks intact".

How did you learn how to draw type, and how to use the software?
The software is fairly easy to learn, although I still get confused at times in FontLab Studio. I learned some good habits at Font Bureau, and have slowly developed a production process that works for me. Drawing type, however, is a real craft. I've learned it by doing it a whole lot, and getting a lot of really terrible work out of my system early. Self-editing is the hardest thing to learn.
The most important thing I did to help my development as a type designer was probably to look at a whole lot of existing typefaces, to analyze what really made them work (or not) – everything from Franklin Gothic to ITC Charter. Tobias Frere-Jones encouraged me to do this when I was an intern at Font Bureau during the summer of 1996, working under his direction. He taught me the essentials of drawing type – the rest has just been practice. David Berlow taught me about spacing during that same summer.
At what point in life did you decide to fully concentrate on type design?
I have tried to move away from type design a couple of times, but I keep getting pulled back in. When I graduated from Carnegie Mellon, I had every intention of using my graphic design degree for doing actual graphic design, but instead I ended up as an in-house type designer at MetaDesign in Berlin (starting an ongoing working relationship with Erik Spiekermann), then spending about 2 years working at Font Bureau before I moved to New York with dreams of becoming a magazine art director. It took me about 3 weeks of freelancing at Roger Black's studio to realize that I just wasn't cut out for magazine design. Roger had apparently anticipated this but had patiently waited while I figured it out for myself. He immediately had a lot of lettering and type design projects for me, and I haven't looked back since.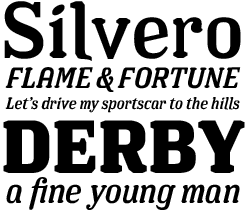 ---
Los Feliz is a district in Los Angeles that is full of amazing homemade signs. One such sign, for a company called Los Feliz Auto Parts & Service, was photographed by Schwartz's friend Matt Tragesser. Tragesser thought the hand-painted letters would make a good typeface, and sent the pictures to Christian. "I [had] spent 10 years trying to learn the 'right' way to draw type," wrote Schwartz. "When Matt showed me the Los Feliz sign, I realized it was an excellent time to take everything I've learned and turn it inside out to ask myself: 'If I didn't know what I was doing, what would I do?,' and to forgo tradition in favor of expressiveness." Tragesser's research to locate the sign painter resulted in a dead end, but months after Emigre released Los Feliz, Los Angeles magazine found him – a local craftsman named Cosmo Avila.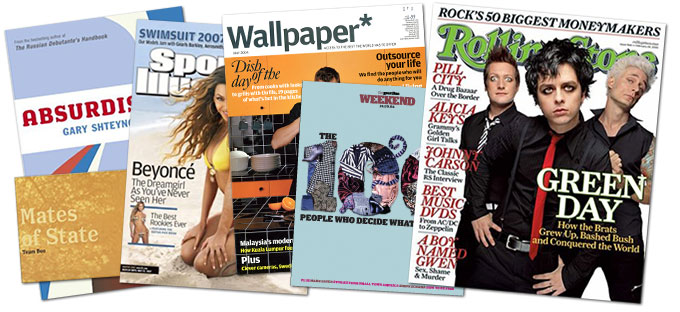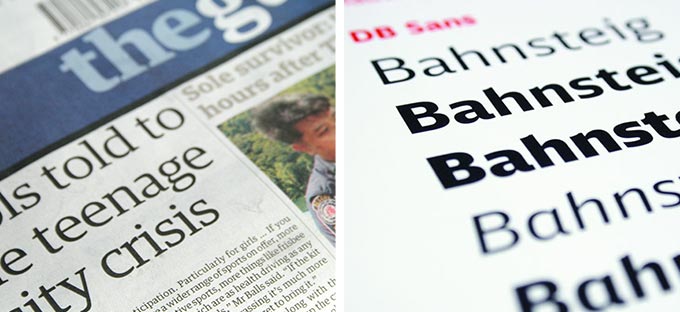 One of our readers, a budding typophile called Reed Reibstein, contributed the following questions: How do you manage to come up with innovative ideas for each project? Could you mention any designers and books that have inspired you through the years?
It depends on the project, really. I often have a very pragmatic problem to solve, which makes it pretty easy to know where to begin. For example, Houston came from a specific project brief from Roger Black – how to interpret the model of Monotype's Italian Old Style for use as a news text face, specifically at 9pt on the Houston Chronicle's presses.
I used to always carry a sketchbook, which I would gradually fill up with sketches of letters that I liked, but I've been doing that less and less these days. I've realized that I'm more interested in working initially from ideas and problems than from the formal side of things, unless I'm doing a historical revival.
My secret to coming up with good ideas is that I work with amazing collaborators. Sometimes these collborators are type designers, like Paul Barnes, Kris Sowersby and Tal Leming. Sometimes these are clients: David Curcurito at Esquire; Mark Porter at The Guardian; Roger Black, on a number of projects. Erik Spiekermann manages to be both a co-designer and a client all at once. I have a much easier time designing a typeface once I can imagine how it will exist on the page. Paul Barnes and I spent several fruitless weeks coming up with sketches for the Guardian until we stopped thinking so hard about how we wanted it to look, and started to focus on what it needed to do – Mark Porter's assertion that the pages would be "modern and austere" got us out of focusing on endless variations of serif shapes and ball terminals, and gave us something to work towards.
When I was first getting serious about type design, many years ago, I was lucky enough to have the opportunity to work as an intern with Tobias Frere-Jones, who was still at Font Bureau at that point. He instilled a love for type history and an appreciation for type specimen books. However, while I love type history, I try to keep an eye on what's going on right now, not just in graphic design but also in fashion, music, television – serious culture and pop culture, all at once – so I buy more magazines than I care to admit. In many ways the type business is a fashion business – some typefaces are intrinsically attached to the time and place in which they were created, and so they won't be used forever. That can be very freeing.
What is it that makes a young type designer tick?
I have a really great little stovetop espresso maker. That is more or less what keeps me going.
Thank you for the insight, Christian. We hope to see more work from you in the future!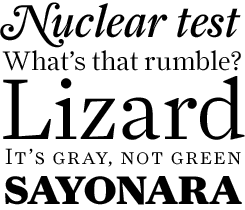 ---
Johann Fleischman was a virtuoso German punchcutter who worked for the Enschedé foundry in 18th-century Holland. Like his contemporaries Baskerville and Fournier, Fleischman took advantage of better tools and harder steel to achieve a remarkable crispness and "sparkle" on the page. His typefaces were largely forgotten as tastes changed, but the interest in Fleischman's work was renewed in the 1990s as several digital revivals were made.
With Farnham, Christian Schwartz did not opt for a pure and faithful revival, but used the source material as a starting point for a very contemporary text face. Leaving out features he found distracting or exaggerated, he achieved a beautifully usable text font full of character.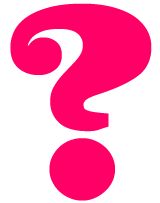 Who would you interview?
Creative Characters is the new MyFonts newsletter dedicated to people behind the fonts. Each month, we will be interviewing a notable personality from the type world. And we would like you, the reader, to have your say.
Which creative character would you interview if you had the chance? And what would you ask them? Let us know, and your choice may end up in a future edition of this newsletter! Just send an email with your ideas to [email protected].
If you're curious to know which type designers we've already interviewed as part of past Creative Characters newsletters, have a look at the archive.