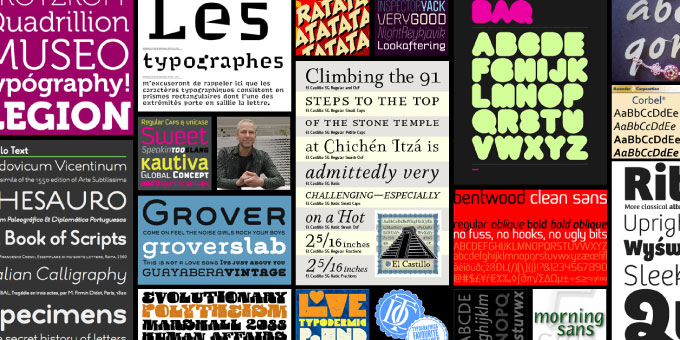 With Spring comes a staggering number of new releases to the MyFonts catalog. While the first few months of the year are often a time for accelerated releases from many of our established foundries, the last few months have brought us not only several dozen notable new releases from MyFonts staples, but over a dozen new designers as well, all of whom we are very excited to welcome.
---

---
---
---
Another one-man shop putting out especially high-quality work is designer Jos Buivenga and his foundry ExLjbris. His newest release is Museo, a soft and very informal five-weight display face. Museo is set aside from similar faces by its soft partial serifs and even color on the page, but what tips the balance in its favor is the price. While the lightest (100) and heaviest (900) weights are $16.50 each, the middle three weights - 300, 500 and 700 - are free. Not just free to buyers of the two extreme weights, but free to anyone who visits MyFonts.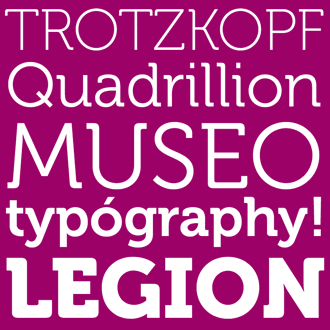 ---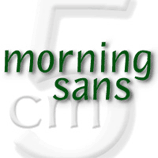 Christopher Ellis Miller, long-time newspaper designer and consultant, has recently shifted his attention from page design to typography and explores this interest with Morning Sans, an especially legible stressed sans which we hope will be developed into a full family. Morning Sans manages to combine both a calligraphic fluidity with the hard edges of incised lettering without focusing too much attention on individual characters: it remains very readable and keeps an even color on the page, even in long settings.
---
Other foundries to recently become part of our family include Lebbad Design, whose approachable and informal Bunky and Ellen seem destined to become staples of the greeting-card industry, and Japan's Okaycat, most notable for the breadth of their work — from the Italian / Western Giacinta, to handwriting faces, to the softly rounded geometry of Stefani and the extruded, hand-drawn Bapalopa.
Polenimschaufenster (or PiS, a bit easier on the tongue) brings an urgent punk sensibility to their first three releases; NeoPrint M319 resembles phototype on a bender, Wallride pushes its way through the mosh pit, and Hansch begs to be used in horror film publicity.
Swiss designer Lorenzo Geiger brings us the foundry Typewerk and the all-caps and emphatically grotesk tdBastard, which includes a range of weights as well as both monospace and rounded variations.
---
Handwriting faces are a huge part of our catalog, and several talented designers have recently added their rich and varied skills: Alison Argento is a travel writer with a strong yen for attractive handwriting; Smokehouse, Gladly Mailed, Smiley and the childlike Urly Lurnin will all be useful additions to any library of handwriting type.
Australian designer Jesse Tilley, who also regularly produces custom type for businesses large and small, brings Guava Juice and graffiti-esque Scratchnessism.
Austrian foundry Write it Personal (WIP) produces mostly-informal connecting scripts with a bit of a German flair.
Fajardo's liquid James Paul, based on Filipino designer James Fajardo's own "constantly changing personal hand."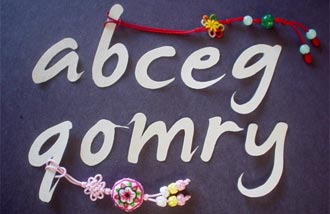 ---
Other new additions include German foundry Softmaker, specializing in revivals of historic Sütterlin faces (the last widely-used form of Old German blackletter handwriting). Bruder Graphik, and their first face on MyFonts, the playful Graph Paper font; Hamburg's Doubletwo Studios, who specialize — so far — in big, bold, masculine display faces; Jonathan Hiscott's eponymous Hiscott Foundry; New York's Loaded Fonts, a collaborative of "starving font designers," whose contributions stretch from the tribal tattoo-influenced Scribal to their US Presidential Dingbats and various experiments in geometry; Blackout's dramatic science fiction-tinged display types; and James Stirling & Michael Adkins' Fontry, based in Watts, Oklahoma, and their in-your-face display types (they describe themselves as "not ones to wimp around with frilly type," and it shows).
---

---
---
---
---
---
---
---
---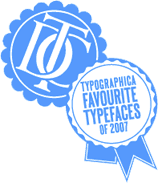 Typographica has announced their favorite typefaces of 2007; Editor Stephen Coles has invited many luminaries of the type world to write short reviews of the past year's new releases they were most impressed by. Lucky for you, many of these faces are available here on MyFonts: Adobe's Arno Pro, Minuscule, Emigre's Malaga, Mark Simonson's Kinescope, Suitcase Gloriola and BistroScript (the latter reviewed by MyFonts' own Nick Sherman), LucasFonts' Taz III, DSType Leitura, Frantisek Storm's Anselm Serif and Sans, César Puertas' Urbana, John Nahmias' Scriptonah and Casual Brush, and Tipo's Lineare Serif.
The Type Directors Club has recently announced the winners of TDC2 2008. Visit I Love Typography for a rundown on the winners, and note that several are available for sale here. DSType's Ventura, whose Dino dos Santos has been designing award-winning type since 1994; Minuscule, from Thomas Huot-Marchand, discussed above; Frantisek Storm's Anselm meta-family, comprised of serif and sans faces and including support for a variety of languages, including Cyrillic and Greek alphabets, and Tomas Brousil's Gloriola family may all be had, both conveniently and quite affordably, from MyFonts.
---