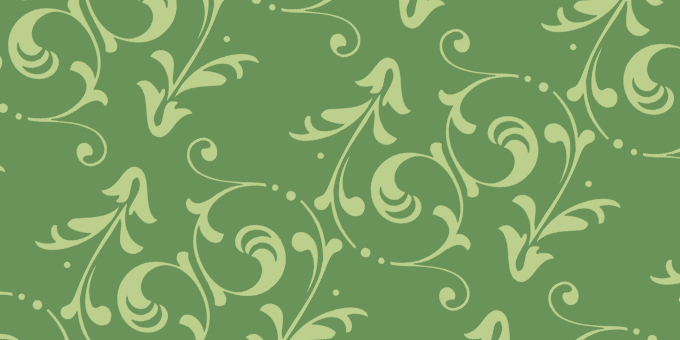 The third quarter of 2008 brings possibly the most varied – and largest – number of new additions we have seen in quite some time. From delicate calligraphic scripts to mannered and complete families of sans-serif text faces, MyFonts continues to bring you the most (and most unique!) type in the world.
---

Over two dozen new foundries have been added since the last issue of In Your Face. Some designers bring a single face – although we hope they continue to produce interesting new work and bring it to you through MyFonts – while others come already full-grown, with multiple faces and in many cases a surprising amount of maturity, sophistication and technical precision.
One mature new foundry we're particularly pleased to feature is Tilde: based in Latvia, it's the only typefoundry in the Baltics, and licenses many Bitstream faces to localize Central, Eastern European, Baltic & Cyrillic fonts in both OpenType and Postscript formats. This past May, they brought a number of these faces to MyFonts – including localized versions of Futura, Humanist 521 (aka Gill Sans), Zapf Humanist 601 (aka Optima), Alternate Gothic and dozens of other favorites that commercial typesetters throughout Europe and elsewhere rely on every day.
---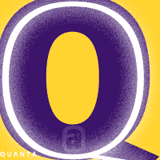 Another special new addition is Peter Fraterdeus, the man behind seminal digital foundry Alphabets Incorporated. After a long hiatus from publishing digital type, Fraterdeus is back with full-featured OpenType releases of some of his most influential designs, chief among them the delicate text family Prospera and his workhorse sans Quanta. We hope he'll be bringing many of his other original designs, which include a variety of text and display faces (and one of the best Koch revivals ever digitized, his AI Koch Antiqua!) as well as many excellent and fun dingbat faces.
---
Designer and design educator Steve Mehallo, recently president of Sacramento's Art Directors and Artists Club, brings us five original faces. One that really shines is his Escoffier Capitaux, a playful ligature- and alternate-laden display face named for French culinary icon Auguste Escoffier. The link between the namesake and the face is not especially convoluted: Mehallo takes his inspiration from classic French food advertising (and, as illustrated, the work of Escoffier's contemporary, commercial artist and fashion designer Ernst Dryden, perhaps the greatest German poster designer of his era).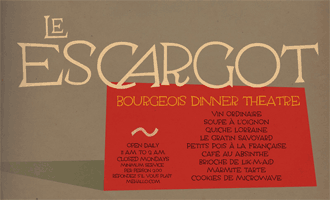 ---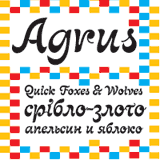 Active and well-known since the mid-'90s as a print and interactive design agency in Moscow, Art. Lebedev Studio has recently begun to release original display type. They come to MyFonts with a number of attractive and useful display faces, most of which include Cyrillic and Roman alphabets. Their first eight releases with us include Agrus, an intricate and friendly decorative script; Mirta, a high-contrast slab-serif text face, and several edgy and modern sans families.
---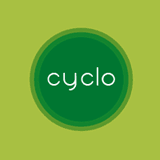 Another new addition whose first releases show exceptional technical skill is French typefoundry Cubo: their two monoline faces, the script Maline Book and the geometric, circle-based Cyclo, are as fun to set type with as they are extremely readable. Maline Book and Cyclo both come with alternates, work quite well together, and would be a fine addition to any identity designer's toolbox.
The "modern semi-serif" Ninfa is the first release from Brazilian designer Eduilson Wessler Coan; while it works quite well at small sizes, its calligraphic underpinnings – most notable in its bold weight – really shine at larger sizes.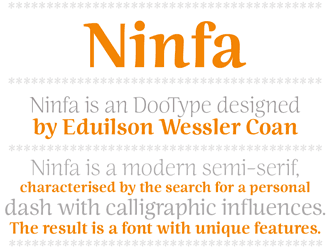 ---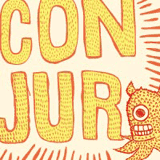 Utah designer and illustrator Chris Metcalfe introduces three fun hand-drawn faces, all especially (old) Western in their design: Trappers and Traders brings a rough-hewn and slightly surreal approach to Tuscan wood type; Conjur is weird and organic and comes straight out of a six-year-old's vision of hairy monsters, and Dot Face's inconsistent shadows and detail are a sort of Broadway marquee sign on crack.
---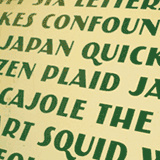 Another recent standout is Prop-a-ganda, creators of faces based on lettering from international propaganda, advertising and packaging design and a division (along with Flat-It) of Japan's Dharma Type. So far, Prop-a-ganda has two of their 18 fonts available on MyFonts: PAG Auto is an extra-bold Art Deco titling face, and PAG Bankas draws its inspiration from English advertising of the 1930s through 1960s. Ryoichi Tsunekawa, who is responsible for most of the Flat-it and Prop-a-ganda faces, somehow fits type design in between his professional duties as architect and graphic designer; we hope he'll continue to bring his energies to MyFonts for many years to come.
---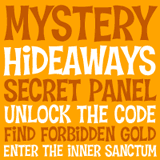 Foundry Pink Broccoli is Pratt Institute graduate Phil Bracco's personal brand, and promises to bring many more "creatively festive" faces to MyFonts. First up are several of informal fun faces, all of which would be wonderful for poster work, children's books and a whole range of similar projects. Some favorites from the initial six include Hideaway channels surf guitar and Beach Blanket Bingo, Astronaut Jones sits somewhere between Apollo 13 and Gilligan's Island, and Fat Rhino says – well, yeah: overweight rhinocerous.
---
New stencil (and stencil-like) faces are available from several new foundries: Sergio Ramírez's Sardiez typefoundry brings us Sra. Stencil, and German Librito.de's Segmenta is based on grids similar to those used in train station and airport signage.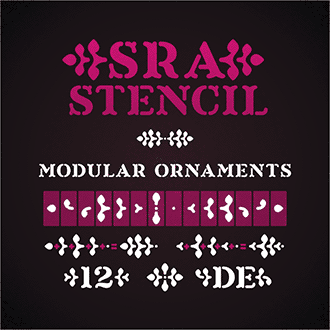 ---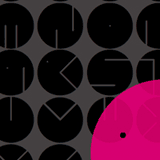 Another new foundry doing really interesting work is Portugal's yrmk, who come to us with three accomplished releases by Joel Santos: the soft and fleshy Rounded Teen, Rosley, a heavy display face which seems to be almost overdosing on ball terminals, and Hausi, an interesting geometric face that succeeds where similar experiments have failed.
---
---
---
---
---
---
---
---
---

Of course, the majority of new faces introduced since the last issue come from designers already established on MyFonts – which is what you'd expect when we have 433 different foundries listed (so far; the number grows every week)!
---
Dutch foundry exljbris continues to impress with Museo Sans, a simplified version of the flexible Museo family, which – for the time being, at least – includes several free fonts. His beautiful but as-yet unfinished text face Calluna, and its sans counterpart, should be available soon as well.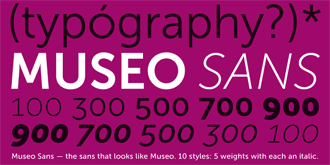 ---
We are very happy to offer several new faces from the excellent Portuguese foundry DSType, operated by the extremely productive and talented Dino dos Santos, whom you may remember for his award-winning Estilo and Estilo Script. The Prelo family - including Regular, Condensed, Compressed and Slab variants, each in several weights, is a terrific investment should you be looking for a full sans system; it is appropriate for a wide range of uses, from display to book work and advertising, and is extremely easy on the eyes at both very small and very large settings. Prelo's extensive character sets, including multilanguage support, lining and old-style numerals, ligatures, alternates, small caps and such a large range of widths and weights make it undeniably useful and a pleasure to set type with.
The recent DSType release Capsa, too, includes a large range of ligatures and alternates, including some very attractive swash italic caps, two sets of ornaments, and borders ideal for making attractive calligraphic patterns.
DSType's third recent release is Glosa, available in Text, Display and Intermediate versions, and is a great complement for Prelo and a clear attractive text face in its own right. Just like other DSType releases, it includes all the alternates, accents, variant numerals and other extras that make a family like this so useful for such a wide variety of applications.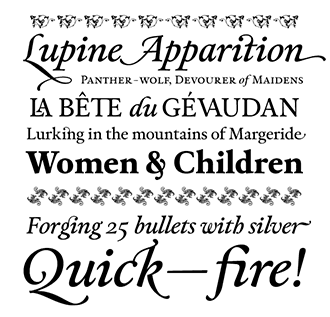 ---
Cm5dzyne's Christopher Miller brings several modern sans faces to his collection: Edgewater, Edgewater Serif, Edgewater Square and the attractive Ellisea. Other new smooth and modern faces include IHOF/P22's Platten Neu, Colin Kahn's revisiting and expansion of geometric P22 Platten and the the German fountain pen practice alphabets & books of the 1920s.
ActiveSphere brings us Jekatep and Mecatoque, which would both be at home in outer space, and The Fontry's new Earth A.D. family is as indebted to Russian Constructivist lettering as the Japanese science fiction of the 1960s.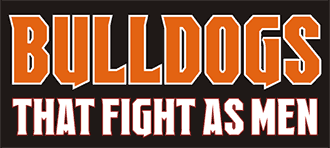 ---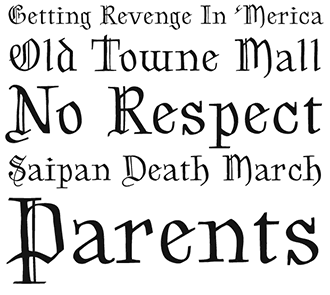 At the other end of the historic spectrum, we've got a number of useful historic revivals, some of which are replicas of historic type, such as GLC fonts' several recent additions. The Type Fetish brings us Grimm, a sort of German expressionist lowercase melded with a blackletter uppercase that works well and is less severe than it sounds. 066.font is Piotr Wozniak's one-man operation, based in Konskie, Poland; Wozniak now brings us Longinus Pro, an attractive 17th century Garalde with a wide array of alternates, ligatures and swash characters.
ARTypes, known for excellent revivals of lesser-known faces (their Hiero-Rhode-Antiqua – based on a design by Rhode which was first cut by great punchcutter Johannes Wagner – is very much underrated), present Curwen Initials, a new digitization of van Krimpen's 1925 design, and Forum II, a new digitization of Georg Trump's 1952 dimensional all-cap display face.
---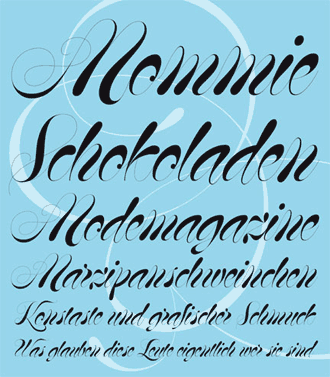 Scripts are equally well represented. Hubert Jocham has the softly flowing MommieBrush and Mommie, an extremely high-contrast variant for very large settings; the always-productive Rob Leuschke brings us several new releases, including the wild SassyFrass, Ruthie, Oh Ley and the more conservative Imperial Script; and Nanette, Fajardo's second release, is as attractive as it is useful and comes with a face full of alternates as well as a rough version. Alison Argento's Bender Script is an economical advertising script based on incomplete sketches by Charles Bluemlein, and includes contextual alternates, swash caps and support for a number of European languages; Minnesota's Bergsland brings us their third script, Auntie Pat , an interesting connecting script with small caps and both lining and old-style numerals.
Canada Type has several new scripts, including Philip Bouwsma script Mirabel (based on his mother Beverly's handwriting using a broad-edged Osmiroid fountain pen), and Adams, a revival and expansion of Dolf Overbeek's Studio typeface, originally published in 1946.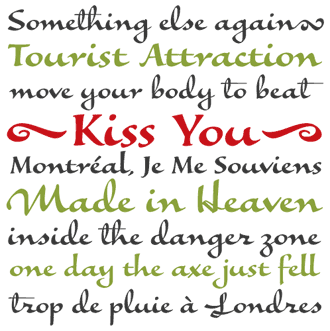 ---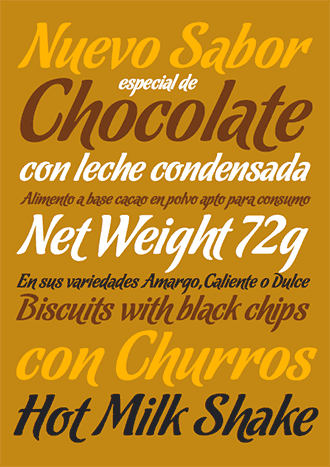 Mexico's Jonahfonts brings us several new typically casual and friendly brush scripts; Medalist, in particular, is an attractive condensed face suitable for greeting cards, advertising and similar uses. Finally, Alejandro Paul and Angel Koziupa's Sudtipos brings us two new typically superb faces, a script (Chocolate, in three "flavors") and Eli Castellanos' Barricada, a very heavy yet friendly non-script display face that still manages to contain much of the swashy character of many Sudtipos scripts.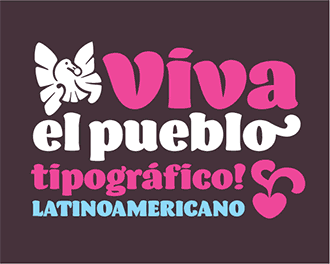 ---
The angular and almost-uncial style of Newcomen is a bit of a departure for regular MyFonts contributors Insigne. Its spikiness and Victorian character are quite a bit different from the playful French scripts and cool display faces they've been making up until now, and it is a wonderful addition for any designer with invitations and other similar formal documents as their bread and butter – its 87 alternates and 38 ligatures make it a real display workhorse. Other new Insigne releases include Mahalia, a swooshy script which includes connected and non-connected alternates, Xalapa, a rough-edged hand-drawn face with African and Central American influences, and Dienstag, an extended sans that comes in a variety of weights.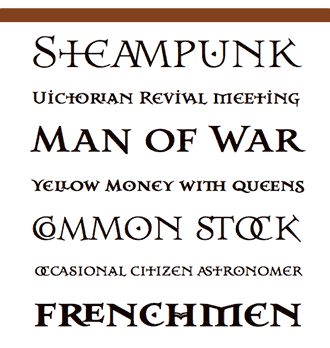 ---
---
---
---
---
---
---
---
---
---
---
---

It's been an exciting few months for typographers and type designers alike. It's election season in the United States, and the amount of attention given to that country's two largest political campaigns – including their choice and use of type – is staggering. In Canada, of course, it's not so much an election season as a few weeks, but there, too, graphic designers dissect the minutiae of campaign identities.
As always, there are some tempting type-related events on the horizon, with a bit of something for everyone – should you be in the neighborhood or willing to take a (not-so-short) trip…
And for eye candy: Cartel Agency recently attempted to gather the best-designed Criterion Collection DVDs; Axel Peemoeller found this unique angle on forced-perspective directional signage at Australia's Eureka Tower car park; Bryan Wu brings us post-ironic Helvetica & Cooper Black shirts. Although personally, I like my president the way I like my coffee – typeset in Gary Gillot's 1966 Carousel, of course.
Finally, Gary Hustwit, director of the terrific Helvetica, is working on a new film. Sadly, it's not about type, but it is about design – industrial design, to be precise. The found type-based logo for Objectified should bring a smile to any typographer's face.
---