ome great new fonts have shown up on our Starlets list this month. Scripts are big as always – witness the success of newcomers like Sacre Bleu, Ambassador Script, Confection and Viktorie. Insigne's bestseller Aviano was given a sans serif companion which quickly became the number one Starlet. Fleurons V, as its name indicates, is the fifth set of lovely embellishments by German designer Gert Wiescher.
Meanwhile, we've made a few changes here in the Rising Stars newsletter. For starters, we have let go of the Know your type designer interview to allow it to spread its wings as a separate newsletter (arriving in your inbox soon!). Secondly, we're introducing a new section to showcase those workhorse font families which tend to be less trend-sensitive: text faces. Enjoy!
Know your type designer (even better)
The world of type is continually changing, and so are the MyFonts newsletters. We're glad that so many of you appreciated the new editorial approach in our latest Special Edition. Now we've made some changes to Rising Stars as well. The "Know your type designer" interviews that would normally appear here now have their own monthly platform – a newsletter dedicated to type designers, called Creative Characters.
We were quite impressed by the thoughtful, informative and witty answers provided by our designers in the past months – and we expect that the new format will allow our readers to appreciate these Creative Characters even more. The first issue will land on your desktop soon.
Text family of the month
With the aforementioned interviews moving on to bigger and better things, we introduce this new section to Rising Stars: Text family of the month. New text faces – fonts created to be read in longer text settings – don't often make it into our Rising Stars newsletter, simply because they sell slower and are less trend-sensitive. In order to showcase some of those great new 'serious' typefaces (which are often among our personal favorites), we proudly give them their space to shine here.
And with that, we introduce to you…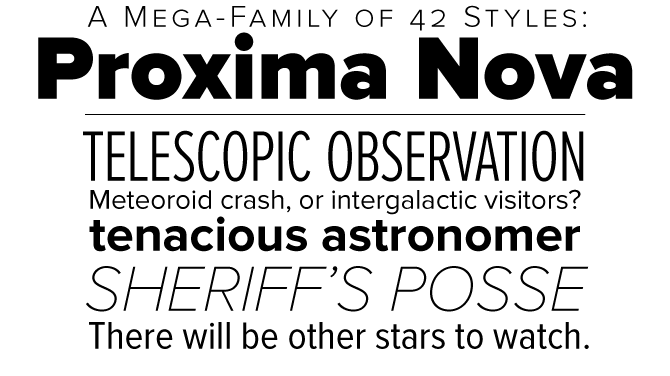 The original version of Mark Simonson's Proxima Sans has been around for a while as a small family of six fonts. With Proxima Nova, Simonson has now published a complete reworking of his design: Proxima has been expanded to a superfamily of 42 full-featured OpenType fonts, spanning seven weights and three widths: Normal, Condensed and Extra Condensed.
Stylistically, Proxima Nova bridges the gap between typefaces like Futura and Akzidenz Grotesk. The result is a highly original hybrid combining humanistic proportions with a somewhat geometric appearance.
Mark Simonson is not only a prolific lettering artist and type designer with more than 70 fonts on the market, he is also a contributor to typography forums such as Typophile. To put into perspective his work on Proxima Nova, read his well researched article on two other sans serifs, Arial and Helvetica.
Have your say

— Adriana Waterston from Horowitz Associates, Inc in Larchmont, NY
Your opinion matters to us! Feel free to share your thoughts or read other people's comments at the MyFonts Testimonials page.
This issue's font credits
featured fonts
Comments?
Please send any thoughts you'd like to share with us about this newsletter to: [email protected]