s you can see, Rising Stars are speeding up. Here we are yet again, only a few weeks after the July edition. As some of you may have noticed, we had some catching up to do. From now on, we'll seriously try to get each Rising Stars newsletter out to you in the first week of the month.
Atmosphere is the keyword in this issue of Rising Stars. Each of the new fonts we selected stands for a particular period or mood – and each is a great character actor that will lend a unique yet vaguely familiar voice to the headlines you choose to set in them.
Text family of the month
For those Rising Stars regulars who happened to miss last month's edition: there have been a few changes. The type designer interviews that used to be part of this newsletter now have their own platform – the monthly Creative Characters. This will allow us to introduce even more bright young typefaces in Rising Stars. "Text Family of the Month" is our new section dedicated to the workhorses of the printed page.
Introducing this month's text family: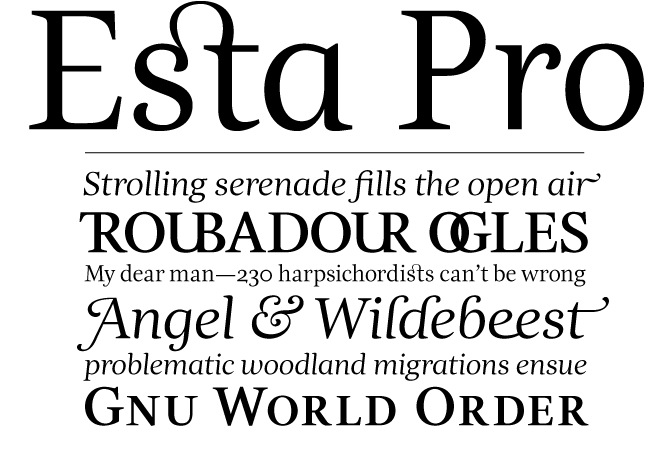 Dino dos Santos from Portugal has been releasing an impressive range of font families these past few years. To mention just a few recent ones: Estilo and Estilo Script were among last year's most successful newcomers. The sophisticated Leitura type system is an amazingly versatile superfamily. And now there is Esta Pro: the extended version of Dino's award-winning Esta typeface.
Esta Pro belongs to a new breed of text fonts with a Mediterrean-Latino soul: spirited, dance-like, smart. Its surprising details make it an interesting font for large sizes, but when used for body text, the font's idiosyncrasies modestly blend in with the overall image. Esta Pro comes in two weights only – Regular and Bold – but offers small caps, oldstyle and lining figures, as well as two adventurous sets for titling purposes: Esta Display and Esta Swashes.
Be quick: for another week or so, all DSType fonts come with a 50% discount!
This issue's font credits
featured fonts
Comments?
Please send any thoughts you'd like to share with us about this newsletter to: [email protected]