eptember is here, and for many of our customers this means that business is picking up again after a couple of slow months. As always, MyFonts is here to help you make quick and informed choices whenever you need the perfect typeface for that new job, now! In fact, it's quite possible that what you need is one of this month's Rising Stars!
Text family of the month
Clarendon is one of those quintessential 19th-century typefaces that are still popular today. Having been rediscovered by a new generation of cutting-edge graphic designers, it has even enjoyed a kind of renaissance. Although there are several good digital Clarendons with a wide range of weights, these existing revivals are limited for use as text faces.
Canada Type's Patrick Griffin solves that problem with Clarendon Text, this month's choice for Text family of the month: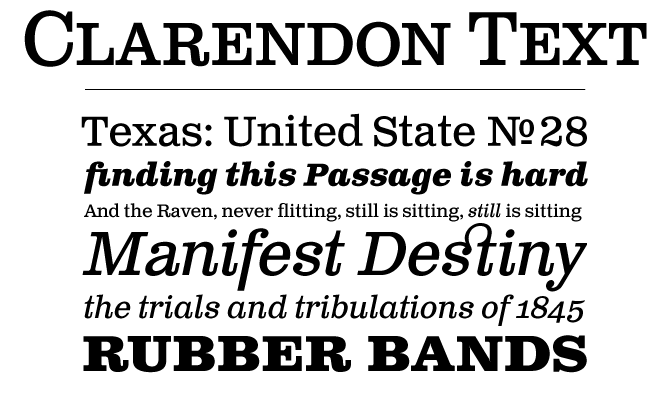 This new typeface is a radical but respectful makeover of a classic, re-tailoring it to the complex demands of international commmunication. It makes ample use of the possibilities of OpenType, extending the family with small caps and four styles of figures – which makes it a milestone in Clarendon history.
Clarendon Text offers remarkable clarity and readability; it also has a fine italic, which takes its cue from Aldo Novarese's Egizio Italic (1955). The new typeface slightly departs from the original Clarendon to make it better suited for immersive reading. For instance, the shapes of the letters like a, g, q, and t were simplified to better melt into word shapes. Not to worry if you prefer the traditional shapes: they are still available as alternate characters. Check out the complete story and the 4-language test PDF.
This issue's font credits
featured fonts