cript fonts are going strong on our Starlets list. It's easy to understand why. Packaging, invitations, pizzeria flyers, book covers, film titles… with instant handwriting fonts that often cost less than a designer ballpoint pen, it's a piece of cake to give your headlines that personal, spontaneous look. Some occasions, of course, call for a display face from the other end of the spectrum – stern, formal, solemn. In that case, the corporate typeface of the Roman empire may just be the font you're looking for – Jupiter is its latest revival. Or find something in between… and let Rising Stars be your guide.
Text family of the month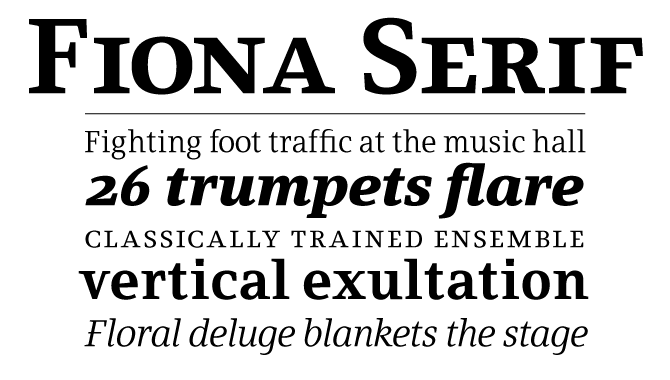 Designer Guido Schneider is the heart and soul of Brass Fonts, a German foundry that started out as a collective in the late 1990s. Many of his fonts are custom typefaces for specific clients, and the versatile Fiona family is no exception. Fiona was designed in 2003 as the "house typeface" of MDR, the broadcast company of central Germany. The family comes in three versions – three striking variations on a theme. Fiona Serif is a text typeface with usual details, such as a tapered bar on the 'e' and some asymmetrical serifs, which lend a unique personality to its roman. Fiona Slab is a sturdy, low-contrast headline face. And Fiona Script is simply gorgeous.
Have your say

— Bridget Young of Bridget Young Design, Worcester, MA, September 7th, 2007
Font credits
The Rising Stars masthead and subheading are set in Auto 3 and Bryant, respectively. The drop-cap S in the introduction is set in Chateau, and the "Have your say" quotation in Fiona Serif. The small pixel typeface at the very beginning is Unibody 8.
Comments?
Please send any questions or comments regarding this newsletter to: [email protected]