his is a month of celebrations and togetherness for many people. But for your inner business person, December may also be a period of practical decisions prompted by the approaching end of the fiscal year. Assuming you've done well this year – what better way to fill out the budget than by buying some great new fonts? It's fun, it's useful, it's good for you and your co-workers' morale – you could even make a New Year's resolution out of it.
Text family of the month
Typefolio is a new foundry based in Macapá, Brazil. Designer Marconi Lima aims to offer typefaces of superior quality – technically, functionally and aesthetically. With his first font family on MyFonts, Adriane Text, he certainly does not disappoint: it is a wonderfully readable book typeface: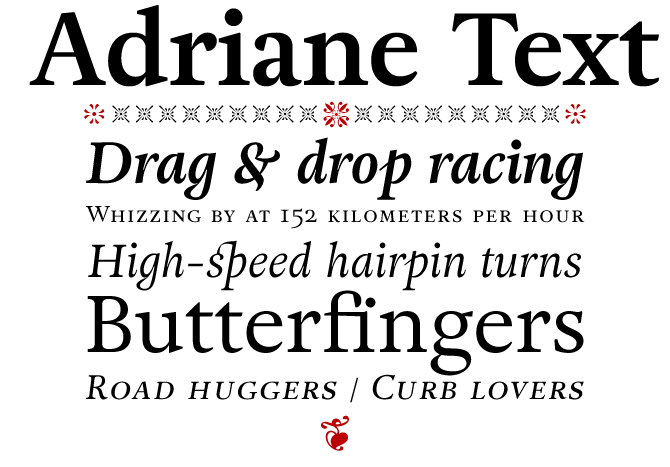 Stylistically, Adriane is hard to pin down – somewhere in between baroque and rococo ("transitional"), but utterly contemporary in its details. Adriane Text is a fairly small font family – two weights in Regular and Italic – but it does everything you may want a versatile text family to do. Its letterforms are wide and solid enough for setting small text, and subtle enough for titling. Its italic is gorgeous and doubles as a stylish headline face.
Adriane Text comes as an OpenType family equipped with small caps and several sets of numerals including "tabular oldstyle figures" – an elegant alternative solution that is often overlooked when setting text tables. Adriane Text offers a splendid range of ligatures and ornaments, arrows, alternate ampersands... In short, a beauty.
Follow-Up
Picture fonts do pretty well at MyFonts – but they seldom show up on bestseller lists because they're outsold by the usual loud-mouthed posse of alphabetic characters. So we were surprised and delighted by the success of SubiktoTwo, one of the most quietly charming, inspiring picture fonts that have installed themselves on our virtual shelves lately. Ideal for creating multi-colored backgrounds and ornaments, SubiktoTwo is a digital botanic garden full of interesting flowers and leaves.
If you liked this font by Subtitude, have a look at their other pictogram fonts: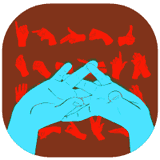 A set of pictograms showing a multitude of hand positions and combinations. Designers Valérie Desrochers and Sébastien Théraulaz put together a large collection of unique gestures and visualized them in drawings that are as clear as they are sensitive.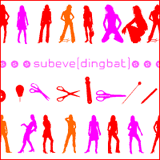 Subeve was designed for a young Montreal fashion designer. Starting from photographs of her collection, Subtitude used the silhouettes of the models to create a charming series of icons for her website. Subtitude's advice: feel free to play with these nice women!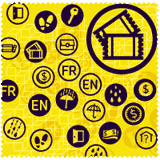 Originally made for a cultural listing in Montreal, where Subtitude are based. This collection of pictograms is a unique resource whenever you're designing a festival program or a calendar of events. Contains indications for tickets, free admission, outdoor events, and many others.
Have your say

—Michael from Sussex, England
November 2, 2007

Your opinion matters to us! Feel free to share your thoughts or read other people's comments at the MyFonts Testimonials page.
Font credits
The Rising Stars masthead and subheading are set in Auto 3 and Bryant, respectively. The drop-cap T in the introduction is set in Fab, and the "Have your say" quotation in Adriane Text. The small pixel typeface used at the very top is Unibody 8.
Comments?
Please send any questions or comments regarding this newsletter to: [email protected]