his year is very different from last year. How can we be so sure? Well, for instance, we clearly remember declaring April a month of nostalgia when presenting the Rising Stars newsletter a year ago. Now look at the April selection of successful new fonts this time around: each alphabet a collection of fresh, contemporary letterforms, each font more original than the next.
Text family of the month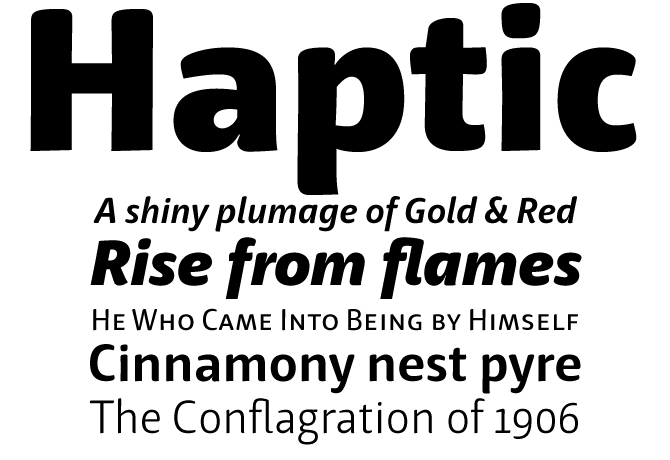 One of the major foundries that recently joined MyFonts is LucasFonts, led by Berlin-based Dutch designer Luc(as) de Groot. De Groot also teaches type design at the University of Applied Sciences in nearby Potsdam, and in doing so he is busy creating his own competition. Haptic by Henning Hartmut Skibbe was originally developed under Luc(as)' supervision as a graduation project. Its retail version comes in an impressive range of seven weights — from Light to Black — each with matching italics, small caps and italic small caps.
Haptic was the result of a challenge. Henning Skibbe asked himself: "How much character can a typeface bear before losing legibility?" The answer is a delicate type family that offers maximum warmth and personality, yet meets all the requirements of an all-purpose text face. It was optimized for use in small sizes, but thanks to its soft shapes and subtle details it will work wonders as a headline face as well.
Follow-Up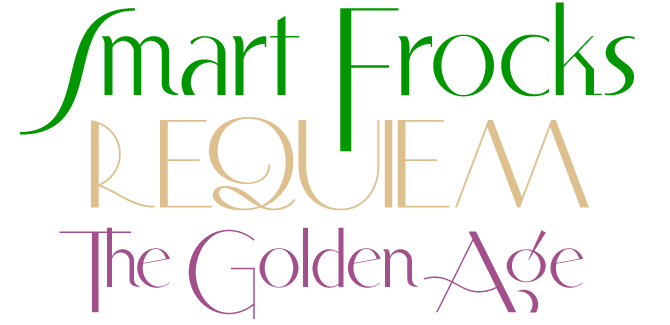 Based on a piece of commercial lettering from the 1930s, Smart Frocks is hip and haughty and decidedly Deco. Having been featured in last month's Rising Stars, it has risen to further fame and glory in the past few weeks. It even made it to the second spot in our general Bestsellers list, which is an impressive career for a former Starlet. The stylish Smart Frocks is included in Nick's Fonts' irresistibly priced Feb 2008 6-Pack.
If you like this typeface from Nick's Fonts, check out some of their other fonts: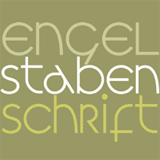 An elegant uncial face based on a work by German type designer Ernst Engel from 1927. It is unicase — no separate upper- and lowercase forms — and monolinear — it has almost no contrast between thin and thick strokes. A curious combination of Art Deco sensibilities and medieval letterforms.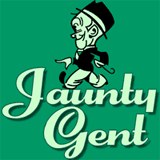 Based on the 1936 Rheinhold Kräftig by Erich Mollowitz, Jaunty Gent was one of last year's most striking display fonts. The original letterforms were extended and beefed up a bit, and the result is a rollicking script-like retro font.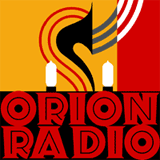 Nick Curtis is one of the hardest working revivalists in the business. A few weeks ago he presented the follow-up to his Feb 2008 Six-Pack — that's right, the March 2008 Six-Pack. Our favorites from the package are the delicious Calamity Jane, and this one: an ultrabold cheeky display face inspired by a 1930s ad for—believe it or not—Orion radios.
Have your say

—Captain Clay-Mate from Guildford, England
6 March, 2008

Your opinion matters to us! Feel free to share your thoughts or read other people's comments at the MyFonts Testimonials page.
Font credits
The Rising Stars masthead and subheading are set in Auto 3 and Bryant, respectively. The drop-cap T in the introduction is set in Bruce Flourished, and the "Have your say" quotation in Haptic. The small pixel typeface used at the very top is Unibody 8.
Unsubscribe info
This newsletter was sent to [email]. You may unsubscribe at any time at: www.myfonts.com/MailingList