any of you have visited foreign lands during the past few months, and so have probably also seen some foreign supermarkets. The package designer in you will have relished walking through the aisles and inspecting the local labels. For in spite of global consumerism, each culture still has its own preferences when it comes to packaging and branding. One trend is global, though: scripts — elegant, informal or trashy — are all over the place. In case you got inspired to try something new in your holiday scrapbook, music packaging or candy bar design, here are some great fonts to get something going.
Text family of the month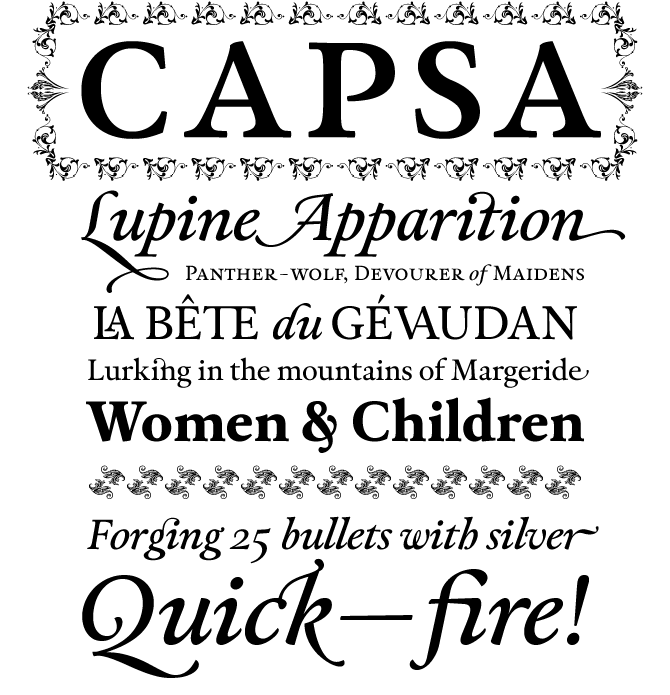 Capsa is a new book face from Dino dos Santos, the Portuguese designer who gave us Leitura, Estilo and a host of other beautifully produced font families. Like its predecessors, Capsa has been drawn with love and care, and is chock full of options and alternate glyphs to design page after page of stylishly arranged text.
Inspired by two faces from the mid-18th century specimen of the printer Claude Lamesle, Capsa is not a revival but a contemporary take on an elegant rococo book face. Instead of a large spectrum of weights, it offers a wealth of swashed italics, fancy ligatures, and ornaments for that one regular weight which the discerning typographer knows how to use to great effect. There's a very practical collection of figure styles, and the small caps are considerably larger than the x-height, which for some jobs may come in very handy. Delightful!
Follow-Up
Oxida is a vigorous script drawn by Argentinean lettering artist Angel Koziupa and digitized by type wizard Alejandro Paul. Introduced in our previous Rising Stars newsletter, it has continued to do extremely well throughout the summer. Its rusty edges give it a special kind of energy — perfect for romantic movies and novels, and for packaging of anything roasted.
If you like this font from Sudtipos, check out some of their other recent offerings: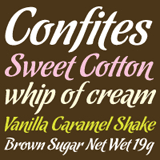 If a typeface could melt on your tongue, Chocolate is it. It comes in three flavors: Dulce (sweet), Caliente (spicy) and Amargo (bittersweet), each offering a different variant of an irresistible lettering style. The OpenType version includes three flavors all in one.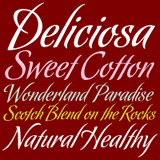 Another freestyle script by the Koziupa-Paul team. Its bent, pointed terminals, its swashy carefree caps and unique figures lend character and sharpness to food and drink product labels or ads. Koziupack is also a great companion to contemporary illustration.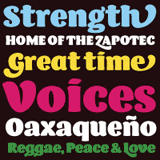 Barricada is a jovial font with immediate impact, a kind of contemporary Cooper Black. It is solid and loud-mouthed, but thanks to the curved serifs and playful alternation of thick and thin, it still manages to look fresh and simpatico.
Have your say

— Joe in Bordeaux, France
18 July, 2008

Your opinion matters to us! Feel free to share your thoughts or read other people's comments at the MyFonts Testimonials page.
Font credits
The Rising Stars masthead and subheading are set in Auto 3 and Bryant, respectively. The drop-cap M in the introduction is set in Sweet Upright Script, and the Have your say quotation in Capsa. The small pixel typeface used at the very top is Unibody 8.
Unsubscribe info
This newsletter was sent to [email]. You may unsubscribe at any time at: www.myfonts.com/MailingList