hese are tempestuous times. While the world is discussing the outcome of presidential elections and financial turbulence, we at MyFonts have no other ambition than to make your life easier and typographically more interesting. This month's very welcome key word is "affordable." Some of our designers are extremely generous this month — we say no more. Have a look and take your pick.
Text family of the month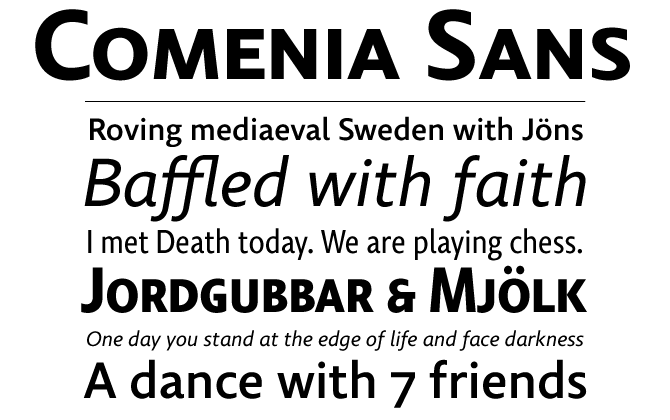 Comenia Sans is Tomáš Brousil's first new release since we interviewed the young Czech designer in July. Like all releases from his Suitcase foundry, it is a beautiful and very thorough piece of work. Originally drawn as a sans-serif companion to František Štorm's Comenia (which will soon be available from MyFonts), Comenia Sans is also a great stand-alone text and display face. Its open counters, overall roundness and relatively wide italics make it extremely legible even in very small sizes. At display sizes, Comenia reveals interesting little details, which lend it its unique character without compromising legibility or utility. Comenia Sans Italic has several shapes that derive from the hand-written heritage, so that italicized words stand out not just by their slope, but also by the shapes of the letters themselves. As is standard practice at the Suitcase Type Foundry, Comenia Sans has extensive language sets with carefully placed diacritics, small caps, mathematical symbols and several types of numerals. The family also contains six condensed styles for striking, space-saving headlines.
Follow-Up
Dutchman Jos Buivenga's Museo Sans has been at the top of our Bestsellers list for most of October. A geometric sans-serif with some characteristics borrowed from the humanist sans model, it is as clean and clear as they come. It is also very affordable and has very nice oldstyle figures…
If you like this font by exljbris, check out their other typefaces on MyFonts: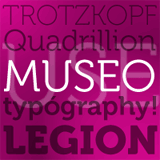 Museo is the spirited semi-serif family that preceded Museo Sans. It is based on the same open, geometric structure, but has unusual, highly original details. Thanks to its asymmetric serifs it makes for striking headlines; it is also very readable in medium-sized texts.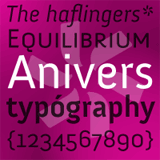 Anivers' whimsical shapes evolved out of Museo's, although it took major tweaking and redrawing for one font to become the other. According to designer Jos Buivenga the font is "robust and rigid, forgiving, flexible and elegant." It is especially suited to be used big in magazines and on posters.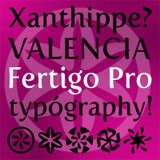 MyFonts regularly receives emails summoning us to give away more fonts for free. Although this is not as great a business model as some may think, with the help of our designers it does sometimes become possible. And if a font is as lovely and well made as the calligraphically inspired Fertigo Pro, then why not show the designer your gratitude by buying some of their other fonts?
Have your say

— Jo in Adelaide, Australia
9 October, 2008

Your opinion matters to us! Feel free to share your thoughts or read other people's comments at the MyFonts Testimonials page.
Font credits
The Rising Stars masthead and subheading are set in Auto 3 and Bryant, respectively. The drop-cap T in the introduction is set in Tomate, and the Have your say quotation in Comenia Sans. The small pixel typeface used at the very top is Unibody 8.
Unsubscribe info
This newsletter was sent to [email]. You may unsubscribe at any time at: www.myfonts.com/MailingList