o many of you, the December Rising Stars newsletter traditionally represents a moment of reflection. What has the old year brought, typographically speaking? What fonts to acquire before we uncork the bubbly, in order to end 2008, as the French say, in beauty? MyFonts proposes some very practical typefaces, each carefully prepared for a wide range of uses. Plus a more single-minded monogram font that allows you to personalize just about everything in sight. Enjoy!
Text family of the month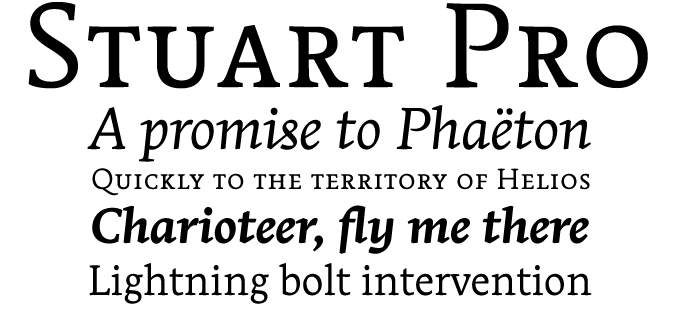 Stuart is one of the most ambitious typeface families to have hit MyFonts' virtual shelves lately. Its family structure is based on an age-old principle: optical scaling.
As you may know, the punchcutters who used to cut typefaces directly in steel (which was then hardened and used to strike matrices) worked at true size. As they moved down into the smaller sizes, they could not simply use the exact same proportions they had used for the large ones: strokes had to become relatively sturdy, shapes simplified, width and spacing increased. So, each body size had its own design, influenced by the purely physical limits of the punchcutter's dexterity and eyesight… which made each size just right for the reader's eye.
Today most text faces use just one basic design which the computer allows you to scale almost infinitely, from tiny to huge. The result isn't always inviting: texts may become too skinny or headlines too coarse.
Designed by Swiss-born Matthieu Cortat, the Stuart family amends this deplorable situation by offering three designs for a single typeface. It's not a completely new principle for digital fonts (families like Utopia and ITC Bodoni use it too) but Stuart is beautifully designed and its details are quite original.
The sturdiest is Stuart Caption, suitable for type sizes below 8 points; at the other end of the scale is the more refined Stuart Titling, with Stuart Text in between. The differences are subtle, but make a lot of sense.
Stuart's "Standard" version has various figure sets and small caps accommodated in separate fonts, whereas the Pro version has it all accumulated in a single glorious OpenType font per weight.
Follow-Up
Of the fonts featured in last months Rising Stars newsletter, Rob Leuschke's pretty Corinthia has been the most steady seller. With its supple curves and vigorous rhythm, it's bound to add class and energy to brochures, invitations or classy packaging.
If you liked this font from TypeSETit, check out some of their other scripts: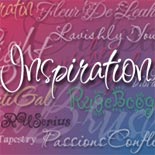 A less-than-serious script font that bounces and jumps in all directions. Festive and cheeky, it's still riding the bestseller charts in the 5th year of its existence.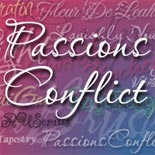 A perfect balance between elegance and informality. It's a script face that has what the Germans call "Schwung" — which is like "swing" with multi-colored lighting.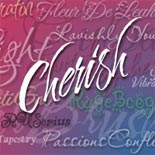 Cherish explores yet another area in the calligraphic realm: energetic handwriting with a unflexible brush or maybe a reed pen, resulting in a scratchy effect.
Have your say
— Rosastef in Iceland
7 November, 2008
Your opinion matters to us! Feel free to share your thoughts or read other people's comments at the MyFonts Testimonials page.
Colophon
The Rising Stars nameplate is set in Auto 3 and Bryant, the drop-cap T in the introduction is set in Facebuster, and the Have your say quotation in Stuart.
Comments?
We'd love to hear from you! Please send any questions or comments about this newsletter to [email protected]