The first weeks of 2009 have gone by at lightning speed. So maybe you are ready to replace some of your New Year's resolutions with even better ones. Here we go. First, after a few slow months, we'll get the ball rolling again through positive thinking. Second, we'll come up with new, daring typography to express our growing optimism. Third, we're going to work with brand new fonts to create this typographic vision. That is where this newsletter comes in. Because MyFonts is here to help you get your groove back!
Text family of the month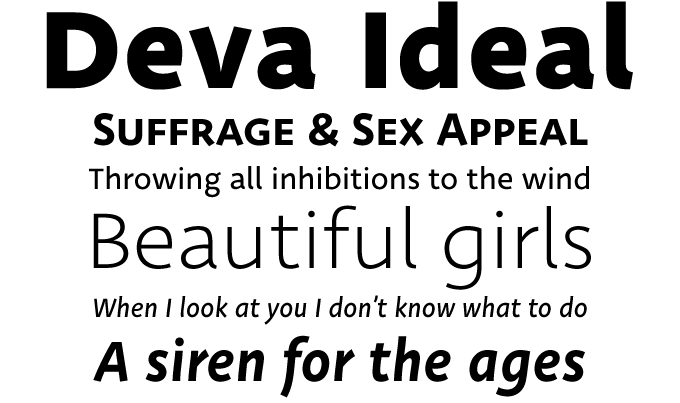 Professional book typographers make heavy demands on any text font they choose to use. Of course it must be well designed, made to look even and unobtrusive at all text sizes. But there's more. The ideal family has to provide the discerning book and brochure designer with any features a job may require: plenty of weights, true italics, small caps, both tabular and oldstyle numerals, international character sets, and more.
Among the text families that recently hit our shelves, Deva Ideal, a new sans-serif by Slovak designer Ján Filípek, meets those requirements with meticulous attention to detail. Its letterforms are clear and distinctive, the overall image is beautifully open and regular, and the italic has a nice flow despite its simple structure. Deva Ideal comes with any feature you may want for a complex project, including probably the largest set of numerals we've ever come across — imagine having two sets of Roman numerals, cap height and small cap height, at your disposal when typesetting a history book! It has arrows, boxes, broken hearts, inferior and superior numerals and letters… Deva Ideal is an exemplary sans-serif text family, raising the bar for text families to come.
Follow-Up
Madawaska by Ray Larabie was among the most successful fonts of past few months. A slab serif family of mixed influences, it offers the usability of a text family combined with the distinctive character of a display typeface. The versatile Madawaska family comes in seven weights, one of which is offered free of charge, courtesy of Larabie's microfoundry, Typodermic.
If you liked this typeface from Typodermic, check out some of their other fonts: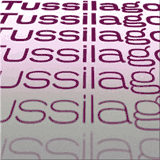 If you like your words to have width as well as depth, Tussilago may provide just the right wardrobe. With seven weights and multiple styles of numerals, Tussilago is a font to be reckoned with for magazine, flyer and identity design.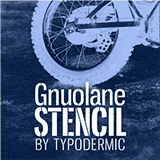 Based on Larabie's Gnuolane, Gnuolane Stencil is a powerful stencil font in five weights. While it borrows from 19th-century grotesque models, its smooth elliptical structure lend it a sixties sneer. A distinctive face for magazine headlines or transport crates.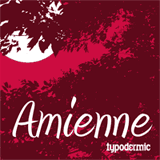 Amienne is a lively and informal brush script that moves with a nimble rhythm. Airy and graceful, Amienne is delicately rounded in all the right places. Great for greeting cards and headlines, surprisingly useful for advertising and signage.
Have your say

— Delina Papit in Raphine, Virginia
15 January, 2008
Your opinion matters to us! Feel free to share your thoughts or read other people's comments at the MyFonts Testimonials page.
Colophon
The Rising Stars nameplate is set in Auto 3 and Bryant, and the Have your say quotation in Deva Ideal.
Comments?
We'd love to hear from you! Please send any questions or comments about this newsletter to [email protected]