MyFonts has been busy these past few weeks. Newsletter-wise, we have taken a short break, but elsewhere on the internet our activities caused quite a buzz. Our new website has met with much praise, and some great feedback on possible improvements. Our new blog has begun to accrue entries. And our free WhatTheFont for iPhone has been an overnight sensation, with tens of thousands of downloads in the first few days. Anyway, as this newsletter is about new fonts: without further ado, a big hand for February's most remarkable debutantes.
Text family of the month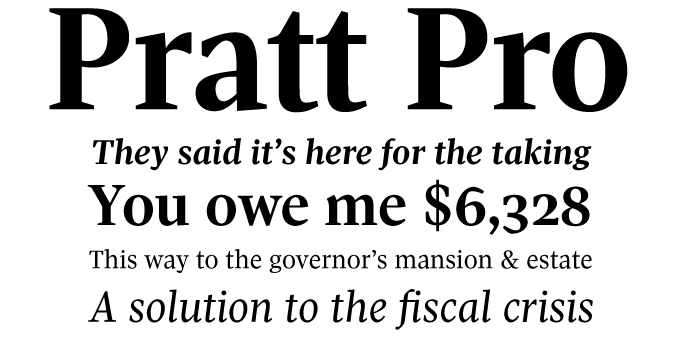 When a newspaper commissions a brand new font family to be developed for its pages, it is always fascinating to see the outcome. Designed in 2007 for the Globe and Mail, Canada's national newspaper, Pratt Pro is a remarkable tour de force. Nick Shinn's original news face is crisp and contemporary, lucid and economical, and maximizes readability when space is at a premium.
Named after David Pratt, who led the redesign as design director of the Globe and Mail, the typeface has been used for the paper's body text since May 2007, setting hundreds of millions of words. Now this family of text and headline styles has been made available to other users as well — a great privilege, so soon after its first appearance as an exclusive custom family.
Pratt Pro was designed to look bigger than almost any other serifed text face — old style or modern — with carefully drawn, short extenders to avoid collisions in tight leading situations. This is obviously important for text sizes, but plays a role in multi-line headlines and decks too, where precise horizontal spacing and tight fit calls for a similar aesthetic in the vertical dimension. When used with normal leading, the effect is spacious and open, with remarkable legibility in small sizes.
Pratt Pro is an OpenType family with an extensive language character set, small caps and multiple styles of numerals.
Follow-Up
Geogrotesque by Eduardo Manso is a geometric sans-serif that manages to retain an elegant and friendly appeal despite its rational structure. Based on a simple basic shape — a rectangle with curved top and bottom — the typeface is very regular without becoming bland or mechanical. Its sloping horizontals tie the words together into coherent shapes that ensure legibility even at smaller point sizes.
If you like this font from EmType, check out their other typefaces: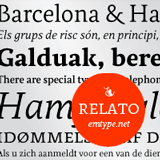 Relato is a low-contrast, muscular serifed typeface designed for a comfortable immersive reading experience. Although it took its inspiration from renaissance lettering and calligraphy, Relato is decidedly contemporary, showing great originality in the details.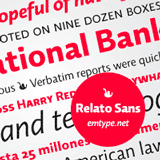 The perfect companion to Relato, Relato Sans is less idiosyncratic, more austere. Like its serifed counterpart, Relato has humanist traits combined with a contemporary cut. Its wide variety of weights makes it a flexible tool for projects of great complexity.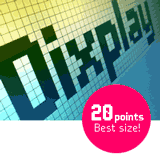 Based on a rigorous pixel grid, Dixplay was conceived for headlines in web pages and multimedia projects; it works fine in high-resolution on paper as well. It is subtler than most pixel fonts, with 300 man-made kerning pairs to make it fit perfectly into the grid.
Have your say

— Paul in Penticton, Canada
28 January, 2009
Your opinion matters to us! Feel free to share your thoughts or read other people's comments at the MyFonts Testimonials page.
Colophon
The Rising Stars nameplate is set in Auto 3 and Bryant, and the Have your say quotation in Pratt Pro.
Comments?
We'd love to hear from you! Please send any questions or comments about this newsletter to [email protected]