It's that end-of-the-year time again when we all begin making lists of what went best this year and what's going to be even better the next. Here at MyFonts, we are busy counting glyphs in order to establish, with perfect objectivity, who sold most of them in 2009. Nah… just joking! Whatever our method of finding out, we won't tell you which are the Fonts of 2009 before the year is done. Anything else would be cheating. Meanwhile, here are the fonts of the month, with some very nice surprises from places you may never visit.
Text family of the month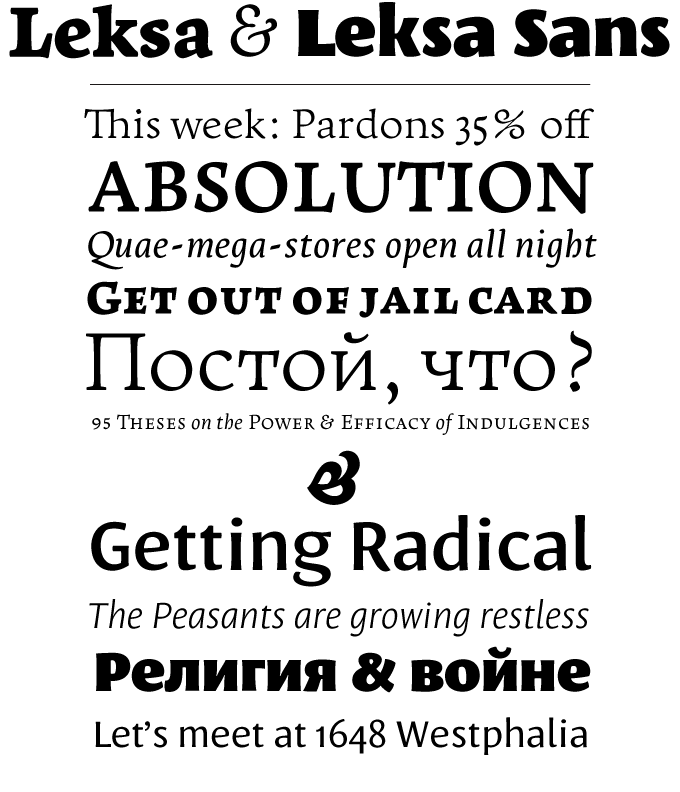 One of the most interesting typographic phenomena of recent times is the influx of well-made new fonts by young designers from Russia – many of them women. Currently the most successful of the new crop is Leksa, a 12-font text family by Alexandra Korolkova from Moscow. Together with its sans-serif companion Leksa Sans (14 fonts) Leksa forms an impressive multi-purpose series.
Considering the fact that Leksa is the designer's début on the international scene, the family is remarkably mature and original. The designer describes her typeface as "oldstyle, even a bit old-fashioned". Its pedigree goes all the way back to late 15th century Venice, where Jenson cut the very first "Roman" printing faces. But while Leksa's silhouette obviously refers to that ancient model, its details and structure belong to the 21st century in every sense. Its harmonious range of six weights, from Light to Black, make it an extremely versatile family. With both oldstyle and tabular digits and true small caps, the family can handle complex typographic jobs. Its usefulness is further enhanced by an elegant, open italic. As Joshua Lurie-Terrell puts it in his review on the MyFonts blog, the result is an "immensely readable bookface". Needless to say, the family has a professionally designed Cyrillic, which won Alexandra an "excellence in type design" award in the Superfamilies category of the 2009 Modern Cyrillic competition.
Follow-Up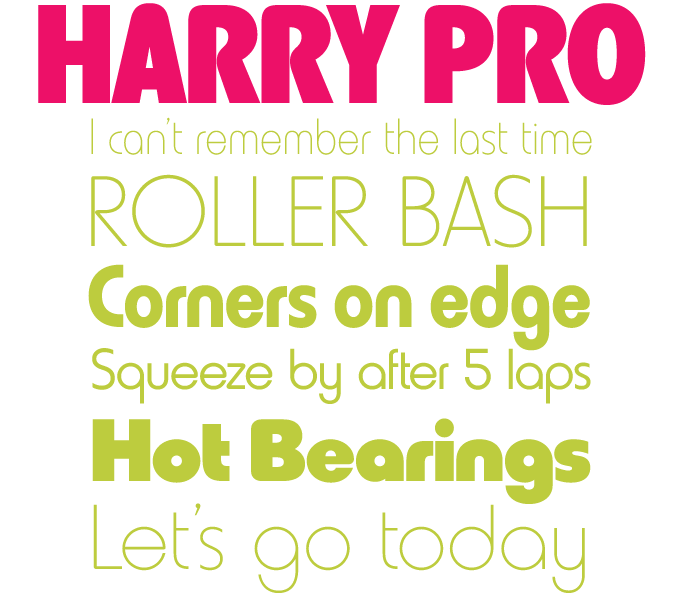 This new digitization of Harry, the quintessential 1970 pop typeface, has been very successful since its release a few months ago. Harry is typical of its time: clean, geometric, unorthodox and jazzy. For this recent digital revival, the people at the Red Rooster Collection added four new weights to the original six.
If you like this typeface from the Red Rooster Collection, check out some of their other fonts: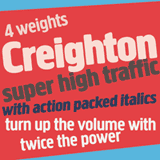 Creighton was the result of an attempt to design a suitable lowercase for Les Usherwood's Elston typeface, based on an old German typeface called Hermes Grotesque (see also here). However, the new design quickly took on a life of its own. The result is Creighton, a timeless rounded sans.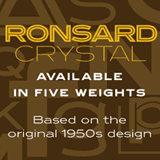 Ronsard Crystal began its life as a single-weight VGC photo display font in the 1950s. The team at Red Rooster liked it so much that they decided to design four additional weights to go with the original inline version. The result is as versatile as it is stylish.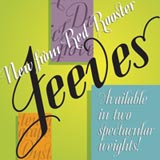 Jeeves was inspired by an old letterhead for a New York company, as reproduced in Leslie Carbarga's wonderful Letterheads. The spirited script comes with a plethora of extra glyphs, ligature characters and OpenType features.
Sponsored font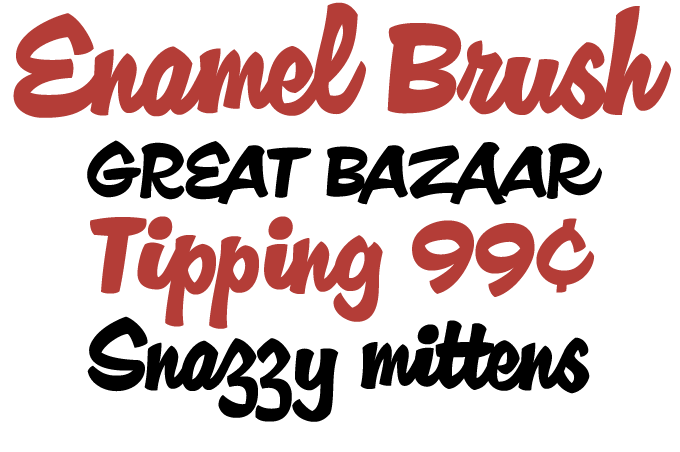 MyFonts offers hundreds of brush script fonts, but Enamel Brush is special. Not only is it lively, sturdy and witty, it also looks great when set in all-caps – which, as most of you know, is not often the case with brush scripts. Also, at less than $9 it offers incredible value for money. Ray Larabie describes Enamel Brush as "a caricature" of a 1955 font called Catalina by New York lettering artist Emil Klumpp. A caricature it may be, but as a font for daily use it means serious business. It even has special ligatures which in OpenType-savvy applications automatically replace certain letter combinations with for a more natural look.
Have your say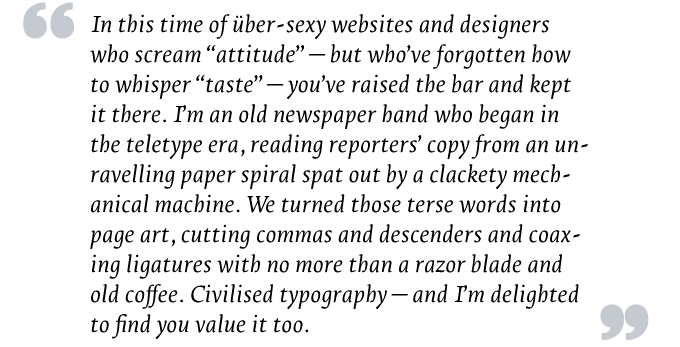 —Rahul in Goa, India
Nov 12, 2009
Your opinion matters to us! Feel free to share your thoughts or read other people's comments at the MyFonts Testimonials page.
Colophon
The Rising Stars nameplate is set in Auto 3 and Bryant, and the Have your say quotation in Leksa.
Comments?
We'd love to hear from you! Please send any questions or comments about this newsletter to [email protected]