Each Rising Stars newsletter is different, but this month's issue is more different than usual. We feature work from two designers that are new to MyFonts, as well as versatile families from two of our most productive foundries. We are introducing the first new typeface in decades from the living legend that is Mike Parker. And the biggest news is an extra-special collaborative font uniting hundreds of designers: Coming Together, a Font Aid project for Haiti.
Text family of the month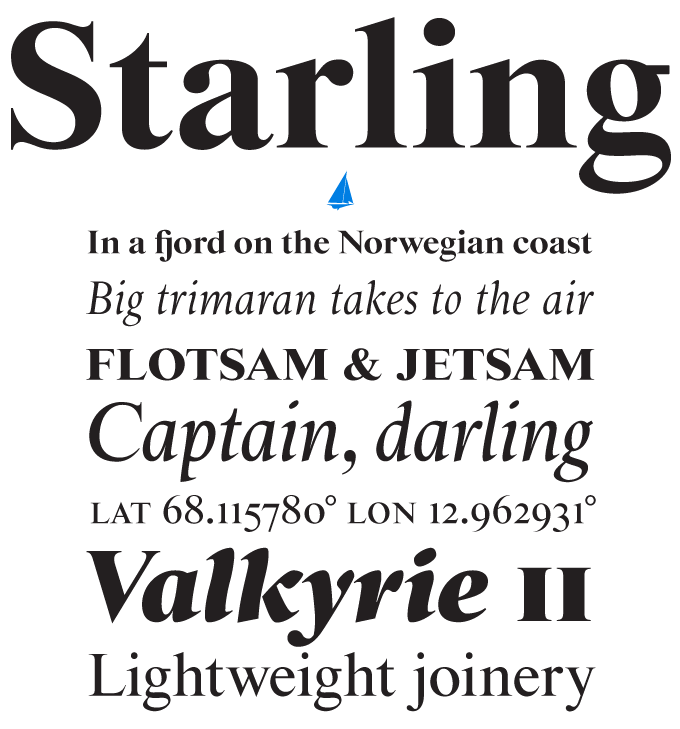 Starling is the outcome of one of typography's greatest whodunit stories. Its designer Mike Parker, grand old man of American type design and type history, has a fascinating theory about the origin of the world's most famous oldstyle, Times (New) Roman. While the accepted story is that Stanley Morison worked with an artist from The Times' advertising department, Victor Lardent, using Plantin as basis, Parker discovered another possible model. It is an anonymous typeface drawn decades earlier, possibly by the colorful William Starling Burgess, a designer who abandoned typography to become a yacht designer and aviation pioneer. Parker examined the alleged Burgess drawings and found them superior to the famous newsface — and Starling is his tribute to this nameless predecessor.
Produced at Font Bureau, Starling is a state-of-the-art OpenType family in four weights, including a striking Ultra Black headline set. It comes with lining and oldstyle figures as well as small caps (accommodated in separate fonts). While the roman recalls the simplicity and strong contrasts of the many versions of Times that we know so well, the italic is something different altogether: energetic, sharp and spirited — a beauty.
Follow-up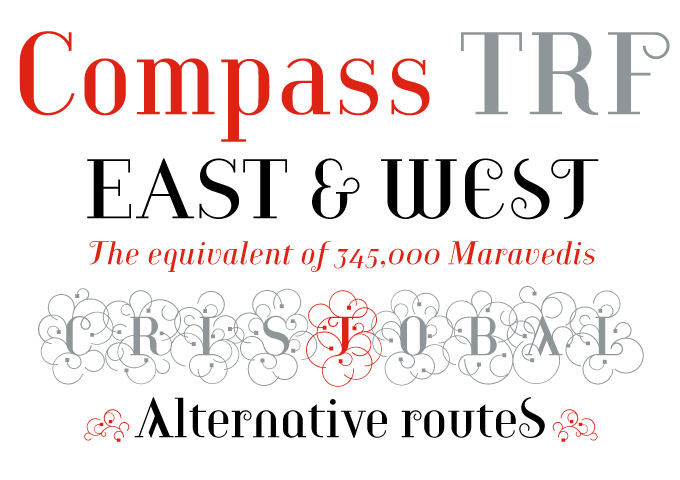 Featured in our February newsletter, Compass TRF has caught the imagination of hundreds of users, becoming TipografiaRamis' best selling typeface to date. Although geometric in construction, Compass's strong vertical stress and thin, straight serifs lend it a neo-classical appeal, striking a balance between the rational and the ornate. While the Regular weight is a rather straightforward roman with some curly elements, the Alternate is an eclectic collection of unusual letterforms and Flourish's capitals get wildly decorative.
If you like this typeface from TipografiaRamis, check out some of their other fonts: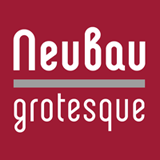 Neubau Grotesque is an upright italic variation of Ramis' Neubau (Sans) and is built in three weights. The main difference with its counterpart is that Grotesque presents a softer and more human look — less techno — while retaining the condensed geometric structure of the original Neubau.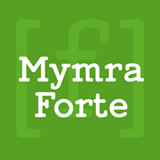 Both Mymra Forte and Mymra Piano are monolinear serif faces inspired by the lettering work of Charles Robinson. With its simplified and straightened terminals and serifs, Forte has a more rigid presence than Piano. While ideally suited for display use, Mymra Forte will also work well in short text settings, especially its Light and Regular weights.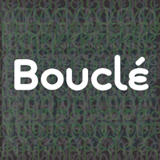 Ramis' latest offering is a monoline decorative typeface family of three subfamilies: Plain, Round and Loopy. Plain and Round come in two weights — regular and bold. While Bouclé Plain works well in designs that require a certain degree of legibilty, Round and Loopy fonts are reserved for highly decorative cases.
Sponsored Font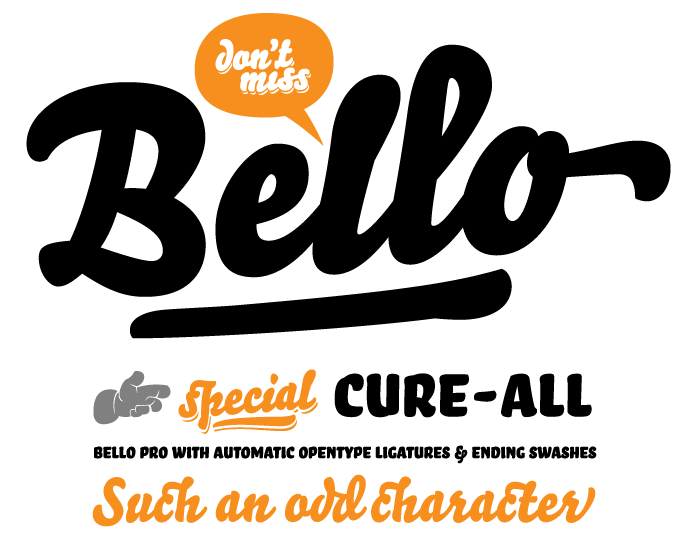 This month's sponsored font Bello comes from Underware, the designers of Liza, the most popular brush script font of 2009. Like Liza, the earlier Bello convincingly mimics the work of the sign writer. It is big, beautiful and well-equipped. Its glamorous ligatures and swashes allow the user to give each word its individual layout. Besides the appealing flow of the Bello Script face, there's the upright and sturdy Bello Small Caps. In Bello Pro (the OpenType version) the Small Caps are integrated, together with a set of striking word logotypes. When you opt for the separate logotype font, Bello Words, there's a companion font of drop shadows to play around with in different colors. Bello is the ultimate brush font toykit.
Have your say

— Jessica, February 24th 2010
Your opinion matters to us! Feel free to share your thoughts or read other people's comments at the MyFonts Testimonials page.
Colophon
The Rising Stars nameplate is set in Auto 3 and Bryant; the Coming Together fontname is in Bryant caps. The Have your say quotation is set in Starling Italic.
Comments?
We'd love to hear from you! Please send any questions or comments about this newsletter to [email protected]