Letterforms are truly fascinating, and so are typeface categories. This newsletter features two pairs of faces that formally belong to the same genre: two connected scripts and two geometric sans-serifs. Yet in both cases, the members of the pair could hardly be more different. While Affair is exuberant and over-the-top, Cider Script is cozy and unpretentious. In the geometric genre, Brandon represents thoughtfulness and practicality, while Bouclé is a wacky and amusing variation on the same theme. Our Text Face of the Month is exceptional as well — narrow and readable, classic yet utterly modern. Welcome back to the wonderfully contrasted world of fonts.
Text family of the month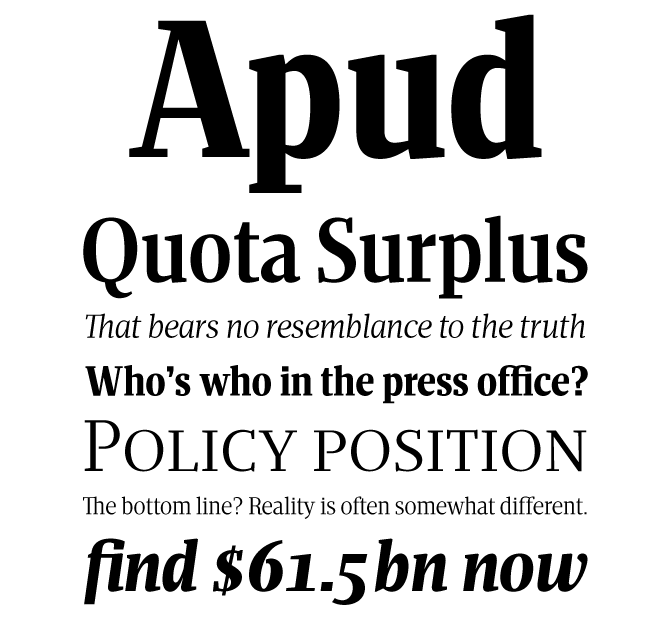 Apud is a text typeface with a difference. It is narrower than most, and could almost be a condensed version of a regular-width roman. But it is not: designer Dino dos Santos conceived Apud as a family in its own right. It is surprisingly lucid and readable, even at small point sizes, so using Apud as a text face can result in some serious space-saving. Another nifty feature: each glyph has a constant width across the four weights of the family, so the weights can be changed at any time during the design process without having to reflow the text.
Apud's serifs are simple and dynamic: wedge-shaped and short on the left, rectangular and somewhat longer on the right. They contribute to the clean, contemporary look and confident feel of the family. Equipped with small caps and multiple figure sets, Apud is a typographically sophisticated family suited for a wide array of publications. For elegant headlines, combine with Apud Display, a stylish and subtle variation on the same formal principles.
Follow-up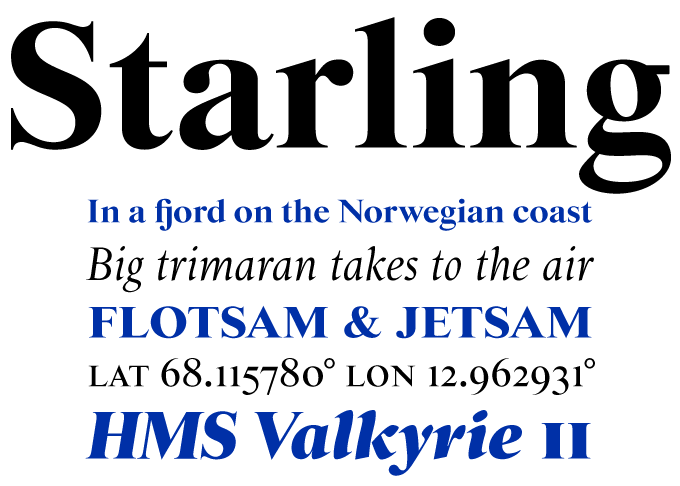 For decades, Mike Parker has been fascinated by the story of the world's most famous oldstyle, Times (New) Roman. Was it indeed art-directed by Stanley Morison and drawn by The Times' Victor Lardent? Parker discovered another possible model, designed by the colorful William Starling Burgess. Parker found Burgess' original superior to the famous newsface — and Starling is his tribute to this nameless predecessor. SInce it was presented as our Text Face of the Month in the March newsletter, Starling has done remarkably well. It is a great alternative for one of the world's most overused text typefaces, has gorgeous italics and a striking Ultra Black headline set, so the success is well-deserved.
If you like this typeface from the Font Bureau, check out some of their other fonts: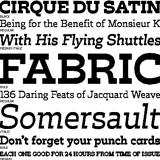 The unorthodox principle at work in Trilby is "reversed stress": the horizontals are heavier than the verticals. This concept was at the heart of the 19th-century French Clarendon, a forgotten topsy-turvy display style. David Jonathan Ross appropriated the style's principle to create Trilby, a wonderful new text and display face with offbeat charm and subtle wit.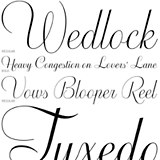 Biscotti was drawn by Cyrus Highsmith as a custom face for Brides magazine. Conceived to be "a typeface that makes the reader feel pretty", Biscotti is a radically simple descendant of the flourished engraved scripts that were traditionally used for such great occasions as a wedding invitation. It is a 21st century typeface capturing the smiling spirit of classical forms.
For years Matthew Carter wondered why no Latins with Bodoni proportions had been developed, or why no Bodonis had triangular Latin serifs. He solved the problem by drawing Rocky Regular and Bold with italics to fill the gap, then expanded the family with the aid of Richard Lipton. Rocky provides the editorial designer with a sharp spot of typographic "color".
Sponsored Font: Comic Book Collection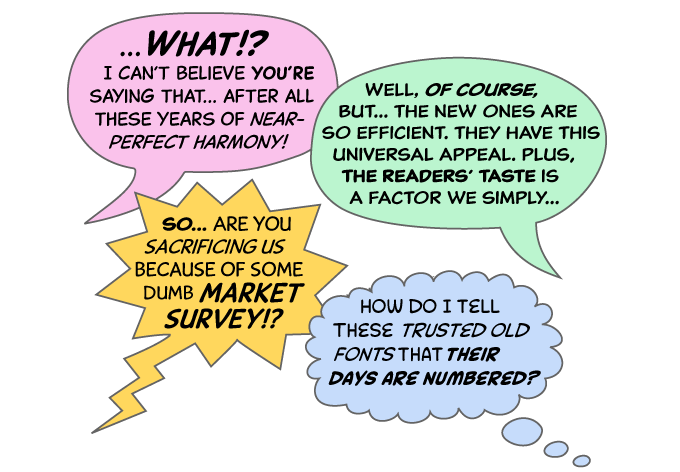 Canada Type's popular font collection is already being used extensively in both mainstream and underground comic books, from Crucifix in the many varieties of X-Men comics, Chalice and Hamlet in Elseworlds books, to Chopper, Driver Gothic and Gamer in plenty of others.
This month's sponsored font collection is their comic book lettering series, which includes a variety of fonts made specifically for filling those speech balloons and thought-containers in comic books. Collector Comic is a mix of Silver- and Bronze-Age lettering in its uppercase slots, and a Modern-Age spin on them in the lowercase cells. Captain Comic is loosely based on the lettering found in the very first Star Trek comics (1967-1970). Caper Comic is made of letters that aim for clarity and readability at both text and display sizes. And Classic Comic uses the ergonomic tilt and wider aperture found in older comic book lettering on both sides of the Atlantic. All four families come in regular and bold, with italic counterparts for each. They are very affordable, and when you buy the entire collection, there's a family discount on top of that.
Have your say

— Janet S, March 11th 2010
Your opinion matters to us! Feel free to share your thoughts or read other people's comments at the MyFonts Testimonials page.
Colophon
The Rising Stars nameplate is set in Auto 3 and Bryant, and the Have your say quotation in Apud.
Comments?
We'd love to hear from you! Please send any questions or comments about this newsletter to [email protected]