Over the years, MyFonts has occasionally received mails from customers worrying about the relatively low number of female type designers represented on our pages. Needless to say, this was not on purpose but simply reflected the situation in the typographic world. However, things are changing fast. At design colleges around the world, female type design students now often outnumber the men. And at MyFonts, our list of productive "type ladies" is growing rapidly. This month's selection of popular new fonts is a case in point. Successful typefaces from Germany, Denmark and the United States are proving that Fontland is not just a man's, man's, man's world anymore.
This month's Rising Stars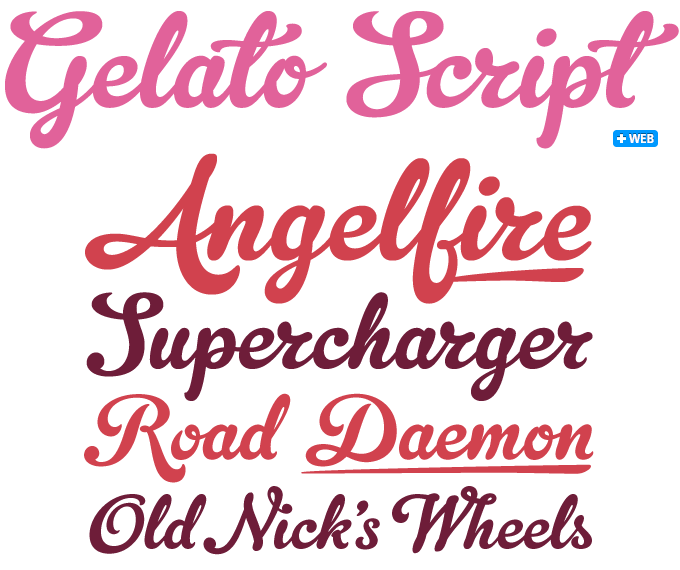 Gelato means 'ice cream', and Gelato Script lives up to its name: a mouth-watering, smooth-flowing font that will grace packaging, café menus, vintage automobile magazines and off-the-wall art catalogues, to mention just the most obvious uses. The font is the latest offering from Dave Rowland's Schizotype foundry and his most successful so far, having reached the #1 slot of our Hot New Fonts list after a steady climb. Influenced by both formal scripts and mid-twentieth century hand lettering, its luscious curves make it attractive to a wide audience. For expert users, it has the additional benefit of being equipped with all the amenities of meticulous OpenType programming. Contextual Alternates make sure letters connect seamlessly, Stylistic Sets offer alternate forms to effortlessly change the mood of the text and apply an underline (read the font page (click "More...") for details). With 781 glyphs, this font has many faces and speaks many different languages.
Text family of the month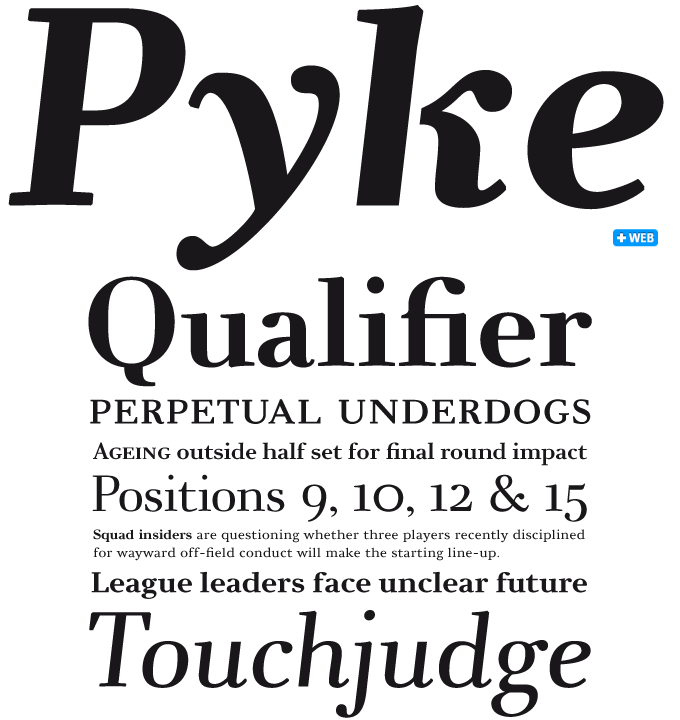 Sofie Beier of Copenhagen, Denmark, is part of a new generation of type designers who underpin their design work with thorough theoretical research. Her focus of interest is legibility, and she has collaborated with one of the most respected researchers in the business, Microsoft's Kevin Larson. While conducting their joint study on "the most frequently misread lowercase letters" several of her fonts were used as test tools, and Pyke was one of them. Like Beier's typefaces Ovink and Spencer, Pyke was named after a famous legibility specialist.
The Pyke family does something extra for smooth reading: it offers different designs for different sizes — in specialist terms, it uses optical scaling. Pyke Text is for body text at regular text sizes of 9-14 points, and the more subtle Pyke Display is designed for larger sizes. The Micro version is meant for fine print, such as footnotes and phone listings — font sizes from, say, 5 to 8 points. Micro is markedly sturdier and wider and has less contrast between thick and thin parts. (It can be used large as well for maximum impact, as we did in the "Pyke" font name above.) While inspired by the types of Bodoni, Pyke has a visual logic all its own: a clear, modern-looking type family with the features the demanding typographer expects from a high-quality text and display face.
Follow-Up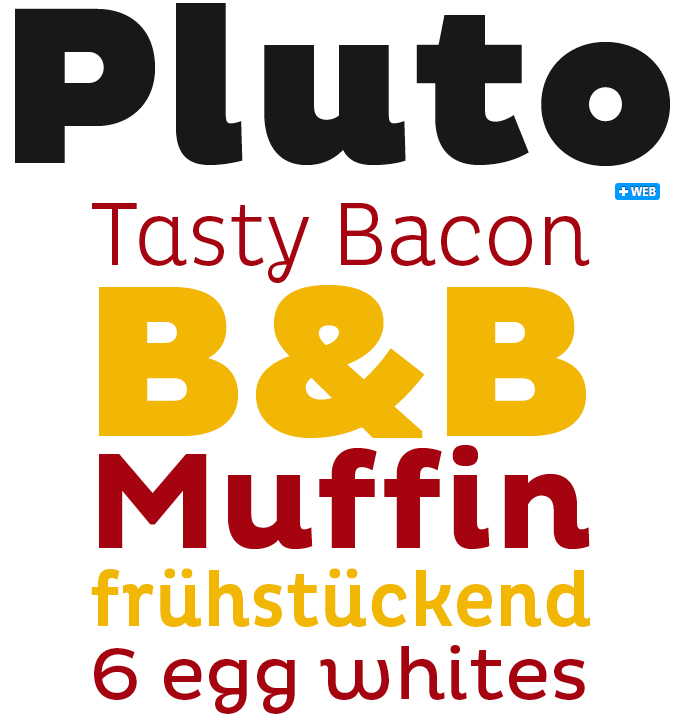 During its first month at MyFonts, Pluto was phenomenally successful. The appeal of its friendly shapes, its clarity and timelessness made sure that the typeface continued to do well — it is still firmly positioned in the Top 5 of our current Best Sellers list. The family comes in eight weights, from Thin to Black, in two widths — 16 fonts in all. Informal yet sturdy and readable, Pluto works well in both text and display settings and is a good choice for food packaging and advertising — and much more.
If you like this typeface from HVD Fonts, check out some of their other fonts: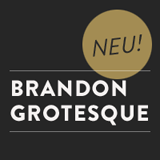 With Brandon Grotesque, designer Hannes von Döhren took a fresh look at the geometric modernist classics from early twentieth-century Germany, taking cues from the more stylish and decorative typefaces of that genre. The geometric shapes of the compass and ruler were optically corrected for better legibility and harmony. The rounded corners lend the typeface a softer look.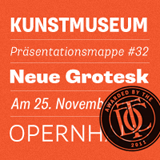 Supria Sans has elements of many classic and modernist sources, from industrial Grotesques to Eurostile, but the result has an atmosphere all its own. Supria Sans presents a combination of features that is quite unusual in its genre. It has three styles, including a curvy, feminine Italic as well as a more conventional Oblique, plus a Condensed version. Earlier this year, Supria Sans won its designer one of the coveted TDC Awards.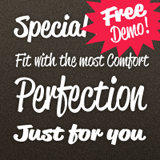 Reklame is a German word that means "advertising", and that is basically what Reklame Script is for. Inspired by the hand lettering of printed advertisements of the 1940s and '50s, it is a powerful brush script in four weights, from Regular to Black. The four varieties can be combined for extra emphasis — perfect for slogans, billboards, packaging and the like. A stripped-down test font is offered for free.
Sponsored Font: Semplicita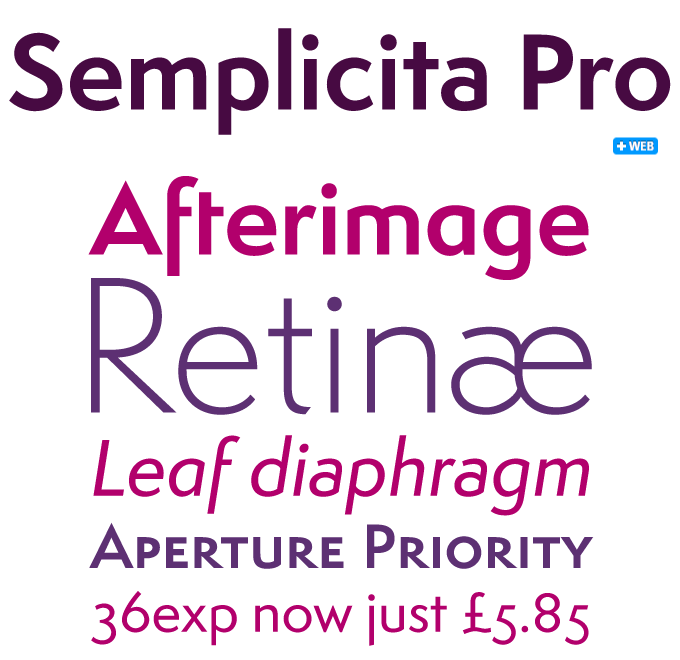 Canada Type's Semplicita Pro is a new sans serif design that is part geometric sans, part humanist, and part gothic. The typeface is Bill Troop and Patrick Griffin's reinterpretation of Semplicità, Alessandro Butti's important 1930 design for the Nebiolo foundry. Fueled by Futura, Semplicità replaced that typeface's cool geometric character with a warm, humanist soul that is characteristic not of the Bauhaus but of the Italian Renaissance.
Semplicita Pro isn't simply a revival of Semplicità, which would have looked like a period piece. The designers used their model to solve a practical puzzle: How to make modernist sans serif letterforms truly readable at small sizes yet striking and persuasive in display. The result is an intensely readable sans serif design that gives contemporary designers a widely expressive palette, all within the principle of simplicity leading to better understanding. For more info about Semplicita's amazing versatility, download the PDF in the gallery section.
— Ada, San Francisco Bay Area, July 10th, 2011
Your opinions matter to us! Feel free to share your thoughts or read other people's comments at the MyFonts Testimonials page.