The world of typography is continually changing, and MyFonts receives new fonts on a daily basis. Many of these are from small-scale foundries across the world — and these microfoundries continue to challenge the bigger players with great ideas, trend-conscious designs and smart solutions. They're a bit like microbreweries in the world of beverages — inventing new tastes and improving old ones. But where small-scale breweries usually think globally but act locally, MyFonts allows its microfoundries to reach a global market and provide graphic designers continents away with nifty and influential type tools. Just have a look at this edition of our newsletter for successful new fonts to see what we're about.
And don't forget to scroll down for what is probably the most spectacular offer ever from a small-scale foundry: all the fonts from Canada Type's multifaceted type library at 50% discount — this week only.
This month's Rising Stars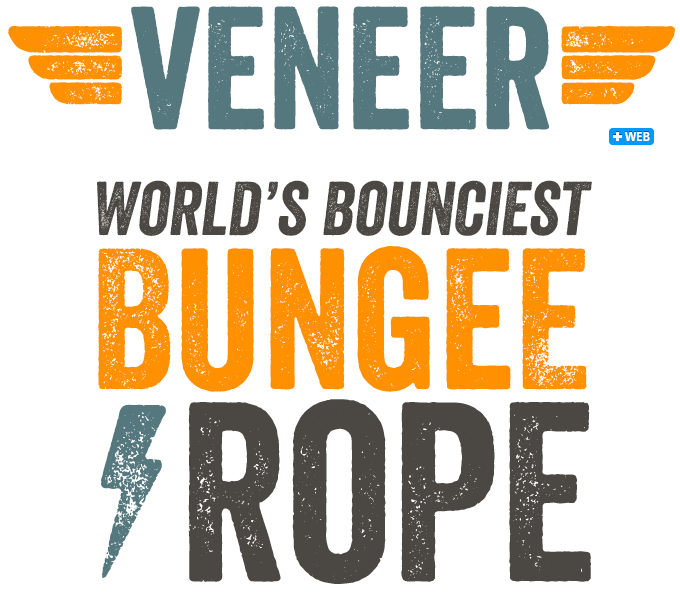 After their recent success with
Anodyne,
there's no stopping
Yellow Design Studio
. Their
Veneer
is even more sophisticated than Anodyne: it contains no less than six versions of each letter of the alphabet, enabling the user to select various distress options for that attractive vintage wood type look. As the wear and tear in Veneer is remarkably detailed, it looks great even at very large sizes. In addition it includes a matching "Extras" set of funky dingbats and pictures … for free! The Veneer family includes Veneer, Veneer Two, and Veneer Three, in increasing degrees of erosion. Mix and match as desired to create the impression of genuine letterpress type. Through April 30, this whole bunch comes at the incredible introductory price of $9 — instead of ten times as much.
Text families of the month
Text typefaces for demanding editorial work need to possess special qualities: excellent readability, a generous range of weights, italics and small caps for all weights, multiple figure sets (lining, oldstyle, table) and ample language coverage. In this section of the newsletter we cover recent releases that meet these standards. All work beautifully in print; however, if you are a web designer considering using any of these typefaces as a web font for body text, test thoroughly!

Olivier Gourvat of Mostardesign designed Sofia to ooze modernism, harmony and roundness, resulting in a stylish type family for use in body text as well as headline settings. Redesigned in 2012, Sofia Pro comes with more than 500 glyphs, supporting a wide range of languages. The new version also has small caps, contextual and stylistic alternates, fractions, oldstyle and tabular figures. Sofia comes in 8 weights plus matching italics.

For designers of sans-serif fonts there is little room to move between the many typefaces already in existence. Yet time and again, type designers manage to come up with faces that make a difference — fonts that lend a specific and unique personality to a piece of design. Argumentum by Nikola Kostić occupies a place somewhere in the triangle between DIN, Eurostile and, say, Fedra Sans: a technical looking sans with a warmer feel to it, balanced between hard geometric shapes and friendly curves. Equipped with small caps, multiple figure sets and much more, Argumentum is ready for the most demanding of typographic jobs.
Follow-Up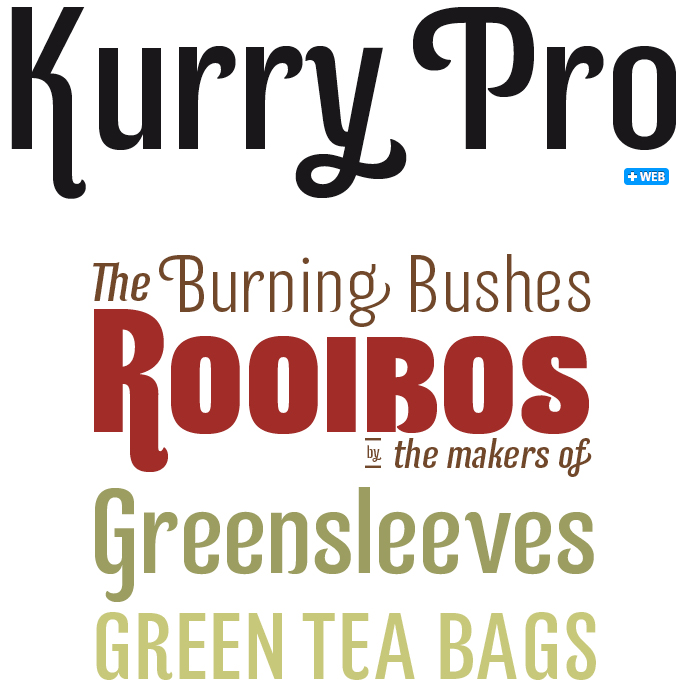 Kurry Pro has been one of the surprise sellers of the past couple of months. Among the many no-nonsense sans-serif fonts that have come out recently, it stands out as a rather exotic hybrid. Its basic structure is simple — a narrow rectangular skeleton rounded at the top and the bottom — but its somewhat quirky details set it apart. Terminals end in a softened point, as do some strokes where curves join straight stems; many letters have a swashed alternate version, and special English-language keywords such as "with", "of" and "by" (the latter two in upper- and lowercase) add to the font family's versatility.
If you like this typeface from Cadson Demak, check out some of their other fonts: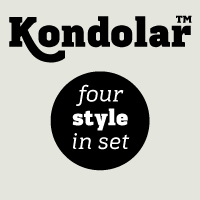 It's easy to let Kondolar's occasional swooping descender trip you up, but that shouldn't distract from what is essentially an uncomplicated, multi-purpose text-and-display slab serif. The option of flourishes on K, Q and R adds a dash of adventure to the workmanlike slabs.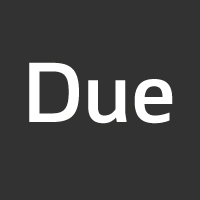 Launched in December 2011, Due is Cadson Demak's latest take on the genre of the humanized businesslike sans-serif. Its open shapes, agreeable curves and clear, rather wide italics make it a good choice for display and basic text settings in corporate as well as editorial design projects.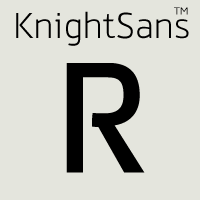 With a rounder overall character than some of Cadson Demak's other sans faces, Knight Sans would be a good candidate for corporate publications, special print projects and websites. It holds up well as a varied text face possessed of enough character and individuality to escape bland conformity.
Spring 2012 Promotion: Canada Type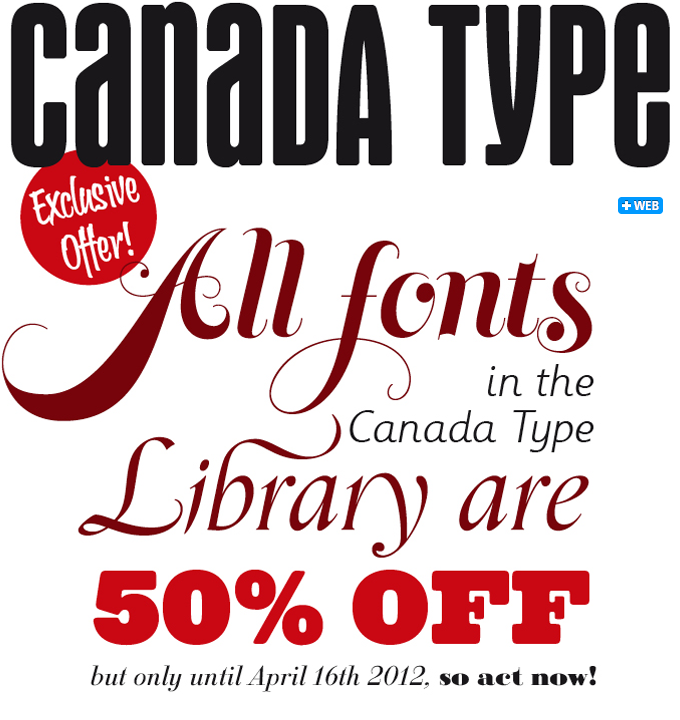 More and more foundries come up with special offers on font families, and we love 'em for it. But a foundry offering all its fonts for half price is a rare event indeed — all the more so when that foundry boasts a library as large, well-made and varied as Toronto's Canada Type. The fonts used in the sample above are just the tip of the iceberg. Canada Type offers well over 200 families in an amazing array of styles and atmospheres, including popular bestsellers such as Memoriam, Orpheus, Ambassador Script, Semplicita and Clarendon Text. All of this is available at a 50 percent discount until this coming Monday. This week's special Spring Promotion — the first of its kind — is exclusive to MyFonts, and it is unlikely to happen again anytime soon. So this is a unique chance to acquire fonts you've always wanted at prices you never dared dream of.
Canada Type will be donating 10% of the sale's revenues to Médecins Sans Frontières (Doctors Without Borders). Offer ends April 16, 2012!
Have your say

— Penny from Southern California, March 8, 2012
Your opinions matter to us! Feel free to share your thoughts or read other people's comments at the MyFonts Testimonials page.
---
MyFonts is on Twitter and Facebook!
Join the MyFonts community on Twitter and Facebook. Tips, news, interesting links, personal favorites and more from MyFonts' staff.