There was a time, some decades ago, when most new typefaces were produced in a handful of typographic capitals around the world. Not any more! This edition of our newsletter for successful new fonts demonstrates once more that type design and production today are a truly global affair. We have script fonts from Chile and Argentina, an experimental display face from Berlin and a wonderfully usable sans from Ahmedabad in India; the designers of October's Text Fonts of the Month come from Germany and Canada. The foundries in this newsletter include a Dutch-Slovak-Indian partnership and a German-Japanese one. The cultural richness of today's typographic scene is astonishing.
This month's Rising Stars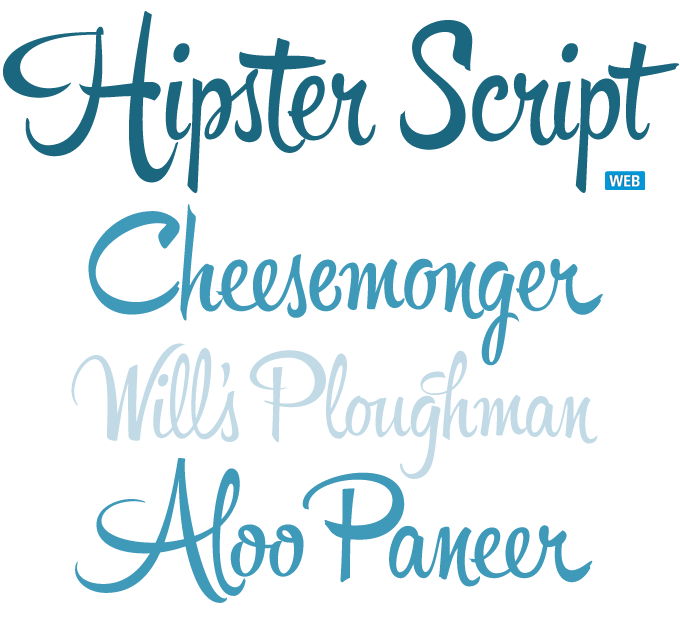 The award-winning Hipster Script by Alejandro Paul is based on a style of hand lettering that was created for advertising in the 1940s and 1950s yet stills looks fresh today. While the lettershapes have their roots in copperplate script styles, it's the tool that made the difference. Painting the letters on board or paper with a round brush, the artist created thinner and thicker strokes by exerting less or more pressure, varied letterforms according to context, interrupted the connected flow by lifting the brush. A faithful digitization must emulate all these aspects of brush lettering, and Hipster Script does it very well. Have a close look at the various letter combinations in the sample above, such as the recurring "-er", or letter pairs such as "ee" and "ll". These variations are selected automatically for specific combinations using OpenType's Contextual Alternates function. The result is a convincing imitation of hand-painted letters. Use with OpenType-enabled layout software!
Comments?
We'd love to hear from you! Please send any questions or comments about this newsletter to [email protected]