If the Best Seller lists on MyFonts are something of a barometer of trends in typography, then there are two main currents — and they are diametrically opposed. One: the minimalism of cool, clean slab and sans-serif fonts. Two: the delight in exuberance, ornament, cheerful irregularity and all that looks handmade. This month, with summer in the air for many of us, the scale has most definitely tipped towards the latter. It's May, and our Rising Stars — even the Text Fonts of the month — are bursting with joie de vivre. Enjoy!
This month's Rising Stars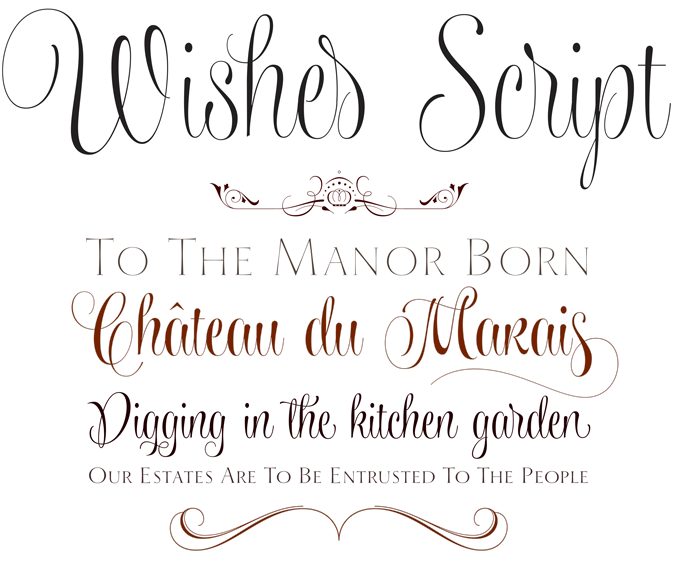 It's been almost two years since Sabrina Mariela Lopez of Typesenses released her successful Parfumerie Script Pro. Her new typeface Wishes Script proves that in type design, taking one's time is usually a good thing. With this script, Lopez has truly found her own voice. It has plenty of swashes, ligatures, beginning and ending shapes — but none of the solemnity and pompousness that characterize so many scripts in the Copperplate and Spencerian genres. Its grace, wit and playfulness are more 1950s than 1750s. When used in OpenType-savvy layout programs, Wishes Script Pro offers the designer an additional decorative toolkit full of frames, ribbons, hearts, flowers and ornaments, plus a collection of caps and small caps. For users of simpler programs or for the web, the scripts, ornaments and caps are available as separate fonts. The family even offers optically optimized Display and Text styles for each of the weights — Light, Regular and Bold. For more details on this impressive suite, download the User Guide PDF in the Gallery Section.
News Round-Up
In this section we pick out interesting news snippets from MyFonts' own kitchen and from the greater world of fonts, lettering and typography.
Pencil to Pixel in New York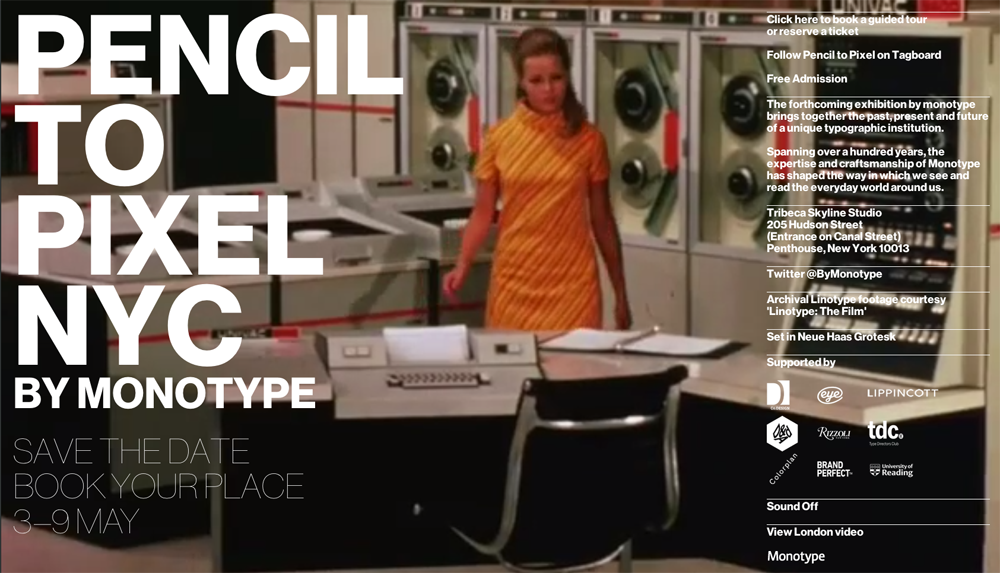 For those who are currently in or near New York City, this newsletter may just come in time to alert you to one of the typographic events of the year: the Monotype exhibition Pencil to Pixel. Like the London edition (see our December issue) this spectacular show is only on for a few days, hosted by the Tribeca Skyline Studio until May 9, 2013. Pencil to Pixel features treasures from Monotype's legendary archives, treating typography lovers to a rich selection of typographic material — from original type designs by Eric Gill to rare type samples, tools, matrices and much more. It takes the viewer through a century of rapid technological changes but also looks ahead at the future of type in the digital age.
TypoBerlin, bigger than ever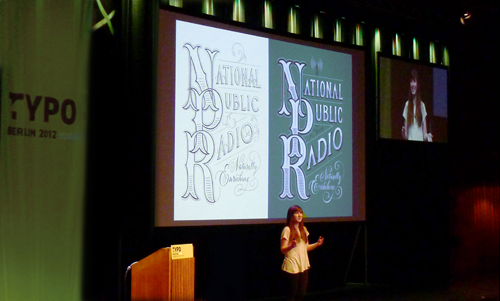 Since 1995 our friends at FontShop Germany have been organizing TypoBerlin, one of the world's major typography and design conferences. In the past few years, the conference has branched out to London and San Francisco, but the Berlin mothership is still sailing majestically. The 2013 edition takes place next week, May 16–18, at its usual venue, Berlin's splendid House of World Cultures. This year there are more speakers than ever before. Kickstarting the conference (theme: Touch) will be British design guru Ken Garland; speakers include Anthony Burrill, Jessica Walsh (Stefan Sagmeister's partner), Erik van Blokland and Neville Brody. There are extensive threads on Polish and Russian design.
Webfonts at MyFonts