This edition of Rising Stars is coming to your inbox a bit later than usual, following the extra-long June/July edition of our Creative Characters interview. If reading this newsletter is like taking the pulse of the typographic industry, then the keyword is "
eclectic
". The main trend is that there are so many microtrends that virtually every style or genre can be successful — provided that the fonts have something unique about them. Consequently, the variety in this month's overview of popular new fonts may boggle some of the less flexible minds out there. But who knows? Next month's Stars may be a haven for purists again.
This month's Rising Stars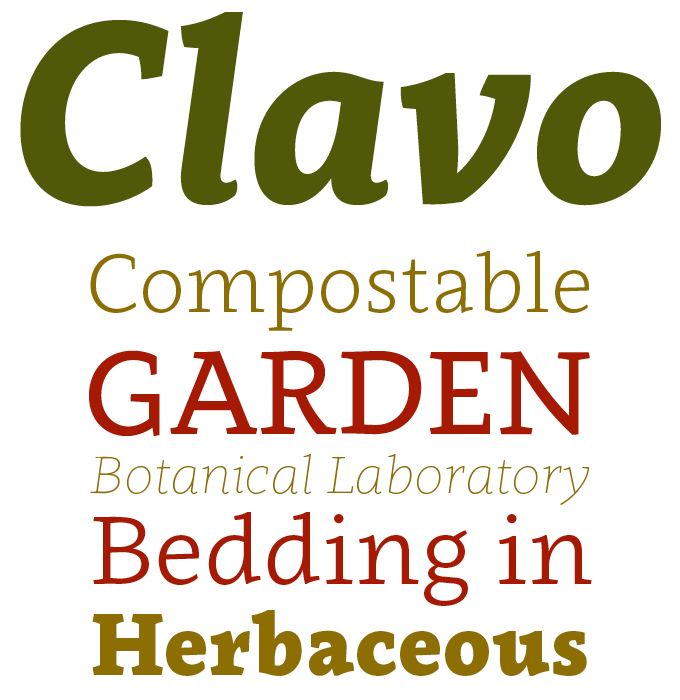 Clavo is the third font family from Warsaw's Dada Studio. Its approach to the contemporary oldstyle genre is somewhat similar to Ludwig Übele's Marat or Elena Albertoni's Acuta (while being in no way an imitation). With its distinctive shapes, pronounced serifs and marked transitions, it has an animated energy about it that makes it stand out at display sizes. When used in smaller texts, Clavo is attractive and flexible, with proportions that are easy on the eye and help immersive reading. It comes in ten weights with matching italics, carefully adjusted for optical harmony. With a large set of numerals, small capitals, fractions and other OpenType goodies, it's a bargain at its full price… and almost too good to be true at its current 90% discount, valid through July 28, 2013!
News Round-Up
In this section we pick out interesting news snippets from MyFonts' own back yard and from the greater world of fonts, lettering and typography.
Typecon comes to Portland

It's almost time for Typecon, the yearly get-together of typography geeks that takes place in a different North American city each year. The fact that this year's Typecon is in Portland (or, as the organizers playfully write it, Portl&) may be an extra incentive to many. But of course, the main attraction is the program itself, with workshops, exhibitions and speakers of international allure. And for the first time ever, the MyFonts team is giving its own workshop, hoping to help indie foundries market their fonts more effectively.
Special Offers: Ending in your timezone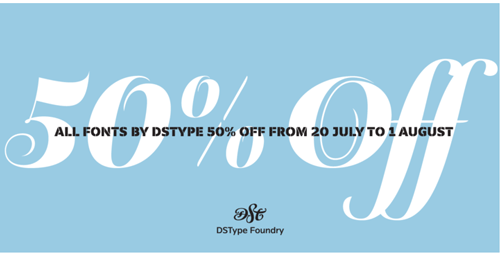 The image above, including the caption, is from our newly revamped Special Offers section. MyFonts sometimes received complaints from customers in timezones across the world who had hoped to catch a special offer on its last day — only to discover it had expired at midnight EST (US Eastern Standard Time). We've made those pages interactive, so that the expiring date and time will usually show up based on the timezone in which your computer is located. Make sure that co-workers in a different timezone double-check at their own desk!
By the way, the offer shown above is worth an extra plug: for a few more days, Portugal's DS Type is holding its Summer Sale, offering all of its splendid fonts at half price. Ends August 1 at midnight EST, or 6:00 am the next day in Western Europe, where this screenshot was taken.
Webfonts at MyFonts