If form follows function in architecture and product design, as Louis H. Sullivan famously wrote, one wonders if this is true for type design as well. It could be argued that type is more like fashion: each season (they last somewhat longer in type) has its trendy silhouettes and popular textures. The fancier the shapes, the higher the probability that functionality will be limited. But there's also the work wear sector — more matter-of-fact, less volatile, yet with its own subtly changing trends and colors. Does this mean that in the type world form also follows function, or is it perhaps the other way around? One thing is certain: this month's Rising Stars won't give you an answer to pretentious questions like that.
This month's Rising Stars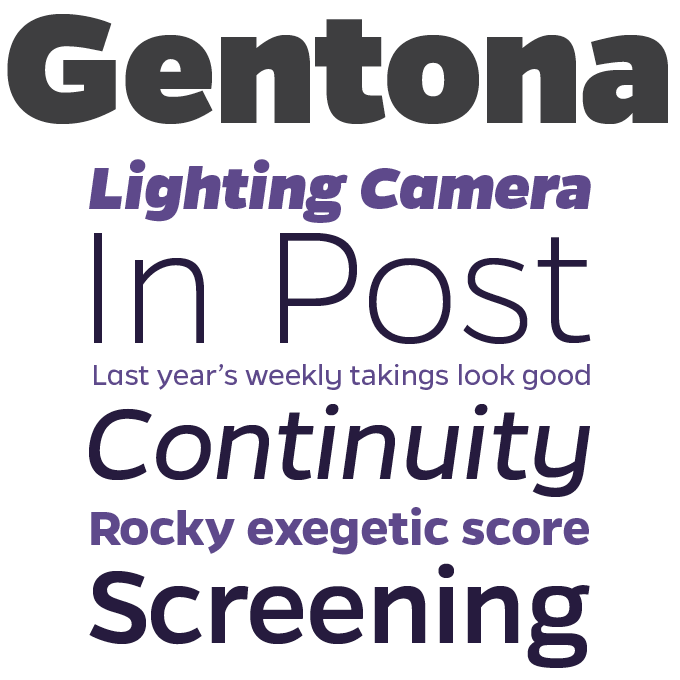 Rene Bieder's Gentona, the fourth font family from this Berlin-based designer, is probably his most sophisticated to date. The somewhat rigid shapes of RBNo2.1, RBNo3.1 and Quadon have given way to more fluid and natural curves, although the overall impression remains one of efficiency and neutrality. The nine-weight neo-grotesque family offers a wealth of possibilities: the middle weights build lucid body texts; the sharp-cut light weights and the muscle-bound heavy styles make for confident headlines. A wide range of typographic features round off the family. Gentona is offered at an 80% introductory discount through August 24, 2013.
News Round-Up
In this section we pick out interesting news snippets from MyFonts' own kitchen and from the greater world of fonts, lettering and typography. This month's news is dedicated to design events around the world. The first one is next week's Typecon in Portland, where you'll find most of the MyFonts team — we covered that in the July newsletter.
AGI Open in London, Sept. 26 & 27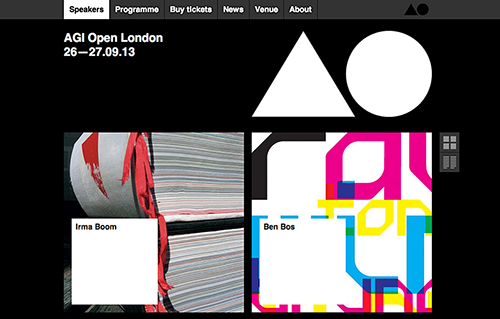 If you're a typography and design buff and happen to be in London in September, this is the one event not to miss. AGI is the organization that unites the world's greatest graphic designers on an invitation-only basis. For a few years now, its exclusive yearly conferences have been accompanied by a public event called AGI Open, which offers a unique opportunity to see lectures by some of the association's best known members for an affordable entrance fee. This year's AGI Open takes place September 26-27. Among the speakers will be Marian Bantjes, Stefan Sagmeister, Michael Bierut, Simon Esterson, Chip Kidd, Irma Boom, Pierre Bernard, Margaret Calvert, Paula Scher, and A2 Type's Henrik Kubel. What a cast!
More September conferences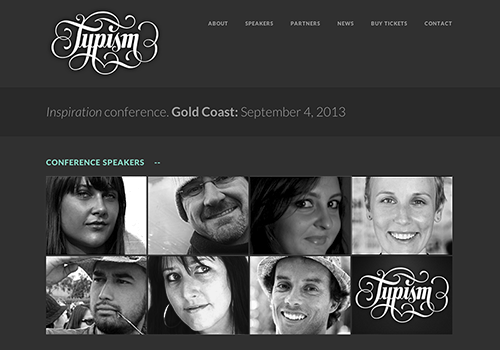 September offers more conferences big and small around the world. First up is Typism, a one-day conference to be held on September 4th on the Gold Coast near Brisbane, Australia. Among the speakers are the talented Gemma O'Brien (aka Mrs Eaves), and Wayne Thompson of the Australian Type Foundry.
On September 6 and 7, the Czech city of Brno hosts the third edition of TypeTalks, the cozy conference initiated by the Rosetta foundry's David Březina. Among the speakers are type designers Laura Meseguer and Erik van Blokland, and the organizers promise: "Splendid weather has been requested, beer will be chilled, wine deliciously dry and food mouthwatering. As always."
More type events on Lanyrd.
Web fonts at MyFonts