Sorry, purists among you. This newsletter has turned out a little exuberant. It must have been something in the air, or perhaps it was the sheer quantity of sunlight that shone on so many of us over the past few months — the font-loving public seems to have been lusting for flourish. Most of the stars of the moment bathe in ornament and swashes. What's true for hip-hop probably goes for typography too; you either love the bling, or you hate it. Should the latter be the case, please scroll down to our impressively serious Text Font section. We also have some great MyFonts news for screen typography addicts. Enjoy!
This month's Rising Stars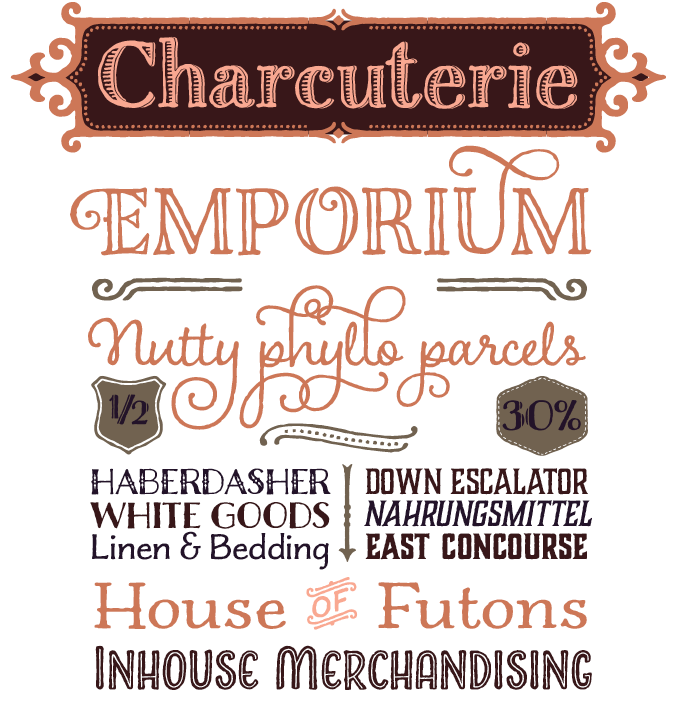 Laura Worthington is known for her elaborate and charming script fonts, but with Charcuterie she is trying a whole new course. It's a suite of 22 hand-drawn display fonts in very different styles that nevertheless combine well together. The styles are vaguely based on historical letterforms you might find in European magazines or shop lettering from the early twentieth century; there's a distinct Parisian feeling to some of them. As the designer says, "Charcuterie is a Smörgåsbord of delightful type inspired by our sense of a happy time at a splendid table," and what can we add to that? Select your own favorite ingredients to create tasty headlines, logos, display, packaging, signage, or advertising.
News Round-Up
In this section we pick out interesting news snippets from MyFonts' own kitchen and from the greater world of fonts, lettering and typography.
Letraset: A Celebration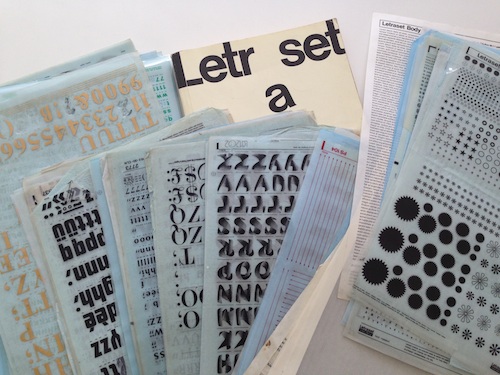 Letraset — the dry transfer lettering that introduced many to high quality type and, via book covers, LPs, posters, advertising and magazines, helped define the typography around us from the '60s to the '80s — is in the news. On September 10 Monotype's Dan Rhatigan and John Walters of Eye Magazine organized a celebration of all things Letraset at the St Bride Library in London. Guests of honor were typeface designers Colin Brignall and Dave Farey, and also Tony Rushton who used Letraset in his layouts for Private Eye magazine. Dan showed Letraset samples from his wonderful collection, and how he's still using it. At its peak there were 11 million Letraset sheets produced per year by 400 staff — in recent years production is down to a mere 14,000 sheets. The evening ended on a sad note — production in the UK ended on September 6, though continues in France and China. The digital library is handled by Monotype and remains available.
Now live: Retina-optimized font samples
From one end of the technological spectrum to the other — let's look at the hardware that the MyFonts website is viewed on. More and more users have a MacBook Pro or iPad with a Retina screen. While this means the sharpness of their screen has improved enormously, images produced for the old resolution often look kind of blurry. MyFonts is working with the foundries to gradually double the resolution of the thousands of colorful font flags and posters used on the font pages. And from now on, the one-line samples on these pages are also optimized for Retina screens and future hardware with similar sharpness.
Webfonts at MyFonts