Type designers (mostly the male ones) have often compared the curves of a well-drawn font to the female silhouette. Oh well, you may say, boys will be boys, and a little sensual fantasy will probably help reconcile designers to the fact that what they're staring at for hundreds of hours are actually sterile pixels on a monitor representing unfeeling Bézier curves… But no, you're wrong. Type designers are imaginative and sensitive people, and their relationship with those shapes on the screen can be something just as heart-felt as a painter's love affairs with canvases, brushes and colors. Watch as the energetic, luscious and rounded shapes of this month's Stars unfold.
This month's Rising Stars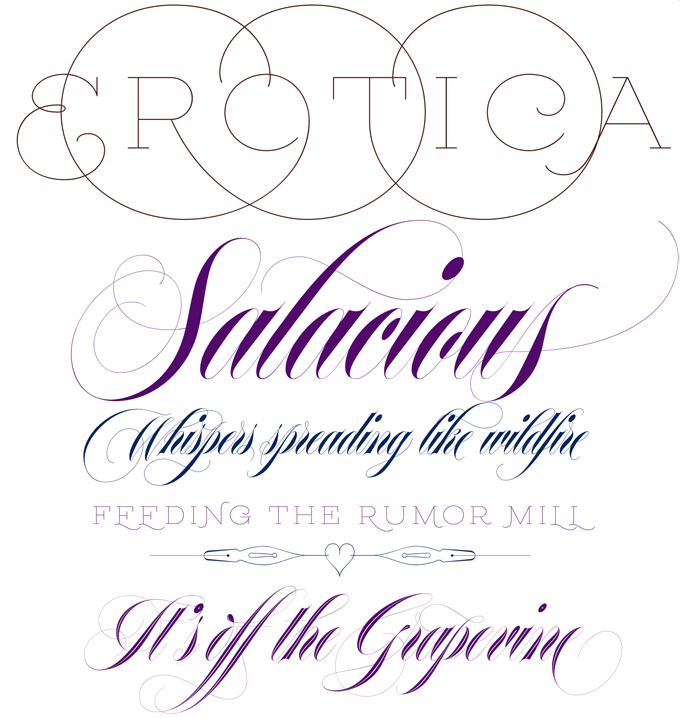 A low resolution sample like the one above cannot really do justice to the subtleties of Erotica, the latest offering from Lián Types in Buenos Aires. Designer Maximiliano Sproviero has surpassed himself in creating a font family of luscious curves, striking contrasts and gossamer hairlines. The typeface came into being when Sproviero was doing exercises in roundhand calligraphy and at some point in his research of sensual, handwritten letterforms realized that "the world was in need of a really sexy yet formal copperplate." His full step-by-step account of the design process can be read on the Erotica font page. Taking the rules of copperplate lettering to the extreme, the designer gradually softened the harsh contrasts of his initial design to arrive at this beauty of a display script family, which was completed with a set of ultra-thin and somewhat thicker capitals (for large and small settings), fleurons and an inline variety.
Webfonts at MyFonts