This month's most popular fonts exude the smell of gingerbread, candles and fresh fir twigs. Not that they're literally Christmas fonts — we have outgrown snow-covered serifs and star-topped swashes, haven't we? But there certainly is something festive, cozy and Decemberish about this lot. Perhaps it's just our imagination, or lack of it. What is absolutely true, however, is that each of these fonts comes from a microfoundry somewhere in this big world — a company run by just one or two hard-working independent designers who dedicate their life to the pursuit of typographic excellence. Beautiful, isn't it?
This month's Rising Stars
News Round-Up
In this section we pick out interesting news snippets from MyFonts' own kitchen and from the greater world of fonts, lettering and typography.
One-click font installation is here!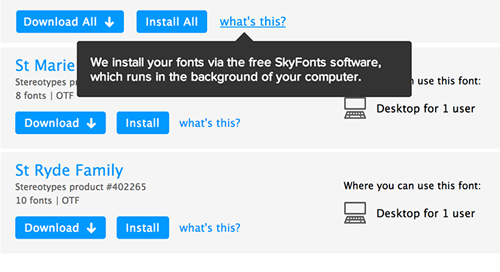 Installing your MyFonts purchases is now much faster and easier. Hit the smart little Install button on any of your font order pages (new or old) to make your fonts appear instantly on your computer.
Setup is quick and easy: you will be prompted to install the free SkyFonts helper app the first time you hit the Install button. From then on, the helper app will work invisibly in the background and you'll never need to see your font files again, they'll just work! Install the app on as many computers as you wish (it works on both Macs and PCs), and then your fonts will always be in sync, even if you make your purchases on your tablet device or while in a meeting with your client.
You may have missed…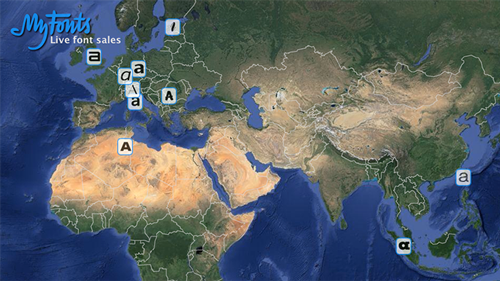 While we're on the subject of nifty, fontastic innovations: this mashup by our developers of a Google map and our sales reporting tool has been live on our site for a while now, but it's definitely worth revisiting. We like to think it's a bit like watching Santa Claus as he flies around the globe dropping parcels down the chimney… or is that just us wanting nothing but typographic presents for Christmas?
Webfonts at MyFonts

Colophon

The Rising Stars nameplate is set in Auto 3 and Proxima Nova Soft. The font samples were conceived and designed by Anthony Noel with contributions from the editor, Jan Middendorp.

Subscription info

Want to get future MyFonts newsletters sent to your inbox? Subscribe at myfonts.com/MailingList

Comments?

We'd love to hear from you! Please send any questions or comments about this newsletter to [email protected]