Each year in January, newsletters follow up in quick succession here at MyFonts. Last week we presented our list of the Most Popular Fonts released in 2013; today it's back to the future with our monthly Rising Stars. The mission of the newsletter is simple: we present four of the most successful recent typeface families in a variety of genres, plus three families designed for use in long-form texts — hoping to give you some ideas for adding a new color or two to your typographic palette. Enjoy!
News Round-Up
In this section we pick out interesting news snippets from MyFonts' own kitchen and from the greater world of fonts, lettering and typography.
TypeCon goes to Washington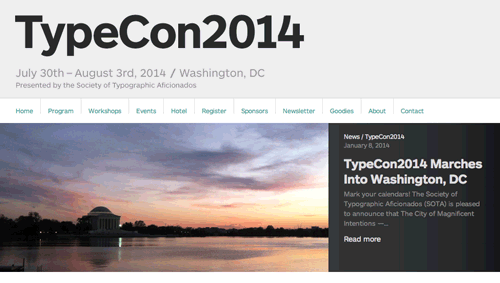 As many of you know, TypeCon is the friendly get-together of type geeks organized yearly by North America's Society of Typographic Aficionados (SoTA). It has just been announced that SoTA has selected Washington, DC as host city for TypeCon 2014, which will take place from July 30 to August 3. Those eager to share the stage in the nation's capital with what will undoubtedly be a sublime cast of speakers, or are otherwise interested in contributing, are encouraged to stay tuned and keep an eye on the TypeCon site and Twitter for updates.
Follow the Letterform Archive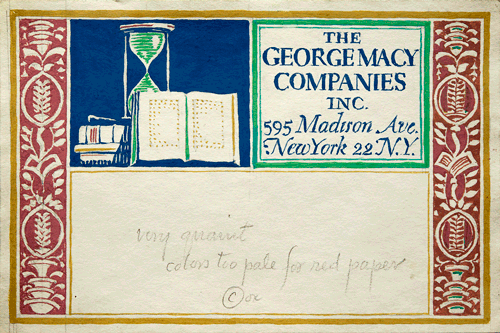 Among the remarkable contributions to the 2013 edition of TypeCon was a lecture on the maverick type designer, writer and artist W.A. Dwiggins by Rob Saunders, a San Francisco-based collector, designer, teacher and consultant. Many of the items from Saunders' astounding collection of graphic design originals are viewable in glorious detail on his Letterform Archive website. Recently, the Archive made a stir in the typographic world by organizing a daunting quiz: design lovers and specialists were challenged to recognize close-ups of items from the Archive posted on Facebook and Twitter. The Archive also published a beautifully printed, limited-edition 2014 calendar featuring splendid reproductions photographed by specialist E.M. Ginger.
Webfonts at MyFonts