There are many ways of looking at typefaces. Most of the time we're not even looking at all: we just read. That's what good type designers keep in mind when they labor to add something meaningful to the huge arsenal of available typefaces. Just like chairs or shoes, fonts can be a means of self-expression or a way to make the world prettier (that's why people keep thinking of new chairs, shoes and fonts) but their goal first and foremost is to perform a well-defined task — in the case of type, it's to give people access to a written text. But contrary to popular belief, type is not invisible. It's a kind of packaging for texts: it carries a subtle message about its content and may bring the reader into a specific mood. The bigger it is, the louder the message. Get ready for yet another selection of popular, recent typefaces that whisper, ask, or shout: "Look at me!"
This month's Rising Stars
Text families of the month
Typesetting for books, scientific magazines, or annual reports requires fonts with special qualities: excellent readability, a generous range of weights with italics and small caps, multiple figure sets (lining, oldstyle, table) and ample language coverage. In this section of the newsletter you'll find recent releases that meet these standards.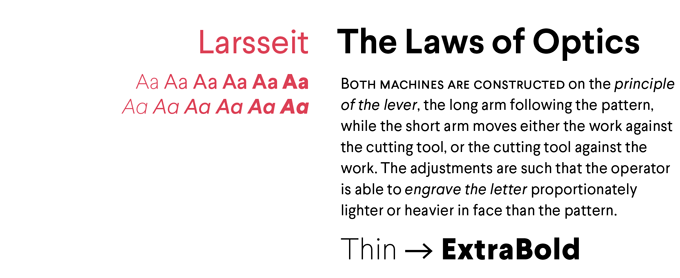 Since joining MyFonts in December 2013, Swiss foundry Type Dynamic has published four sans-serif families that mix modernist references with contemporary typographic savvy. Larsseit is their most successful family to date. With some Neuzeit Grotesk and Avant Garde Gothic in its genes, it offers an interesting mix of shapes, excellent legibility, broad language coverage and typographic sophistication. Also, check out the studio's latest, a humanist sans called Revisal.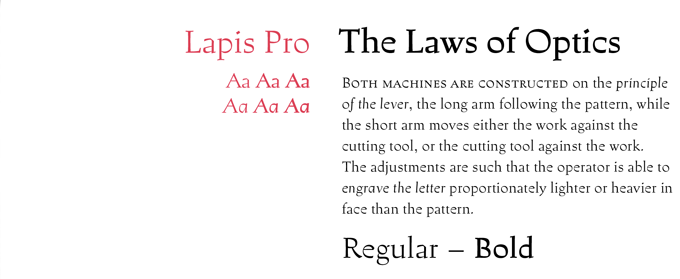 The late Jim Rimmer combined great technical skills with a unique talent for drawing highly original letterforms. Lapis is a striking text- and display family informed by an eclectic mix of influences — from Goudy's individualist types to European slab-serifs. Canada Type's Lapis Pro is a lovingly made reworking of the Rimmer Type Foundry's earlier version, fine-tuned and expanded to include small caps, alternates, ligatures, six kinds of figures, automatic fractions, and more.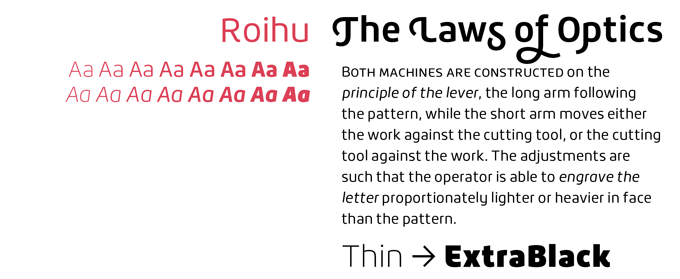 As this month's selection shows, text fonts don't necessarily have to be traditional or bland. With its spurless joints between stems and curves, Roihu from Mika Melvas has a clean, techie, almost futurist look. But its readability in long-form texts is fine, and it offers all the typographic equipment needed for demanding editorial work. On top of that, the ample set of swashes — rather unusual in this style of font — offers countless possibilities for custom headlines and logos.
News Round-Up
In this section we pick out interesting news snippets from MyFonts' own kitchen and from the greater world of fonts, lettering and typography.
Change is good
MyFonts has made a few changes to the website. There's a new header, in which the old dropdowns have been replaced by simple links, giving direct access to the most frequent destinations.

All the rest has been relocated to the footer: links to the blog, information about webfonts and the newsletter archive, and info for aspiring foundries.

We may have caused you a few moments of confusion (sorry about that!) but we hope you'll agree that daily navigation has become more transparent, and the website more lucid.
Webfonts at MyFonts