| | Our selection this month is a bit of a grab-bag. As the mid-year break comes to a close and releases start to come in at a furious rate, we've really got something for everyone: a contemporary riff on Herb Lubalin's best work; chromatic display faces; a stately Roman titling family; both formal & informal scripts; a rough-hewn text family, and the perfect scrapbook & birth announcement toolkit. An appeal — Analyse August's amusing, accomplished and artistic type in this month's Rising Stars. | |
| --- | --- | --- |
| | This Month's Rising Stars | |
| --- | --- | --- |
| | The Fluire family is a mix of layerable display sans faces and a loopy, casual script. Together, they're ideal for all sorts of whimsical display settings. The script's 500+ glyphs include plenty of swashes, ligatures and ornaments for an authentic hand-lettered appearance, and the condensed slightly Deco-ish titling sans is a perfect complement. Whether you're making posters, invitations, or simply scrapbooking, Argentine designer Maximiliano Sproviero's newest is a great bargain. | |
| --- | --- | --- |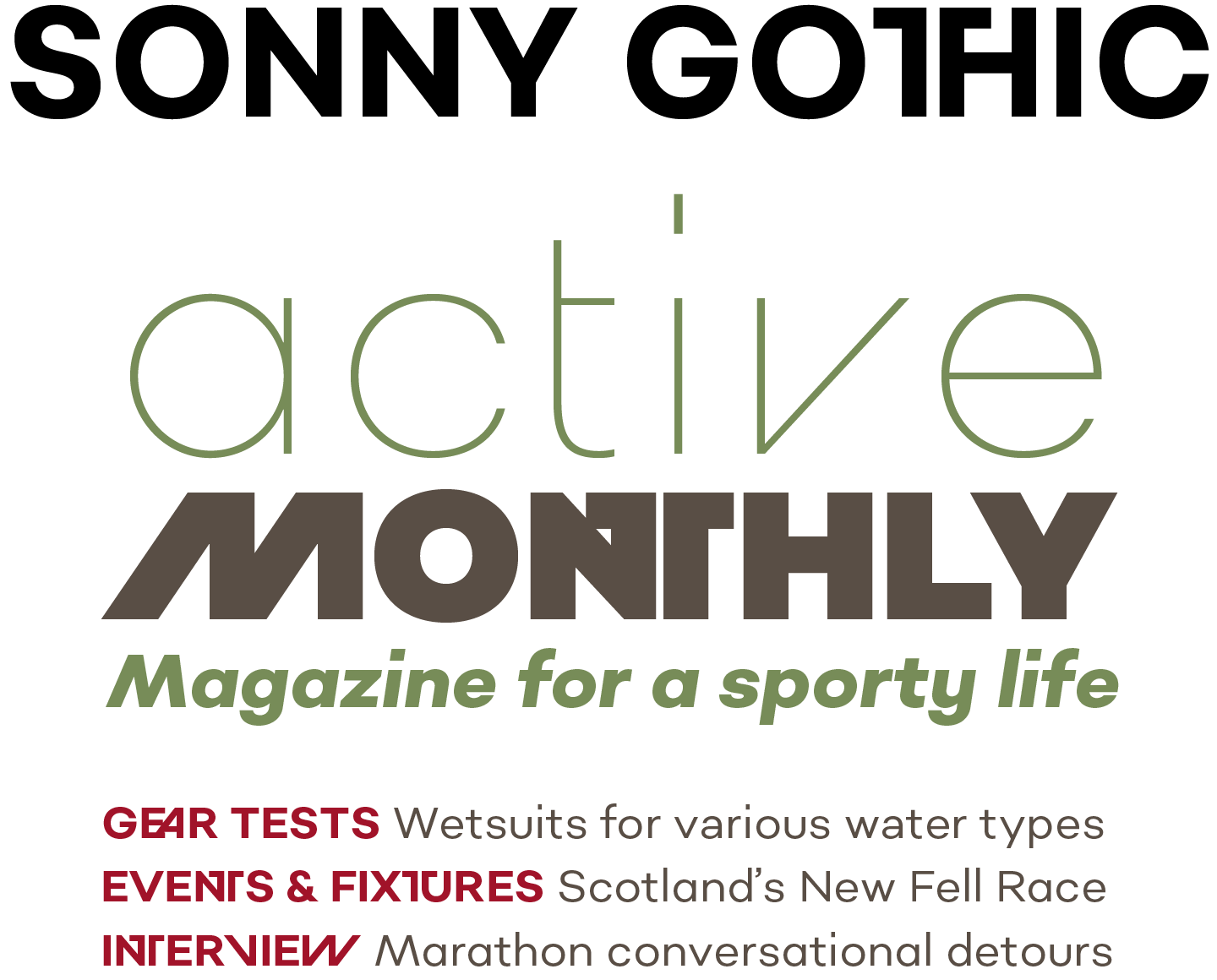 Designers new to Herb Lubalin's work are often fascinated by the Avant Garde® Gothic typeface and its myriad ligatures. It turns out that fascination is shared by W Foundry's Salvador Rodriguez, whose newest is a paean to Lubalin. Sonny Gothic softens the strictness of the Avant Garde outlines but includes its signature forms, including those hallmark ligatures and alternates; it's a modern alternative that includes extensive Latin-alphabet language support, multiple sets of numerals and plenty of other features. Available in nine weights and two widths (with italics!), for a total of 36 fonts, it's currently on sale at 50% off (!)… an offer you really can't refuse.

Sonny Gothic's discount ends midnight EDT, August 26th.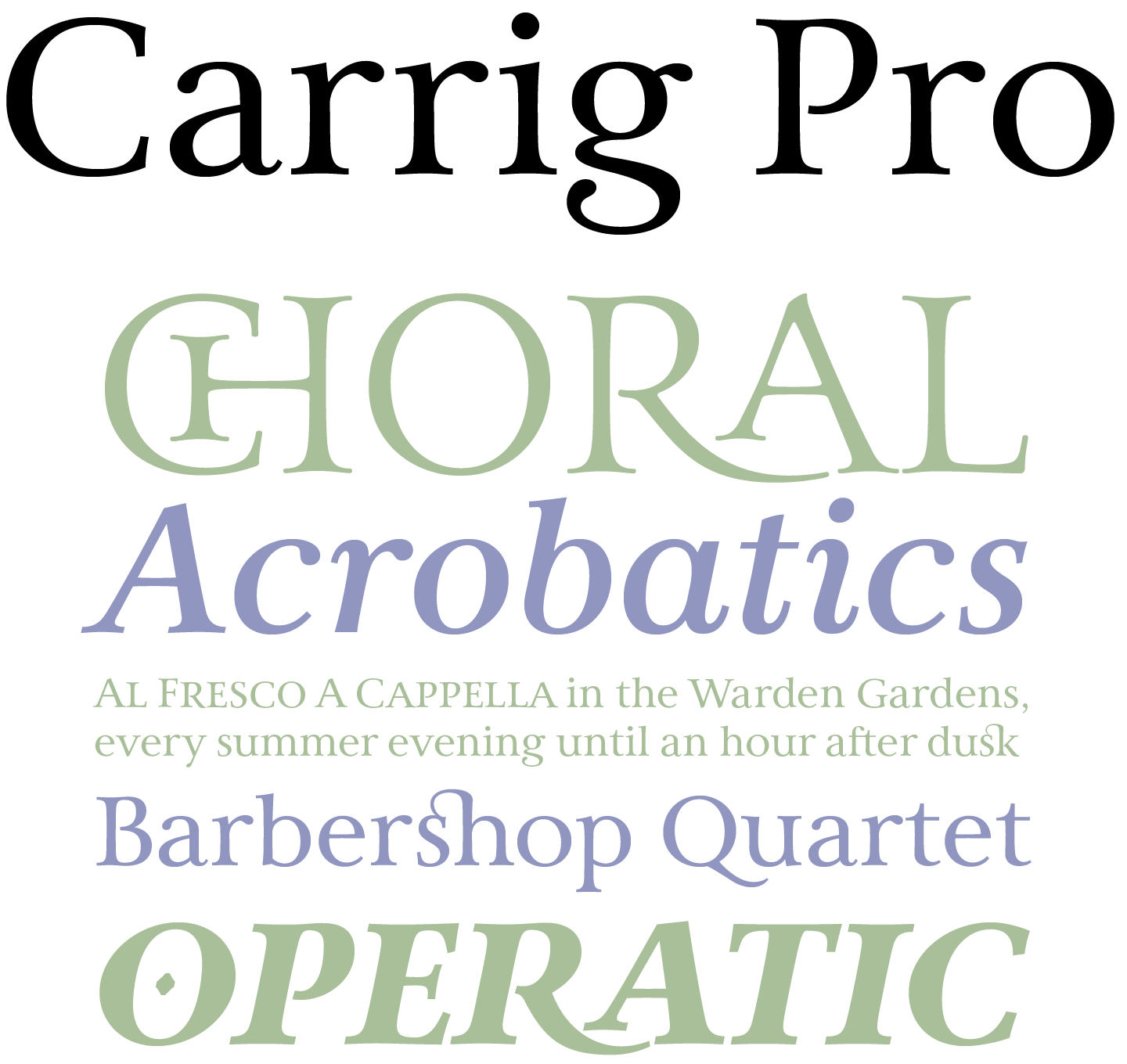 Carrig Pro gives us six weights plus italics, all with strong Trajan inspiration. Lots of detail and dramatic flair makes it ideal for large settings, and the 750+ glyphs include plenty of alternates — plus upper and lower case ligatures — making creative settings just as much fun to build as they are beautiful to look at. A new website devoted solely to the font delves into Irish designer Paulo Goode's process, first with 2012's Carrig and now with the new pro variety, completely redrawn and much-expanded.

Carrig Pro is 50% off until midnight EDT, August 26th.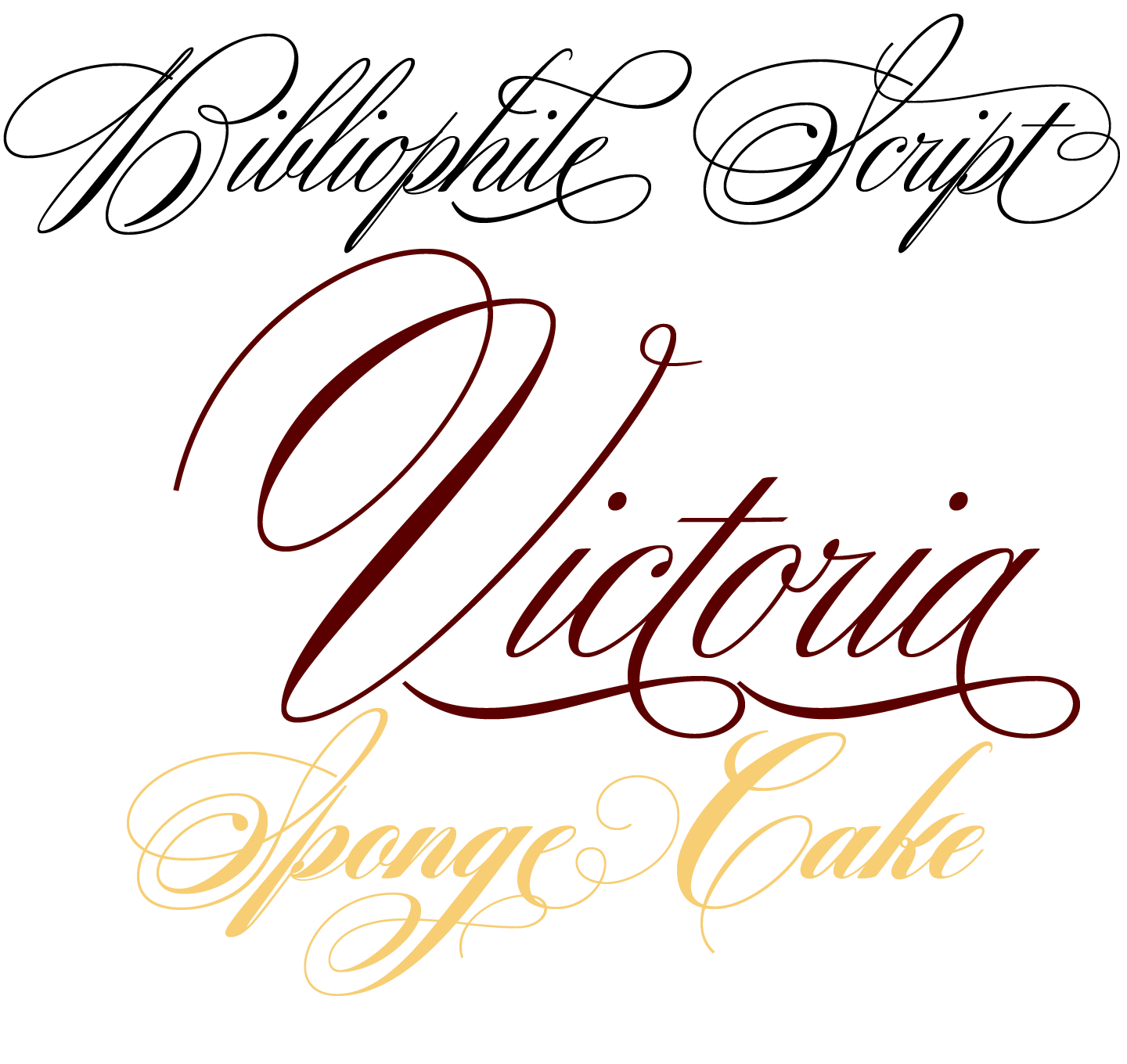 Alejandro Paul's newest, Bibliophile, is the intersection of round hand calligraphy with Italian capitals — two styles not often relayed in the same alphabet that work together beautifully when combined well. The family is composed of two fonts, each of which includes over 900 glyphs, and is loaded with alternates as well as flawless endings, beginnings, swashes and ornaments.

If there is one thing Ale has become known for besides the standard-setting high quality of his products, it's the exuberance and unexpected twists and turns he tucks into each of his designs. Bibliophile is no exception to this established rule: with 17 different shapes for the letter "d" and 21 for its "y," this script goes off-script to keep each line of text as fresh and full of variants on natural handwriting.

Bibliophile Script is 30% off until midnight EDT, August 26th.
Text font of the Month

Typesetting for books, magazines or annual reports requires font families with special qualities: excellent readability, a generous range of weights with italics and small caps, multiple figure sets (lining, oldstyle, tabular) and ample language coverage. Here is this month's pick from the recent, high-quality text typefaces.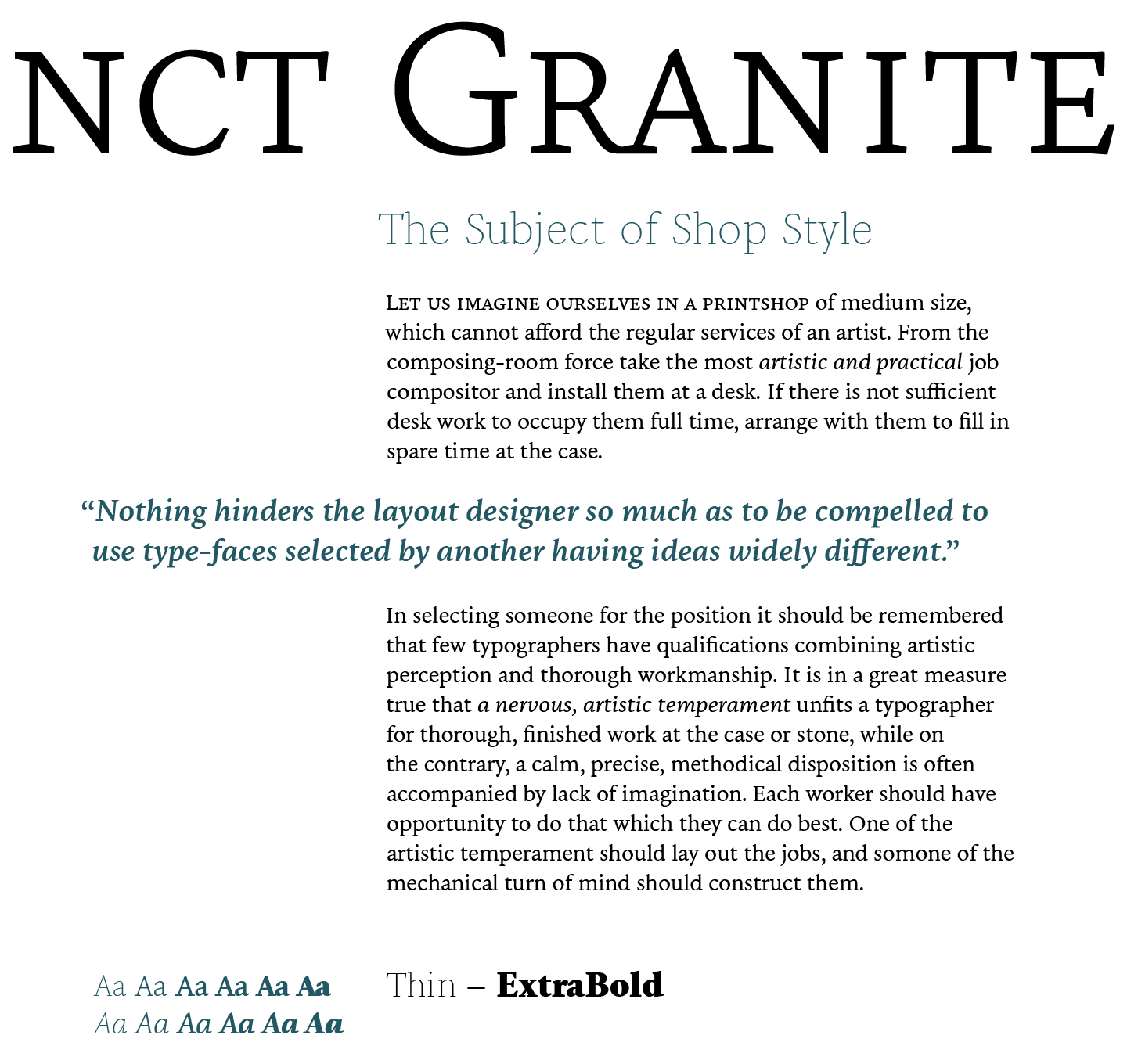 Six weights, italics, small caps and excellent language support (for all major European languages​, ​Vietnamese, Pinyin, Arabic and Hebrew transliteration, as well as multiple Cyrillic script-based languages) — NCT Granite really is a multilingual powerhouse. Soft corners, reminiscent of the calligraphic tools that inspired Nathan Zimet's Granite (his first typeface at MyFonts!) are tempered by the incised shapes of the letters overall — a nod to punchcutting as much as the stone-carved letters that the family takes its name from. While attractive in almost any text-heavy setting, Granite's shapes and weight lend themselves especially well to printed materials, and can even make up a bit for the loss of resolution caused by inconsistent paper texture and ink coverage.

NCT Granite is 60% off until midnight EDT, August 30th.
Under the Radar

With so many releases every month you might miss some noteworthy new typefaces. To help you discover them, we shine a spotlight on a hidden gem.
| | The casual and fun Carrotflower, recently redrawn and much improved by designers Crystal Kluge and Stuart Sandler, is a must for any well-rounded typographic toolkit. Combined with its three sets of complementary icons, it's a one-stop shop for invitations, greeting cards, children's books, and almost anywhere an outgoing and unpretentious look is needed. The recent re-release includes a wider range of alternates, making the illusion of hand-lettering even more flawless. Bravo to Crystal and Stuart, long-time MyFonts contributors and artists in their own right; their collaborations continue to shine. | |
| --- | --- | --- |
| | We want to know what you think | |
| --- | --- | --- |
| | Get in touch at [email protected] and tell us what you think of this newsletter. We're looking forward to hearing from you! | |
| --- | --- | --- |
MyFonts on Facebook, Tumblr, Twitter & Pinterest

Your opinions matter to us! Write to us at [email protected] or join the MyFonts community on Facebook, Tumblr, Twitter and Pinterest — feel free to share your thoughts and read other people's comments. Plus, get tips, news, interesting links, personal favorites and more from MyFonts' staff.
Colophon & Credits

The Rising Stars nameplate is set in Aniuk and Rooney Sans. Body text (for those using supported email clients) is Rooney Sans.