Every once in a while, MyFonts sends out a Special Edition newsletter offering a handpicked selection of fonts which although pretty fantastic, never made any of our Rising Stars or Best Of lists. In this issue we feature twelve fine faces that have been noticed by experts but have not yet met with mass success. A dozen original and highly professional designs by high quality micro-foundries. Enjoy!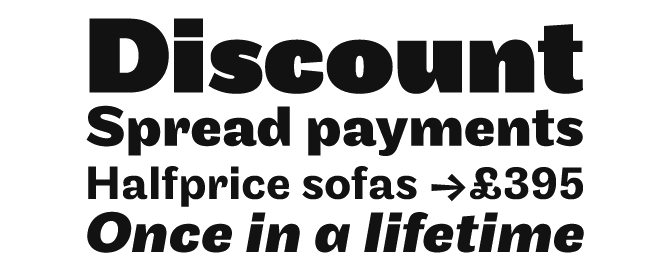 Maple
is
Eric Olson
's personal interpretation of the industrial grotesque — that early sans-serif style invented for posters and advertising. As
Mark Simonson
wrote
on Typographica
, "Other type designers have mined the nineteenth-century English grotesque, but Eric Olson gives it an energetic crispness which makes earlier attempts seem a bit stuffy. Maple captures the exuberant quirkiness of the grots without slavishly imitating them."

Stereotypes is the one-man foundry of Sascha Timplan, a young German designer who was still a student when his first fonts became available at MyFonts last year. His typefaces are individualist and witty and, despite their quirky forms, balanced and usable. St Mika is dark in color yet friendly in character: with its unusual shapes it lends an unmistakable personality to headlines, logos and slogans.

If there is one font in this selection that may be labelled "techno" then
Force
from
Outras Fontes
is it. It has simplified, geometric forms with a certain retro-futurist flair. Its shapes, however, go beyond the usual 1970s disco parody: Force's forms are more original than that. It has a nice shadowed version and a set of weird and wonderful dingbats, and comes with an extended range of crazy ligatures. Force is definitely cool – may it be with you.

Like Force,
Urbana
comes from Latin America.
César Puertas
' contemporary sans-serif was inspired by the traditional lettering found on one of the most popular means of public transportation in Colombia's capital Bogotá: "busetas" (Spanish for small city buses). A mixture of influences ranging from modernism and hand lettering to cluttered urban spaces and improvisation have resulted in unique and likeable forms. Urbana is also space-saving and highly legible.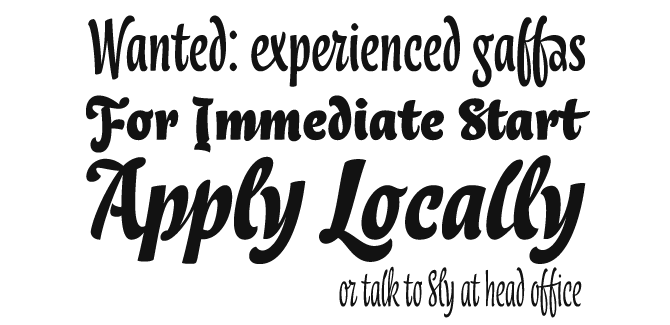 Lokal Script
is a highly usable brush script from the
Storm
foundry, that bountiful Czech fount of unconventional letterforms. With its wide range of alternates and ligatures (warning: OpenType-enabled software recommended) it lends liveliness and human warmth to designs for cultural and social projects, packaging and advertising.

Italian designer Elena Albertoni conceived Dyna while working at a Paris agency specializing in packaging. French supermarkets are full of lettering with a handwriting flavor; Dyna is Elena's unorthodox contribution to the genre. It dances above and below the baseline, varying the angles of its strokes in a convincingly spontaneous rhythm. It is very cleverly programmed and, when using OpenType-ready software, suggests alternate characters and special glyph combinations on the fly.


Kari
by
Neil Summerour
is an intriguing mixture: a bold, semi-connected, script-like typeface that comes in an upright and an italic version.
Kari Display
, the more exuberant variety, was designed for increased movement and elegance through curviness and strong contrasts. The result is an attention-grabbing display script, packed with alternate characters, ligatures, swashes, and more. In TrueType and Postscript formats, these are accommodated in three packages (A, B and C); for those working with OpenType-capable software,
Kari Display Pro
is the all-in-one-font solution.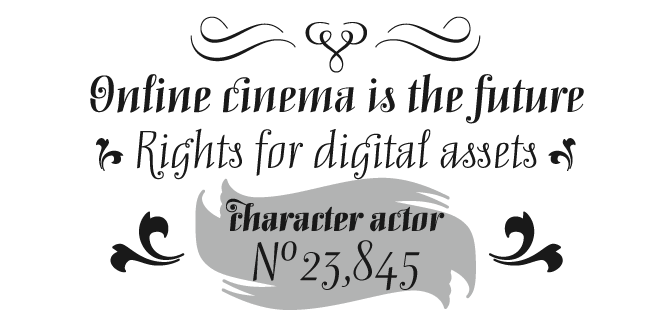 Mary Read by Melle Diete is a modern handwritten typeface inspired by the wind and the sea. Harsh curves are combined with graceful swashes. The font comes with a rich variety of alternates and extras: initial forms, final forms, swash letters, ligatures and ornaments. Use with OpenType-savvy design programs for optimal effect! And if you have a message for the world, layering your text frames will allow you to put your words on a Mary Read flag.


Designer
Rui Abreu
conceived
Gesta
as a friendly multi-purpose sans-serif especially suited for corporate and editorial design. One of its secrets is the gently curved strokes on letters like v, w, and k, which contribute to Gesta's distinctive and warm feel. In four weights with matching italics, built-in small caps and old style figures, this OpenType family constitutes a versatile typographic toolkit.

Dobra from DSType is a very geometric and robust family of compatible Sans and Slab Serif fonts, with editorial design in mind. Dobra Slab, shown here, is a powerful face for magazines headlines but will also work well for branding. Dobra comes in five weights, from Light to Black. The OpenType fonts come with small caps, various sets of figures and ample language support.

Maya Samuels is a stylish and contemporary sans-serif from Swedish designer Hans Samuelson. Characterized by its open, oval shapes and spirited detailing, is has been used for magazines as well as branding. Its wide range of styles includes a subtle Thin version as well as an authoritative Bold, and narrow yet readable italics. Oldstyle figures are built into the extended OpenType version, and accommodated in special OSF fonts for the TrueType version.

Mr Jones by Richard Miller offers great value for money: an all-round, friendly, original sans-serif with multiple figure styles and small caps. Originally conceived for print design, the lowercase is wide for legibility at small sizes while the caps are rather narrow to save space and keep an even balance of negative space when used in body copy. The family comes with a distinctive ExtraBold headline face, appropriately called Mr Jones Sr.
Comments?
We'd love to hear from you! Please send any questions or comments about this newsletter to [email protected]