agnificent things are happening at MyFonts, and we're not just talking about the rumored new website design that is waiting in the wings. New developments are taking place in the font department as well. Although script fonts are still riding high and sans-serifs are going strong as ever, we are witnessing a sensational comeback of the serifed roman: oldstyle, modern, classical, the lot. We are presenting two of those this month, plus a robust sans from Holland. And don't miss the Follow-up section, where we briefly present a great little label that you may never have heard of.
Text family of the month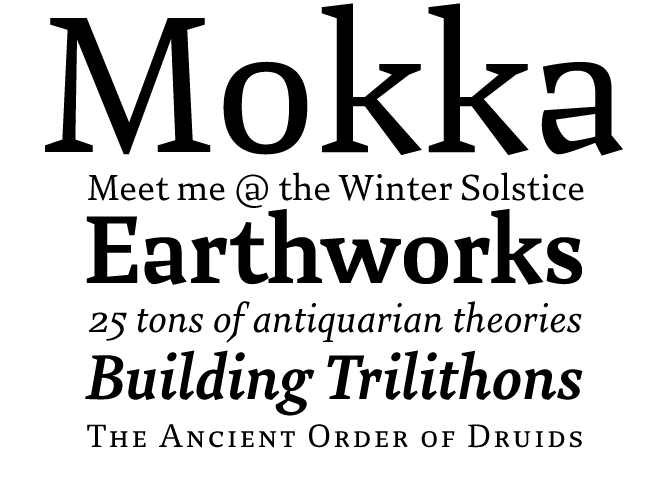 After the hugely successful Marat, German designer Ludwig Übele now presents another exceptional typeface he has been working on these past few years. Like Marat, Mokka is a serifed text face of conventional proportions with surprising and expressive details. In fact, it is an even more idiosyncratic face, with crooked serifs on the v, x and y, unusual tapered strokes, and a lowercase a that looks like a Doonesbury cartoon. But that's only when you zoom in. Thanks to its savvy design and open forms, the typeface works perfectly in text sizes, giving no sign whatsoever of being a bit peculiar. Although it is not a large family, it offers all you need for basic professional book typography in many languages, including small caps and several sets of numerals.
Follow-Up
Cocktail Shaker by Stuart Sandler was featured in last month's Rising Stars and has been doing well since. The font sums up 1950s cool: a swinging, swanky retro script with a connecting forward flow. Check out the alternates! Cocktail Shaker was published by Sideshow, an offshoot boutique type label of the Font Diner foundry that offers new exclusive display typefaces and collaborative type designs with talented lettering artists from across the planet.
If you liked this font by Sideshow, check out some of their other fonts: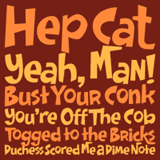 A collaborative effort from David (Squid) Cohen and Stuart Sandler, Doinky is a bouncy, exciting display font. It comes with cheerful alternates to create logo-like word images, and an inline version to add to the fun. Don't miss the hilarious Doinkbats.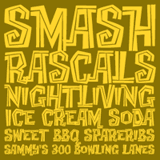 Although they're technically separate families, the three Creaky fonts work beautifully together. It's basically the same design thrice: solid, built with driftwood (Frank) and Pacific-style (Tiki). The latter is a favorite, an exotic tribal face with a crazy jungle beat.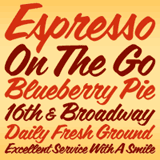 This speedy retro script has a generous x-height, so although it is narrow and slanted, it's still very legible. It comes with a wealth of interesting ligatures (like dr, tr and ns) which are substituted automatically when using OpenType functionality. The perfect illusion of handiwork.
Have your say

— Annalaise from Ohio, USA
4 June, 2008

Your opinion matters to us! Feel free to share your thoughts or read other people's comments at the MyFonts Testimonials page.
Font credits
The Rising Stars masthead and subheading are set in Auto 3 and Bryant, respectively. The drop-cap M in the introduction is set in Albion Signature, and the "Have your say" quotation in Mokka. The small pixel typeface used at the very top is Unibody 8.
Unsubscribe info
This newsletter was sent to [email]. You may unsubscribe at any time at: www.myfonts.com/MailingList