As the northern hemisphere slips into summer — almost imperceptibly, in some places — our type designers make every effort to provide us with fonts that lighten up our screens and emanate a sense of fun. This month's display fonts offer soulful grooves, well-wrought decoration, soft-spoken clarity and bouncy mirth; and our text fonts are the latest in smart, elegant yet modest functionality. It's June: the new season in typographic finesse begins here.
This month's Rising Stars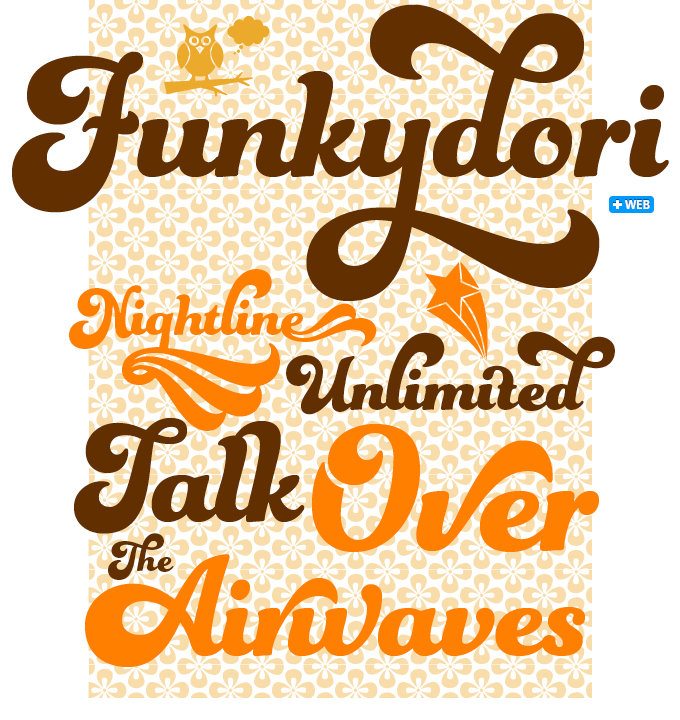 "I am a child of the Seventies," writes Laura Worthington, and sends us into a time warp that includes rainbow striped bellbottoms, unicorn posters and The Electric Company. Somewhere in that scene there must also have been orange lampshades, afro hairdos, and an Isaac Hayes LP on the stereo. Often dubbed "the decade that taste forgot" the Seventies were actually an exhilarating time for formal experiments in popular culture, and Funkydori perfectly captures the groovy and far out atmosphere of the era. The font is wickedly usable too, with 213 alternates, 13 discretionary ligatures and 38 ornaments allowing for a wide variety of looks. When used with OpenType-enable software, the automatic Contextual Alternates keep it looking ideal; enabling Titling Alternates switches the design to an unconnected script.
Follow-Up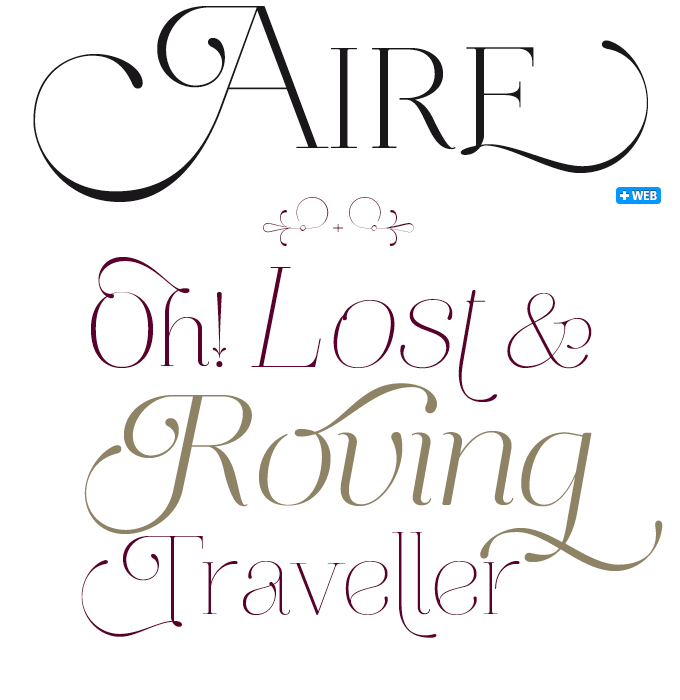 Featured in last month's Rising Stars, Aire from Lián Types has continued to be very popular — so we're revisiting it in our Follow-Up section. With seven varieties, Aire is an impressive typographic toolkit loaded with ligatures, alternates, and the entire Cyrillic alphabet — even the very affordable Std versions offer Cyrillic. It was designed to emanate lightness and delicacy — "aire" is Spanish for "air". With three weights plus italics (all delicate, but some more feathery than others) Aire offers possibilities for combining large and small sizes within one headline, or for creating subtle stylistic variations within one design project.
If you like this typeface from Lián Types, check out some of their other fonts: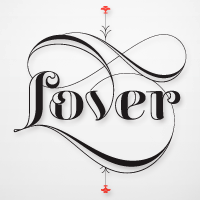 The award-winning Reina is one of Lián Types' most sophisticated typefaces. With its vertical stress and strong contrast between fat strokes and gossamer hairlines, Reina is a display Didone with bells on. Inspired by the classics Didot and Bodoni, and spiced up with influences from 1960s Spencerian lettering, Reina is up there with the most whimsical of modern-face titling fonts.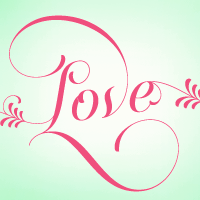 In the well-established genre of exuberant formal script fonts, Breathe is a special case. Designed to look alive, fresh and airy, the font takes a jump from the work of Didot and his contemporaries from around 1800 to today's fashion for endless swashes and flourishes. Breathe Pro comes with over 1000 glyphs, including huge sets of alternates, swashes, historical forms, ligatures and more.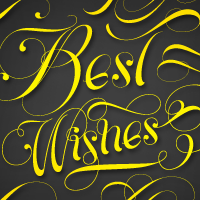 Parfait Script Pro takes influences from the nineteenth-century Spencerian scripts and combines them with pointed brush lettering to create a flourishing and whimsical font with over 850 glyphs. Many of the alternate characters have elaborate swirls and curlicues attached, with charming and sometimes dazzling results.
Sponsored Font: Swung Note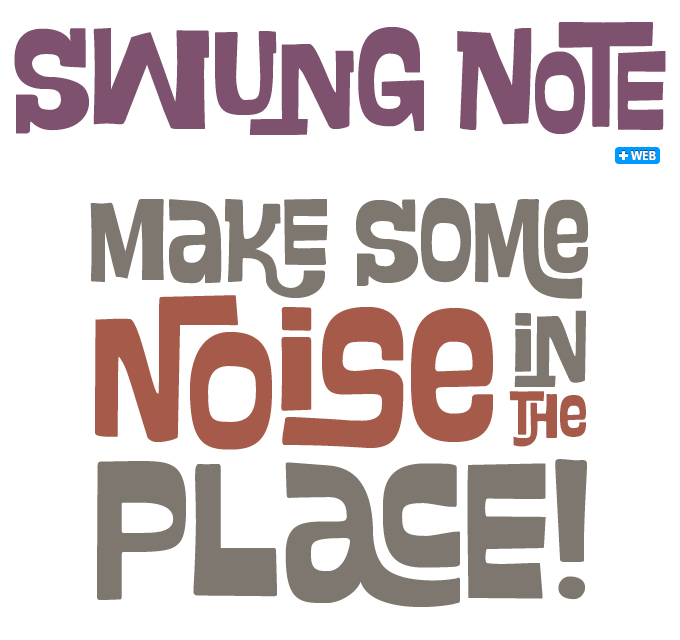 Brazil's PintassilgoPrints are known for playful and nonchalant display fonts that exude fun and lust for life. When interviewed for our Creative Characters newsletter, they quoted a note from American composer Charles Ives to his copyist: "Mr. Price, Please don't try to make things nice. All the wrong notes are right." They explained that, although they like to insert charming "wrong notes" in their typefaces, the fonts have to be technically impeccable. Swung Note is a case in point. Packed with hundreds of smart interlock pairs, the font works magic in OpenType-savvy applications. As the letters assume different shapes in different ligatures, the result looks surprisingly natural. A great and playful tool for creating impressive custom-lettered-looking designs with a subtle 1960s feel. Check out the special promotion for Swung Note for the month of June 2012!
Have your say

— Stefano, Italy, May 9, 2012
Your opinions matter to us! Feel free to share your thoughts or read other people's comments at the MyFonts Testimonials page.
---
MyFonts is on Twitter and Facebook!
Join the MyFonts community on Twitter and Facebook. Tips, news, interesting links, personal favorites and more from MyFonts' staff.