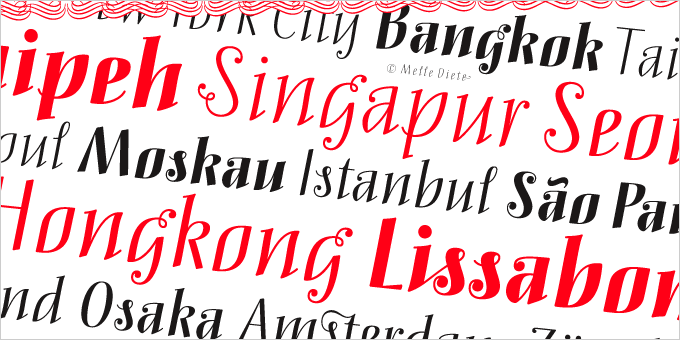 Welcome to another jam-packed issue of In Your Face! This quarter, we have more new type than ever, both from new foundries as well as from designers who are already established with MyFonts. Highlights abound — from full-featured multi-weight/width sans-serif families to some of the most original display type in the world — and we are certain that you'll find plenty of useful bits and pieces to add to your type library.
---

---
---
---
---
---
---
---
---
---
---
---
---
---
---
---
---
---

The number of new faces this past quarter from established MyFonts foundries is truly awe-inspiring. As such, and to save your valuable time, we can't possibly address all of them, and so instead have focused on the highlights…
---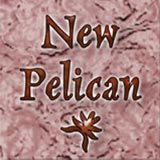 Several recent additions are notable, principally the new faces from Massachussetts-based calligrapher Arthur Baker, the accomplished designer of beautiful calligraphic faces like Duckweed Sans and Hiroshige Sans and the more well-known Baker Signet, Kigali, and Sassafras. Baker has brought a dozen new faces to MyFonts, some of which are redrawn and reconfigured versions of his most popular designs. Check out the redrawn New Pelican, New Oxford, and the under-used and beautiful New Marigold; the cartographic Mercator, or the many new calligraphic symbols and swashes he's recently offered up.
---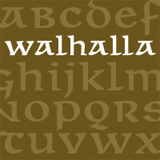 Ludwig Übele is a recet graduate from the Royal Academy of Arts (KABK) in Den Haag, and is the designer of the very successful and original Marat text family. His newest release is Walhalla, a novel and very modern approach to the uncial: available in a serifed regular as well as a sans (making it one of the few gothic uncials ever produced); rarely is a mixture of modern shapes and historic style so successful, but perhaps Walhalla will instigate a revival of uncial use in graphic design!
---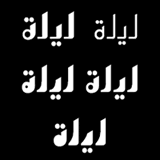 Arabetics, a small foundry in New York City, specializes in Arabic and Arabetic (extended arabic) typefaces. Their emphasis is on the Mutamathil (Arabic for "symmetric and unified") type style, which was emphasizes generic, compact, calligraphy-free typefaces and families — in short, Arabic type that is all about clarity and communication vs. the ornate decoration that some format Arabic calligraphy often emphasizes. Saad Dean Abulhab's newest release is the condensed upright Layal font, available in five weights and accompanying italics; its slight calligraphic flavor never overwhelms its eminent legibility. It includes all required Lam-Alif ligatures (as well as the Allah ligature) and uses OpenType glyph substitution for ligatures and selected marks positioning.
---

Another stellar group of scripts comes from Rob Leuschke's TypeSETit. Corinthia, Oh Ley, Ruthie, Petemoss and the more formal Imperial Script all contain the bounciness and quality you expect from this veteran calligrapher's catalog, which includes several of MyFonts' best-selling scripts.
066.Font's Piotr Wozniak, usually the producer of in-your face distressed display faces, steps out of character with Longinus Pro, an antique script straight out of 14th-century incunabula. Packed with alternates and ligatures, swash beginning- and end-of-line characters and accents, it's all you need to recreate your own historical manuscript.
---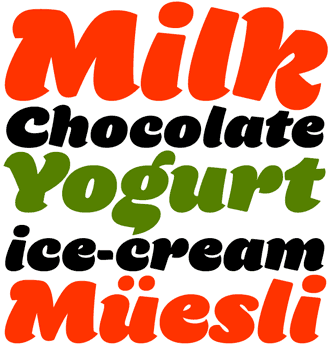 Other scripts include Canada Type's happy Chikita with all of its ligatures and the sharp-edged modern Styx; GLC's pen-drawn 1890 Registers Script; Autographis' curvy Quiana / Quirina and sharper Novido / Novita; Insigne's formal Youngblood; profonts' Unger Chancery; Lián Types' narrow Intima and upright Kalligrand Scripts; Hubert Jocham's brush-lettered Tasty; Blambot's gothic Clairvoyant, Re-Type's original and fun Tomate, Okaycat's fat brush Japoneh, Blue Vinyl's simple and elegant (and alternate-packed) Lavender Script, and plenty more.
One additional noteworthy script is Art. Lebedev Studio's original — and very unique — Klinkopis, from Yana Klink and Irina Smirnova, two very talented young Russian designers. Klinkopis' large character set is jam-packed with Roman and Cyrillic alphabets and multiple alternates for both languages, and is an excellent solution for bilingual advertising and other display uses.
---
Talk about knowing your audience: Michael Stirling's The Fontry brings us two new items, one of which is marketed specifically at fraternities and sororities. His Greek Font Set #1 contains "14 hot Greek fonts," all of which include roman alphabets in addition to the Greek and the necessary numerals and punctuation. Some styles may be layered for interesting color effects.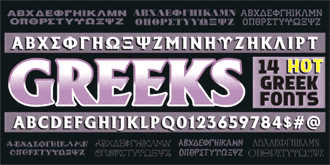 ---
The Fontry West — which is actually about 88 miles west of Watts in Tulsa, Oklahoma — has been busy as well, giving us ToxIcons, an extremely useful picture font given the subject of much of our news cycle in the past decade. Four fonts chock-full of skulls, biohazard symbols, radiation warnings and other scary stuff, it will certainly be useful to the Department of Homeland Security and other folks who make their living keeping us safe — or, as others might say, keeping us scared.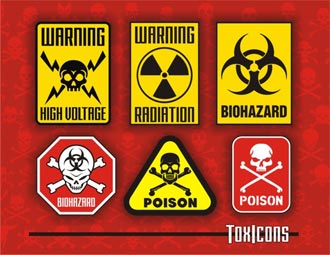 ---
Quebecois designer Charles Leroux, principal of the Grype Type foundry, recently finished what is certainly one of the spiniest and most dangerous typefaces on MyFonts. Rendezvous is an all-caps display face reminiscent of the most painfully sharp wrought iron ever devised, and the large character set includes accented characters and a pi glyph that looks more like a medieval weapon than anything mathematical.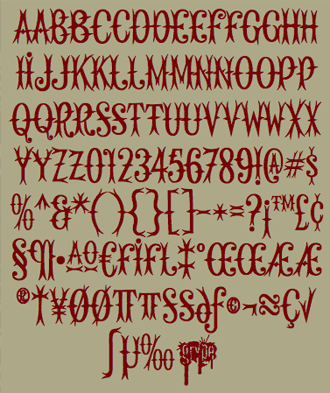 ---
Intellecta has been busy, recently adding a number of their usual highly-detailed classic calligraphic faces: decorated initials, in Calligraphia Latina Soft; very ornate ornaments in Calligraphia Latina Soft 2; frames and other decorative items in AllerleiZierat; some rather naughty alphabetic nudes in Silvestre Weygel, an almost unbelievably decorated lombardic in Syl, and a dozen others, all of which will be attractive to fans of historic type.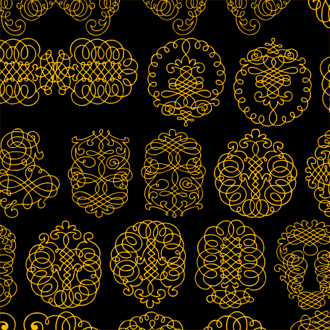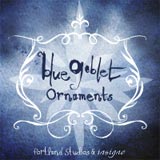 Other new ornament faces include Insigne's Blue Goblet Ornaments, great for building frames and borders; GLC Ornaments One, which consolidates historic ornaments from a dozen different faces and several historic periods; Gerald Gallo's Art Nouveau Ornaments; three faces from Outside The Line's Rae Kaiser, including a set of holiday ornaments, and Ornata F, part of Gert Wiescher's growing suite of Ornata square border elements.
---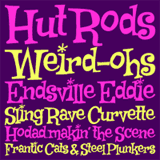 Informal, comic-tinged faces were also present: Pink Broccoli's 5 new fonts include the brush-lettered Lil Rhino and the jumpy Hip Hopper, and the Sideshow foundry presents the curly and spixy Savage Hipsters, hot-rod inspired Weird Bill and several others from the fabulous fifties. Brian Bonislawsky's Good Eatin, from his foundry Astigmatic, is a fat tasty treat and would be even more delicious when set really large; it includes fractions and a large range of accented characters for multilingual typesetting.
---
---
---
---
---
---
---
---
---
---

Certainly the biggest news here at MyFonts is our new beta site. Far more than a simple facelift, the new Myfonts is an all new machine: the new site offers easier and much more complete previews, a simplified shopping cart system, customized searching, a greatly expanded user-defined tagging and rating system, easier access to foundry and designer information, and plenty more.
Cameron Moll's letterpress-printed posters showing the front view of the Salt Lake Temple are the talk of typographers everywhere, and if you've ever printed on a flatbed cylinder press (the printer pulled these on his Vandercook Universal 3), you know how difficult it can be to to get this sort of even impression on such a large form, even if one is printing from photopolymer. The posters are gorgeous, and Bryce Knudsen's printing is a marvel.
I guess we're the last ones to know about this, but Face37's Type Trumps — based on the rules of the Top Trumps card game — looks like a fun way to entertain a bunch of type geeks. And we do need constant entertainment.
Typographica breaks its months-long silence with Stephen Coles' fair and balanced article on marketing and selling one's own type, and the pitfalls and benefits of various ways of approaching this problem. We are, of course, biased: we'd urge most designers to bring their type to MyFonts, especially now that our newly-designed site has become a superior marketing tool to any other distributors' online offering, but Coles does a good job of analyzing various reasons why some folks might want to choose an alternate path.
Finally, if you haven't already, please visit Daily Type, a showcase of interesting work - from polished commercial pieces to one-off sketches - by a group of Russian type designers. Publishing regularly since September 2004, it's a worthy addition to your daily RSS feed or list of regularly-read blogs.
---
Comments
We'd love to hear from you! Please send any questions or comments about this newsletter to [email protected]
Archives
Know someone who would be interested in this? Want to see past issues? All MyFonts newsletters (including this one) are available to view onlne here.