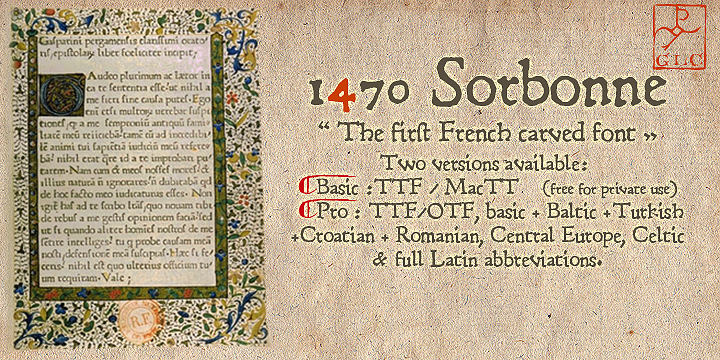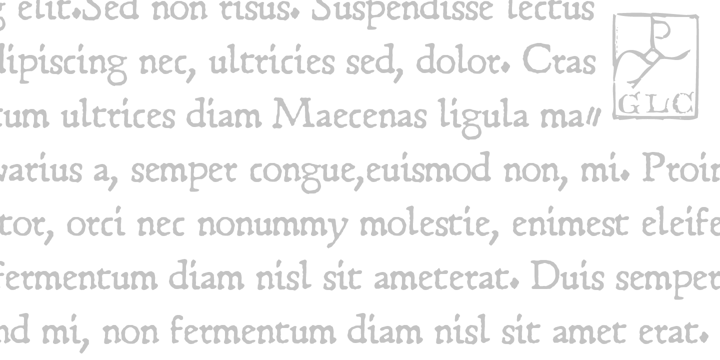 About 1470 Sorbonne Font Family
---
This family was created inspired from the first font carved and cast in France, for the Sorbonne University's printing workshop (Paris). The characters were drawn by Jean Heynlin, rector of the university - inspired from Pannartz's - and in all probability was carved by Adolf Rusch. It has only one style, in one size (about 14 Didots points). We have added the U, J, W and Y, some accented characters and others not in use in the original, but the standard and historical ligatures and the numerous Latins abbreviations are these of the original font. The font is proposed in two choices : Basic Latin, MacTT & TTF, free for a private use, and "Pro", TTF/OTF, available for standard basic Latin plus Central Europe, Baltic, Turkish, Croatian, Romanian, Celtic.
1470 Sorbonne
About GLC
Gilles Le Corre was born in 1950 in Nantes, France. A painter since the end of 70s, he is also an engraver and calligrapher. He has been learning about medieval art and old books for as long as he can remember. More recently he has made the computer a tool for writing like the quill pen and ink. With it, he aims to make it possible to print books that look just like old ones! Beginning in 2007 he has been trying to reproduce, very exactly, a wide range of historic European typefaces, mainly from medieval and early periods of printing - his favorite period - from 1456 with Gutenberg, up to 1913 with a font inspired by a real old typewriter. All his fonts are based on historical research, identifying whenever possible printers and punch cutters, cities and countries, that represent a time and style. Often, they are "eroded", an aesthetic choice because old printed texts have this rough and imperfect appearance. The punctuation signs of the time (mainly , ; . : - / | ( ) ' " ? and ! when available) are always respected as they were in contemporary documents. Every font is completed with arabic numbers, accented characters and any missing characters (such as the W and K which were not used in French medieval books or Latin texts, for exemple), plus any others of which no original instance can be found, along with typical ligatures, abbreviated letters, and final or initial characters, like the final "long s" and the initial or median "long s" , and more. They are all described in a render sheet that accompanies each font file.
Choosing a selection results in a full page refresh.