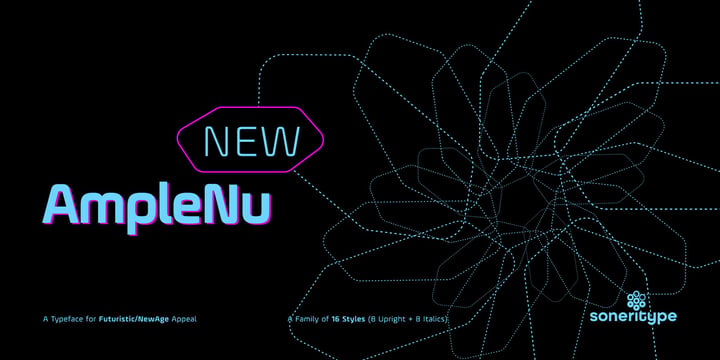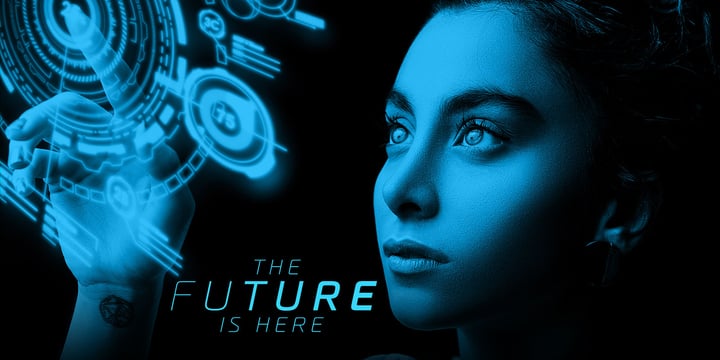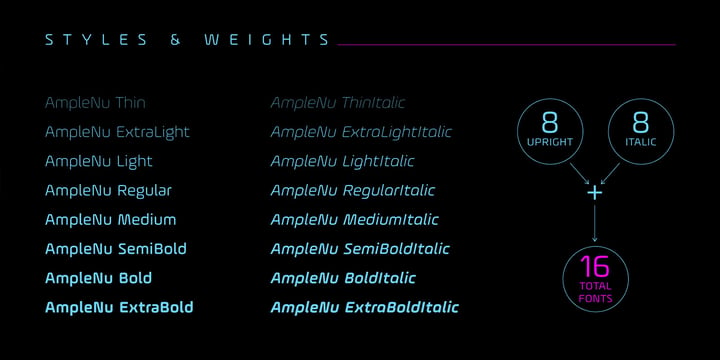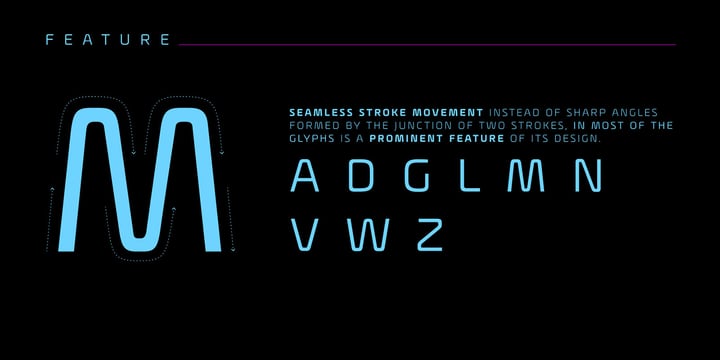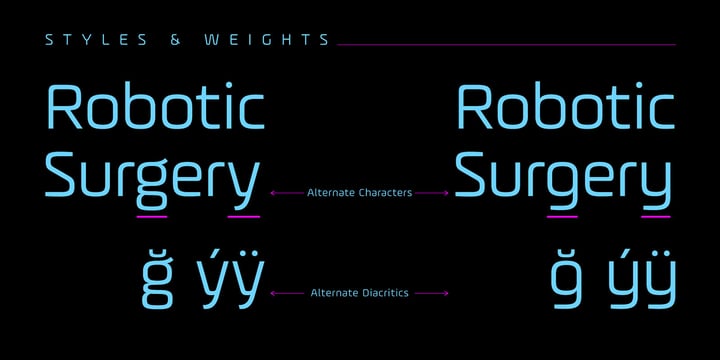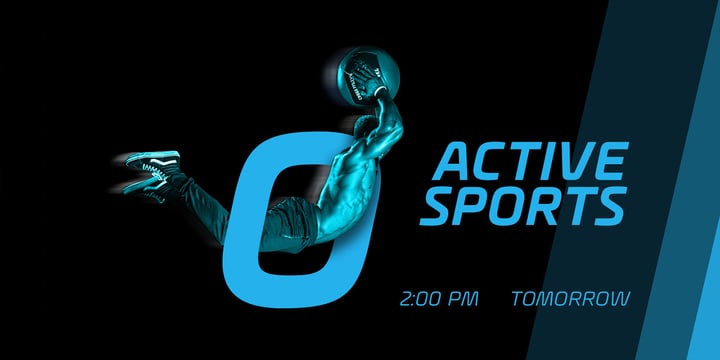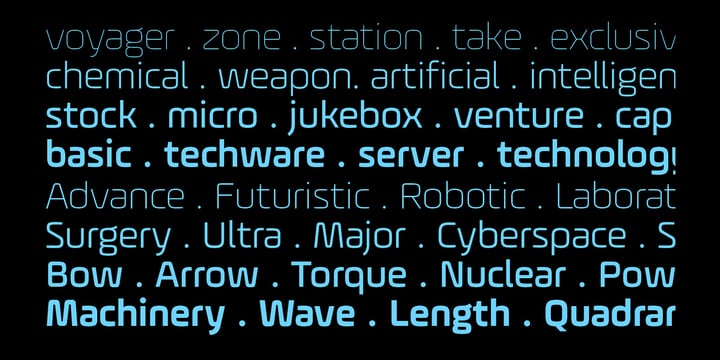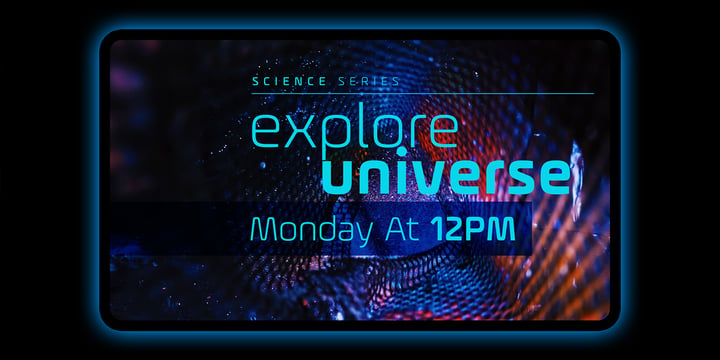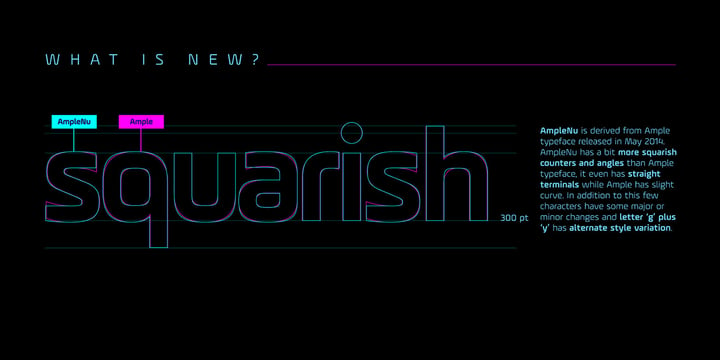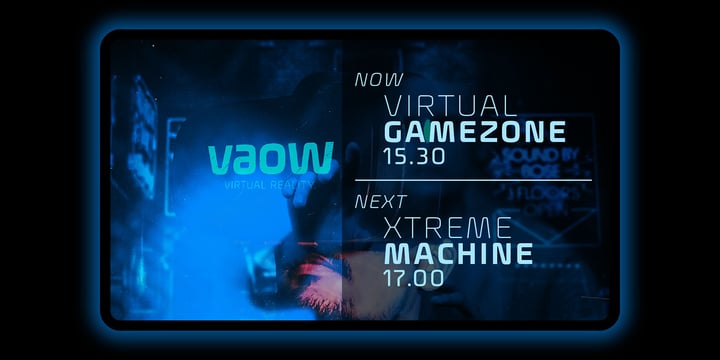 About AmpleNu Font Family
---
AmpleNu is a display type family derived from the Ample typeface.
It has optical mono-linear stroke and a bit squarish form in nature. It has a seamless stroke movement instead of sharp angles formed by the junction of two strokes, which is a prominent feature of its design.
It is designed to be a little eye-catching yet legible. It has clear and distinguishable letterforms, which helps to elaborate and emphasize the message. It is graphically strong and commands the viewer's attention. The overall appearance of type is suitable for setting and using it as heading, title, headline, logotype, etc.
The type family consists of sixteen styles which include eight upright weights and their italics.
AmpleNu has a bit more squarish counters and angles than Ample typeface, it even has straight terminals while Ample typeface has a slight curve. In addition to this, few characters have some major or minor changes and the letter 'g' plus 'y' and their respective diacritics have alternate style variations.
AmpleNu is designed by Aakash Soneri during the period between 2018-2020.
AmpleNu
About Soneri Type
Soneritype is an independent digital type foundry in Ahmedabad, India, established by Aakash Soneri. He started working on type design in early 2007 and founded Soneritype by debuting on MyFonts.com with Sone font family on 21st April 2009. He has experience of around two decades in the design industry. After completing his PG Diploma in Multimedia he worked as a design lead with a few IT companies where he worked on various projects which include designing UI (User Interface) for Web Sites, Web Applications and Software, Logo/Symbol, Icon, Stationery, Typeface, Packaging, and other Marketing/Office Materials for the company and clients. Leading the design team and working with other teams like the developer, SEO, marketing, etc. enriched his knowledge and experience. During this period he met Ret. Prof. of NID Late Shri Vitthal Varia, which later became his teacher, humble mentor, and a very good friend. As he studied and worked on various professional projects and exhibitions under his guidance and with several other senior designers visiting the VariaDDesign institute as visiting faculty, expanded his vision and capabilities widely which reflects in his design work.The retail typefaces we offer are creatively authentic work of craftsmanship, some of them are in use by top global brands and creative agencies.
Choosing a selection results in a full page refresh.