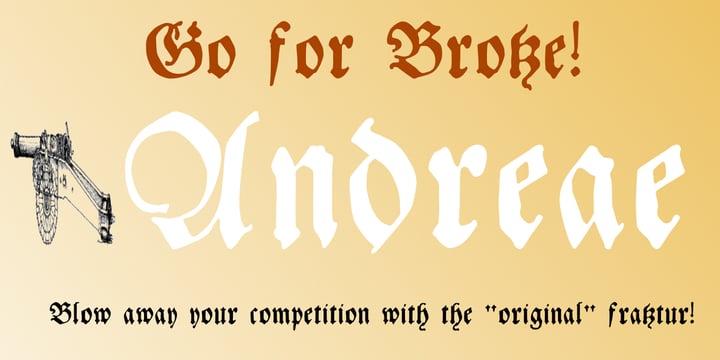 About Andreae Font Family
---
Hieronymus Andreae or latter in life Hieronymus Formenschneider as he proudly took a new surname to proclaim his success in the printing industry as the man who introduced the Fraktur script to the world of print. This project was undertaken at the orders of Emperor Maximilian I. One of Fraktur's first appearances was in a joint venture with the great Albrecht Dürer. This font was based on a later work, Andreae's magnus opus in the music field, the Coralis Constantini by Henry Isaac. Andreae worked as woodblock cutter and then became a publisher in the city of Nuremberg until his death in 1565. We at PLTF are proud to revive this enormously influential typeface.
Andreae™ is a trademark of Proportional Lime Type Foundry.
About Proportional Lime
Proportional Lime Type Foundry is a second floor operation that is overrun with a bird, cats, and unpleasant levels of heat, some of which is generated by the obsolescent machinery, and the rest enforced by the laws of thermodynamics. The bird owns the cats. And the cats own the humans. However, even considering the aggressive nature of the bird's endless commentary, and the cat's intermittent proofreading sessions, work is still routinely accomplished, and the goal of creating historically influenced typefaces achieved. We at PLTF desire to create typefaces that accurately recreate the feel of the old printing technologies for use in the modern world and also to explore novel designs.
Choosing a selection results in a full page refresh.