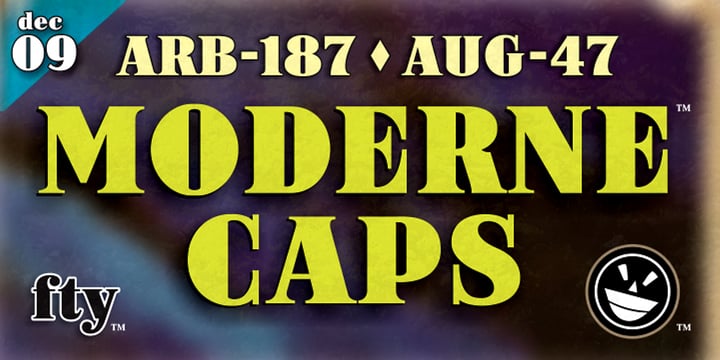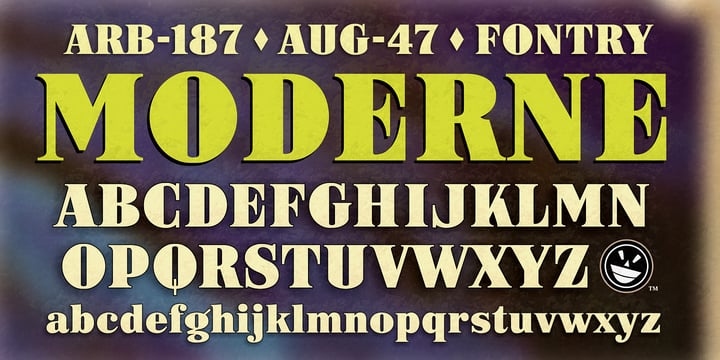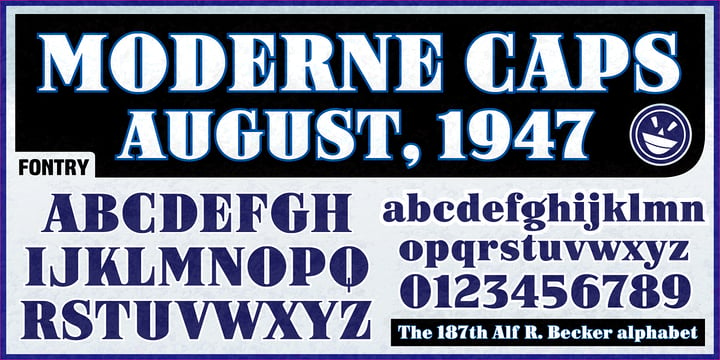 About ARB-187 Moderne Caps AUG-47 Font Family
---
Beginning in January, 1932, Becker, at the request of then-editor E. Thomas Kelly, supplied SIGNS of the Times magazine's new Art and Design section with an alphabet a month, a project predicted to last only two years. Misjudging the popularity of the "series", it instead ran for 27 years, ending finally two months before Becker's death in 1959, for a grand total of 320 alphabets, a nearly perfect, uninterrupted run. In late 1941, almost ten years after the first alphabet was published, 100 of those alphabets were compiled and published in bookform under the title, "100 Alphabets", by Alf R. Becker. And so, as published in August, 1937, The Fontry presents the truly "modern" version of Becker's 187th alphabet, Moderne Caps, complete with OpenType features and Central European language support.
ARB-187 Moderne Caps AUG-47
About The Fontry
When foundry's were making steel and fonts were but a molten dream ... well, we don't go that far back! But that's how we came up with the name for The Fontry. Spun into existence in 1992 by James L. Stirling and Michael Gene Adkins, The Fontry owes its origins to lots and lots of years working around screenprint shops and the signmaking business, influences that translate clearly into our font designs. It stands to reason then that many of our typographic efforts reflect the needs of those industries. Not ones to wimp around with frilly type, many of our fonts exude the strength you've come to expect from any font that dares to call itself a display face. No typesetting lots of tiny text with any of our fonts! And our inspiration covers the gamut, from full-on customs to period revivals. But no matter the origins, we pride ourselves on taking care of the details, from the nudge-fussiest node positioning to the single-digit kerning adjustments. Every Fontry font has over 40 hours of work in it, and we like to think it shows. At least we hope it shows--really! So for fonts that really fill the space, we're the foundry guys you wanna try!
Choosing a selection results in a full page refresh.