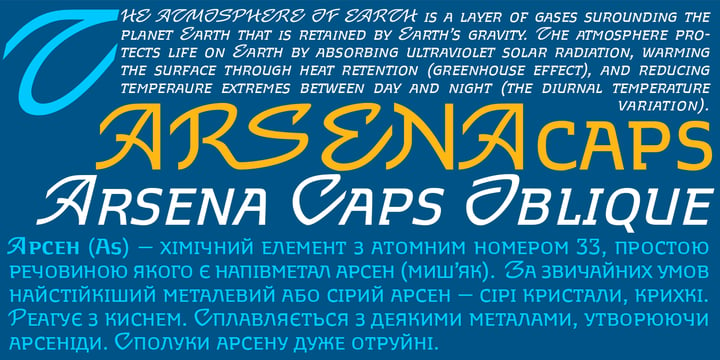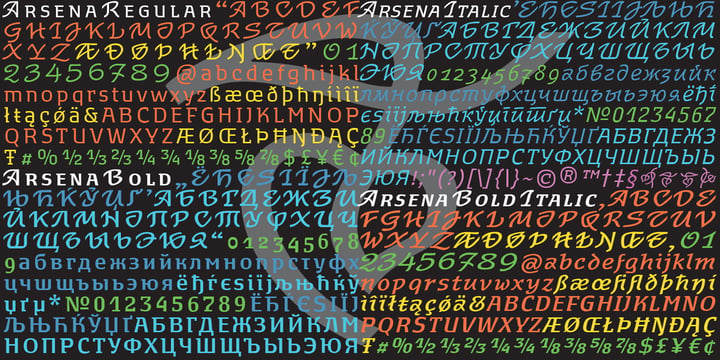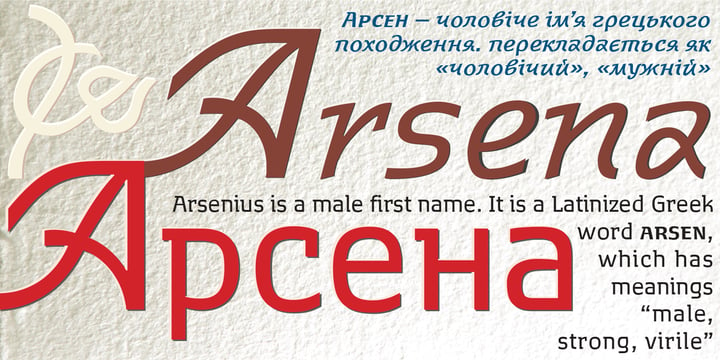 About Arsena Font Family
---
The font Arsena was designed for a contest on the creation of modern Ukrainian business font "Arsenal" and awarded the 3rd prize. A little squared figure which is enlightened from the middle, unobvious, but the existing modular grid, simplified, but not a primitive design of letters, mathematically defined optimum inclination angle, counterbalanced ratio of thickness, an optimum spacing and a manual kerning - all of this is for the best reproduction in any conditions as well as for the maximum clarity and readability. Asymmetric slab serifs make the font Ukrainian and at the same time have a modern and dynamic look. Besides its highlighting function, Italics also have an independent assignment. The Italics are made under calligraphic traditions in a modern style of mono-thickness (but optically compensated) and in particular, in combination with alternative initials of the same style and it is relevant to use it in a private letter, or in the design of the official greetings, etc. It is also promoted by four typographic ornamental motives. Due to the above-mentioned qualities this font can be used successfully for a wide range of tasks - from business to mass media, publishing, advertising and accidental.
Arsena
About Apostrof
Ukrainian typefoundry 'Apostrof' was founded in 2012 by Viktor Kharyk and Konstantin Golovchenko for implementation of the ideas, researches and development in the area of font design. Konstantin (aka Salmoose) is engaged in researches of history of typefaces and printing. He examines the question of revival of a half-forgotten typefaces of old foundries. In addition he deals with OpenType-programming. Viktor specializes on development of multilingual fonts and opportunities of coexistence of different writing systems within one graphic system. Thus main tasks of our foundry are: restoring and developing interesting half-forgotten typefaces, adapting the above mentioned for different writing systems, designing new original fonts of different styles with a wide range of code pages supported, as well as decorative and experimental fonts, publishing research materials in history and theory of typefaces and typography.
Choosing a selection results in a full page refresh.